Who said anything about winter blues? Spice up your winter itineraries with these events that invite you to embrace the cold temperatures and snow-covered ground with everything from flying kites, dazzling fireworks, ice sculptures, ice fishing and more! Once the events draw to a close, explore the surrounding community's shops and restaurants before heading back home.
Bald Eagle Watching Events

January 5-7: This event offers much more than bald eagle watching. After searching for the magnificent eagles of the Mississippi River, head indoors to enjoy a series of presentations about other birds alongside local wildlife and zoo animals.
Area Attractions & Lodging: To warm up, head inside and admire beautiful art at the Figge Art Museum, learn about the beginning of chiropractic practices at the Palmer College Mansion and Palmer Museum of Chiropractic History, catch a show at the Adler Theatre or experience the magic behind Isabel Bloom.
Grab a bite to eat at Front Street Brewery or The Tangled Wood, relax with a glass of wine at Wide River Winery or indulge in a sweet treat at Lagomarcino's. End the night in luxury by checking into a suite at Hotel Blackhawk.
January 20: This two-day event connects curious visitors or locals with professionals to admire the United States' national bird.
The first day of the event takes place in Keokuk, where trained spotters along the Mississippi Riverbank help you get the best views of the area's bald eagles. Head inside the First Christian Church to warm up and enjoy educational appearances from the World Bird Sanctuary and Iowa State Insect Zoo alongside Native American activities, food and vendors.
Day two takes participants to Montrose's Riverfront Landing for more viewing opportunities alongside similar indoor activities. The Hunold Heritage Center will also be open for exploration.
Area Attractions & Lodging: While in the area, be sure to also check out the historic Keokuk National Cemetery and The Grand Theater. Or explore the community's 36-block shopping and dining district to enjoy a meal at one of the 13 restaurants or go on a shopping spree at the 35 trendy retail shops. Then end the night with a stay at the unique Kingsley Inn and enjoy exceptional views of the Mississippi River and passing trains.
After the event concludes, discover historical gems like Old Fort Madison.

January 12-14: This premier ice sculpture event allows you to get up close from your vehicle or online at home and watch as 36,000 pounds of ice is transformed into incredible works of art. The display is then open for three days inside the Quad Cities Freight House. Each year's event features a new theme alongside warming stations with free hot chocolate, Farmers' Market vendors and local food and drinks.
Area Attractions & Lodging: After viewing the sculptures, book a room at the luxurious Hotel Blackhawk located in the heart of downtown Davenport. Then head to the Village of East Davenport and enjoy a night of shopping and eating in this Historic Mississippi River neighborhood.

January 13-14: Head to the National Mississippi River Museum & Aquarium for their annual Ice Fest. Join outdoor adventures including snowshoeing and cross-country skiing, ice fishing and ice skating, sledding and snow carving. Warm up with a delicious s'more or steaming hot chocolate before heading inside to check out all the exhibits, crafts, kids' activities and a special showing of the Smithsonian movie Epic Yellowstone: Fire and Ice. Guests are encouraged to dress appropriately and bring any snow gear for the outdoor activities.
Area Attractions & Lodging: Turn your winter getaway into a tropical one by booking a stay at the Grand Harbor Resort and Waterpark. The hotel's 25,000-square-foot indoor waterpark features tube slides, water chutes, a lazy river and whirlpools. Grab a casual dinner at Brazen Open Kitchen or Happy Joe's Pizza. Also be sure to check out the historic Grand Opera House and the Mathias Ham Historic Site.

January 18-21: Pair your bald eagle watching with live music from talented artists. Eagles and Ivories offers great views of the national bird on the Mississippi River. Then, you can take a break from the cold and head indoors to enjoy performances from world-renowned pianists and musicians of all genres, from Ragtime and jazz to classical music.
Area Attractions & Lodging: Book a room at the beautiful Merrill Hotel and spend the evening exploring downtown Muscatine. Sit down to an extravagant modern American meal at the hotel's restaurant Maxwell's on the River, then dive into the area's infamous pearl button history at the National Pearl Button Museum. Visitors can also delight in the arts Muscatine Art Center, shop at local boutiques such as The Little Red Hen and experience the best of Iowa's outdoors at Wildcat Den State Park.

January 27: Spend a winter Saturday filled with indoor and outdoor activities! Winterfest kicks off with the Winterfest Games, which features two classic holiday competitions – The Great Amana Ham Put and the Wreath Toss. Guests can also compete in the Best Beard competition and Amana Freezer 5K run/walk, or admire the work of ice sculptors and chainsaw artists. Warm up with a steaming bowl of chili then participate in the wine and beer walk, which includes a variety of samples and a $5 punch card to turn in for a prize.
Area Attractions & Lodging: The fun doesn't end there. Explore the rest of the German villages and discover delicious home-made meals at the Ox Yoke Inn or learn about the colonies' religion and communal life at the Amana Heritage Museum. Then, sit back and relax with a glass of wine at Ackerman Winery or a delicious brew at Millstream Brewing Co. End the night at Hotel Millwright and recharge one of their tastefully designed rooms inside the former woolen mill complex.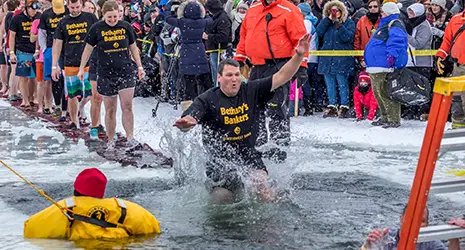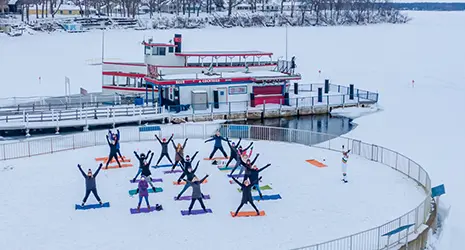 January 25-28: Held annually in the last weekend of January, the fictional University of Okoboji thrills competitors and spectators alike with three days' worth of games, food, music and family fun. Watch or participate in a friendly game of broomball, flag football, softball or bags, all held on the slippery ice to create the ultimate challenge. Or take part in more non-traditional events such as the human dogsled races, polar plunge and glacial golf. If you're simply looking to relax, grab some food and drinks and enjoy the live music concerts, ice skating, a kite festival, fireworks extravaganza and the infamous Burning of the Greens.
Area Attractions & Lodging: Warm up with a stay at Bridges Bay Resort and spend the evening exploring their indoor waterpark and its 'Boji Splash playground and splash pad. For adult fun, dive into music history at the Iowa Rock 'N Roll Music Hall of Fame Museum or the Okoboji Spirit Center. Then grab a bite to eat at The Nautical Bar & Grill or head to West O Beer to try one of their unique brews.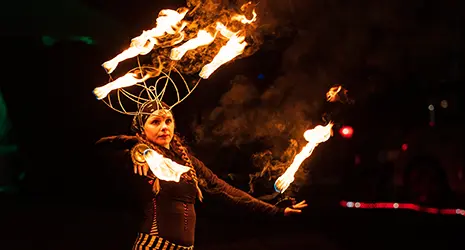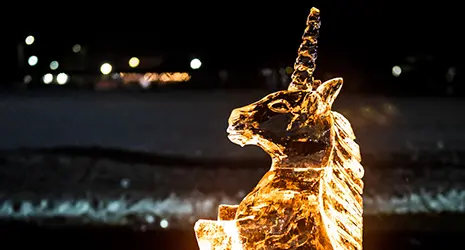 January 26-28 & February 3: Forget hibernating and heat things up with Beat the Bitter's winter games and cheerful atmosphere. Enjoy a wintry walk or run with the 5K-ish Glow Run, see the jaw-dropping fire breathing, juggling and spinning performances, play a friendly game of winter kickball, admire ice sculptures and holiday lights and race across the ice on skates. See the full schedule to plan the weekend's adventures.
Area Attractions & Lodging: Once you're ready to settle down for the night, head to Element Iowa City and enjoy a night of luxury. Located in downtown Iowa City, it's within walking distance of some of the area's best attractions including the Englert Theatre, Old Capitol Museum, the University of Iowa Museum of Natural History and Prairie Lights Bookstore. Sit down to a rustic, farm-to-table style meal at The Iowa Chop House or enjoy an old-fashioned, homemade diner meal at Bluebird Diner, then stop by the nearby boutiques to satisfy your shopping needs.

February 3: A little snow on the ground never deters Iowa's biking enthusiasts. Join them on this annual ride, which features a 24-mile round trip alongside prizes and entertainment. The route takes riders from Perry to Rippey and back, and continues regardless of weather. If you're scared off by the elements or distance, rest and relax with delicious food and drinks in Perry.
Area Attractions & Lodging: Whether you're exhausted from the ride or simply enjoying the day's festivities, there's no better place to relax and recharge than Hotel Pattee. The historic hotel boasts 40 individually themed rooms alongside a state of the art bowling center and full-service dining room and lounge. Refuel at the Pattee Café, then explore local history at the Forest Park Museum & Arboretum or shop for art, home décor and more at Purple Star Studio.

February 3: While the golfing greens lie under a blanket of snow, Lake View's Arctic Open invites golfing enthusiasts to take to the ice. Each year, Lake View Black Hawk Men's Club transforms the frozen waters of Black Hawk Lake into a unique golf course and invites teams of three to a Best Ball competition. The game is followed by prizes and free chili. Teams must register in advance.
Area Attractions & Lodging: Head inside and warm up with an authentic Mexican meal at Cielito Lindo Mexican Restaurant, grab a simple yet delicious sub from Uptown Sandwich Shop or relax with a glass of wine from Rustic River Winery. In the morning, kick off the day with a coffee and sweet pastry from Milton's on Main, then explore Andy Williams Birthplace and C&NW Depot or head north to Sac City and admire the Sac City Museum Village and World's Largest Popcorn Ball.

February 17: Recognized as the Midwest's largest and most colorful winter kite festival, Color the Wind is a must-see extravaganza. Join the crowd on the frozen waters of Clear Lake and admire huge inflatable kites of all kinds as they soar the skies to incredible choreography and music. The kites are flown by serious kite-flyers from across the country who come back every year to thrill spectators of all ages. You can take to the skies yourself with your own kite or take a souvenir kite home to test your own skills. Admission is free, though donations are appreciated.
Area Attractions & Lodging: Once the kites have landed, head to Avion Azul for a unique dining experience. Located inside the local airport, this Mexican restaurant invites you to enjoy a warm meal while watching as planes land and take off. Or stop by Lake Time Brewery to sample their collection of 10 specialty brews.
Extend your weekend adventures and head to Mason City to admire the Frank Lloyd Wright architecture throughout the community. Stay at the Historic Park Inn Hotel, which is recognized as the last remaining Wright-designed and built hotel in the world, and tour the Stockman House and Architectural Interpretive Center. For more art fun, stop by the MacNider Art Museum to see the infamous Bil Baird puppets.