Sure, we may be considered "flatlanders" to some living near the Rockies, but Iowans take full advantage of the state's extensive collection of parks and nature reserves to hit the trails for cross-country or Nordic skiing. During the winter months it's a perfect way to shake off the cabin fever, get some exercise (it burns up to 650 calories per hour!) and enjoy Iowa wildlife.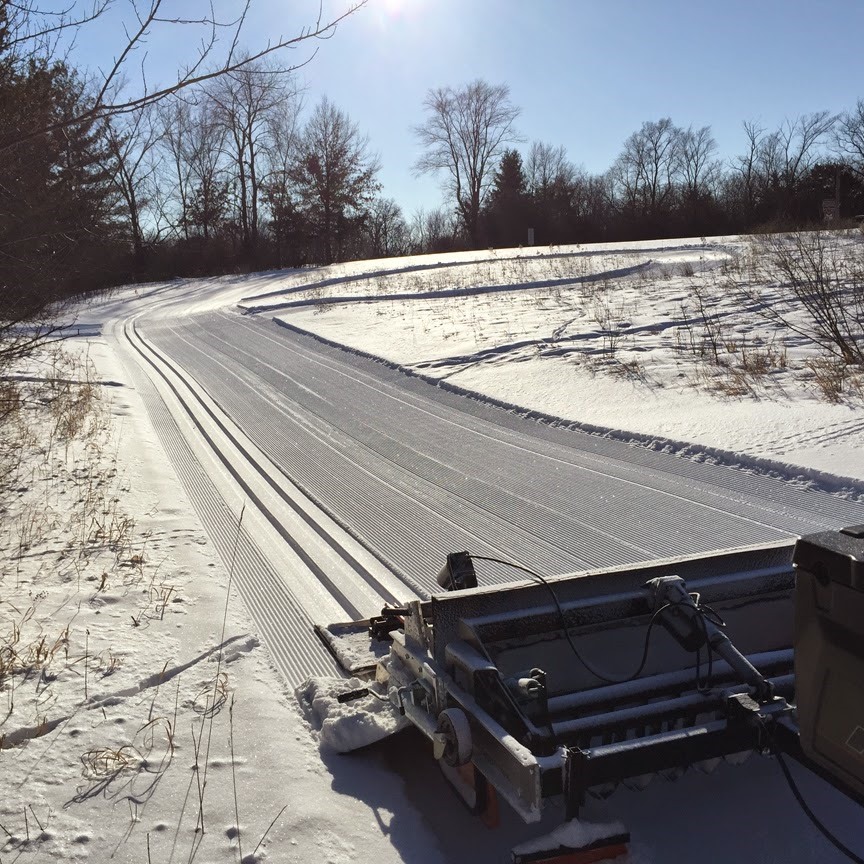 Miles of groomed trails, a.k.a. beautiful corduroy, can be found across the state with several welcoming groups and enthusiasts who are more than happy to bring you along on their adventures. Kim Betts, the board secretary for the East Iowa Ski Club provides a few tips before hitting the trails in Iowa.
Q: What are the optimal conditions to go cross-country skiing?
The best temperature is about 15 - 25 degrees Fahrenheit and cloudy. A sunny day works well, but if it gets too warm, the snow becomes slushy and sticky. Four to five inches of fresh, groomed snow is ideal. It's possible to "break in a new trail," but be sure to have your strongest skier upfront.
Find a list of groomed trails in Iowa.
Q: How about attire – how should you dress?
This is much more active than downhill skiing. Dress like you are going to ride a bike full speed for 25 miles, in thin layers with a light coat, and windbreaker/waterproof pants. Take a small backpack to store clothes as you remove layers to adjust to your warmth/coolness. Remember to pack water, snacks, tissues, lip balm, your cell phone and a trail map.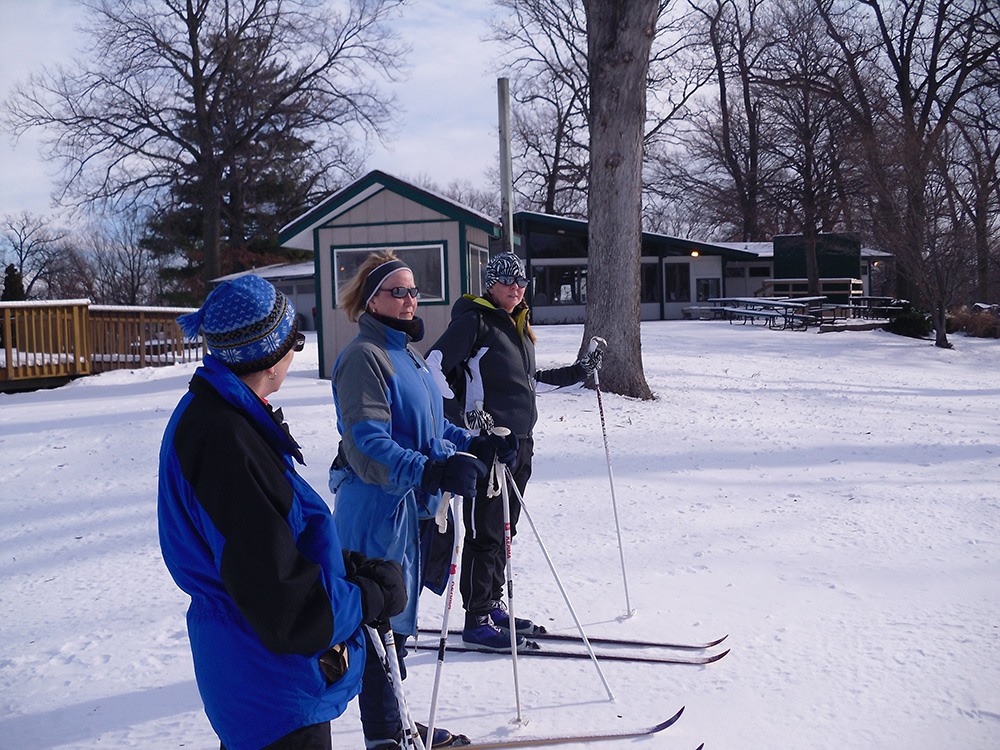 Q: What kind of wildlife can you expect when skiing in Iowa?
Animal tracks are always your first indicator for what's living in the area – deer, coyote, weasel, rabbit and wild turkey. It's always fun to see the turkey wing pattern in the snow for 20 feet and then it's gone because the bird has taken flight. These are the gems seen when out cross country skiing. Bird watching is also plentiful with no foliage in the trees – especially the Pileated Woodpecker.
Q: Any final tips for those just starting out?
1. Don't overdress.
2. Don't expect to be an expert the first time out! You will find it awkward and maybe a little frustrating. Just like any sport, once you sleep on it, you will find it easier the next time, so give it another go.
3. Bring water and a snack. You will be sweating and really working out.
4. Know where you are - be safe! It is easy to get lost in the woods or turned around. Go with someone experienced. Take your cell phone and have a map of the area.
Ready to get started? Check out these locations: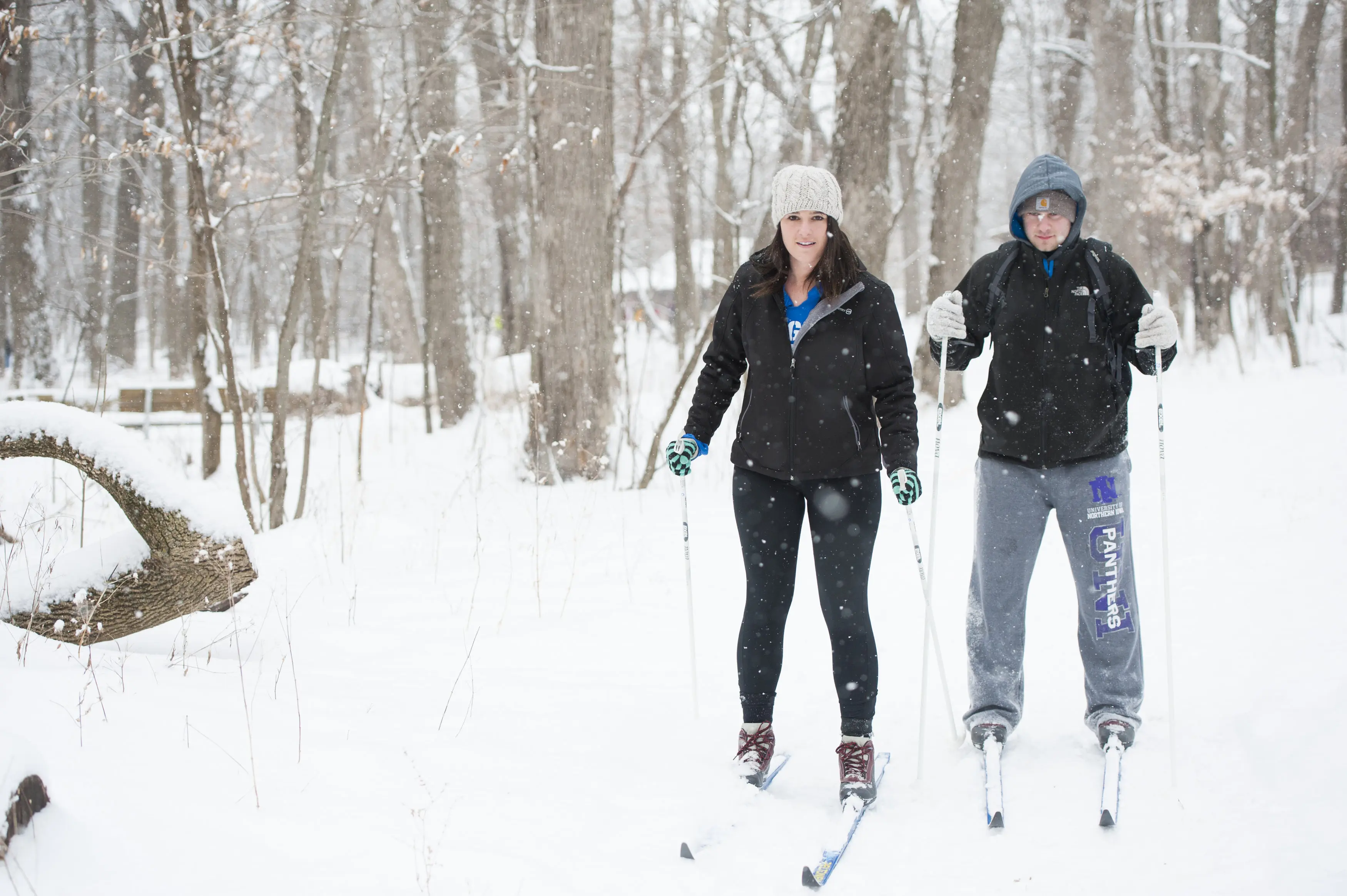 When the snow falls, George Wyth's renowned bike trails are transformed into well-groomed cross-country skiing trails through the Waterloo's extensive forest. Local organizations such as the Cedar Valley Nordic Skiing group offer free ski lessons to those just getting started. Rentals are also available through UNI Recreation Services and Crawdaddy Outdoors in Waverly.
Home to some of the best cross-country skiing in the state, Decorah's trail system winds through some serious scenery. Ski through Palisades-Kepler State Park and the Community Prairie or the more secluded Ice Cave and Twin Springs Parks. The well-known 11-mile Trout Run Trail is also groomed for both classic and skating styles.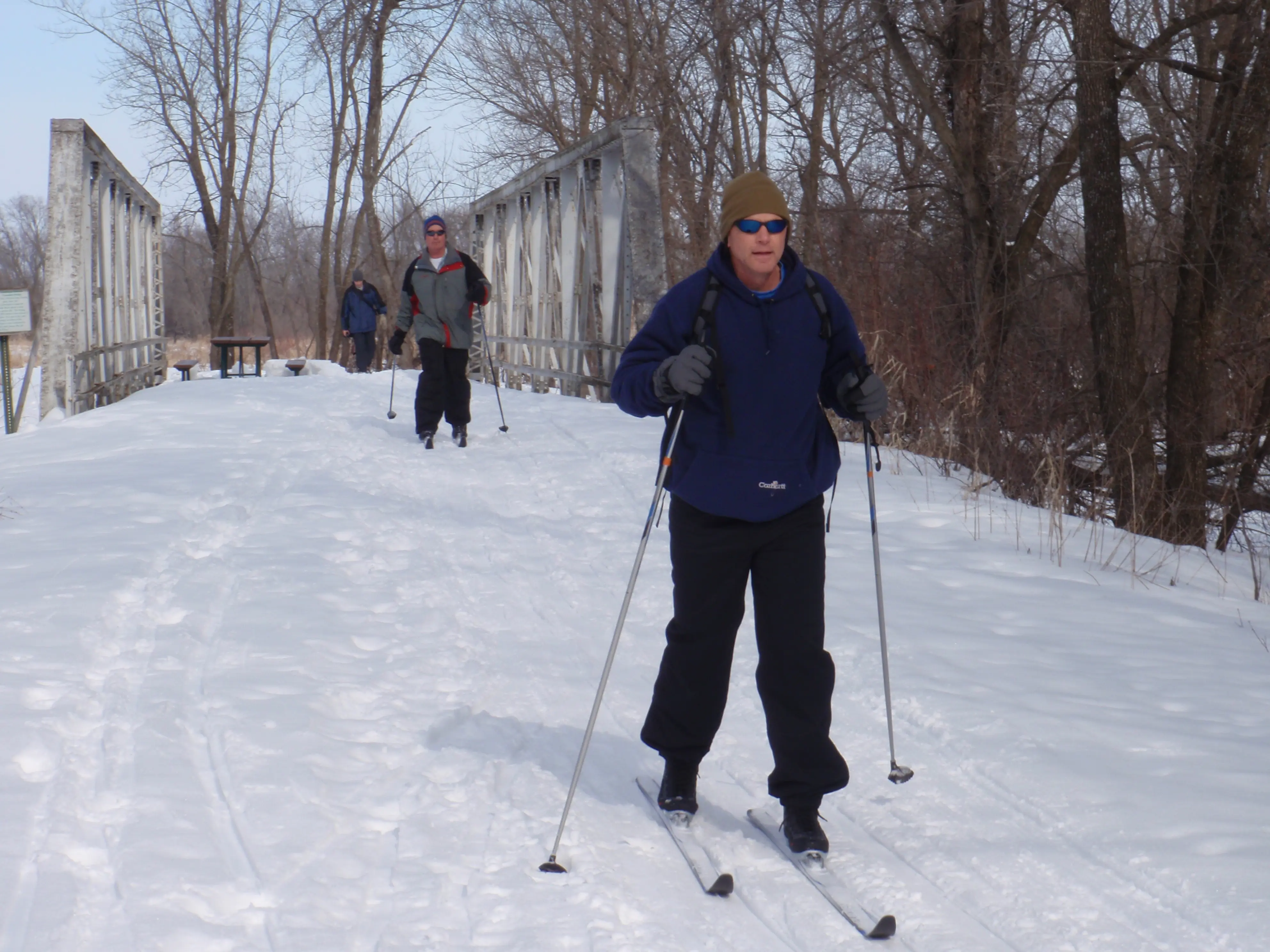 Discover a winter wonderland at Chichaqua Bottoms Greenbelt, where a series of flat trails wind through the woodlands and prairie following the old Skunk River channel. Head to the campground and choose from several groomed loop trails, where you'll discover deer, fox and otter tracks along the way. Rentals are available through the Jester Park Outdoor Recreation and Wellness Center.
The 6.2-mile loop trail around Viking Lake offers stunning winter views of the water and surrounding woodland. For a shorter loop, head to the campground and embark on the one-mile Burr Oak Nature trail.
Dive into the Iowa Great Lakes' nature areas during the winter. The main part of the groomed trail is a 14-mile-long route from Milford to Spirit Lake, passing Okoboji and West Okoboji Lakes, Arnolds Park and Lake Park. Along the way, you can veer onto shorter trails such as the Kenue Park, Arnold Park City and Spirit Lake City trails.
For the more experienced cross-country skiers looking for a challenge, head to Gleason-Hubel's Brent's Trail. This eight-mile stretch passes right through the Loess Hills State Forest and features steep hills leading to great overlooks, making the gorgeous winter views worth the effort.
This roughly two-mile loop is a popular spot due to its elevation and opportunities to spot wildlife. Skiers also enjoy passing through the heavy woodland, which makes up one of the largest continuous stands of timber remaining in the country and provides views of Woodland Indian mounds.
More Helpful Links:
East Iowa Ski Club
Prairie Springs Nature Center, Cresco
Iowa City Nordic Club
Iowa Ski Trail Update
Equipment Rentals – Polk County


Prefer to swoosh down slopes? We've got your covered there, too:
A visit to Dubuque can lead to the discovery of over 20 scenic trails for all levels, two terrain parks, two mountaintop lodge and a vertical drop of 475 feet, therefore visitors are sure to find downhill thrills at Sundown. All ages and skill levels are welcome with offerings of beginner lessons and a kids' park.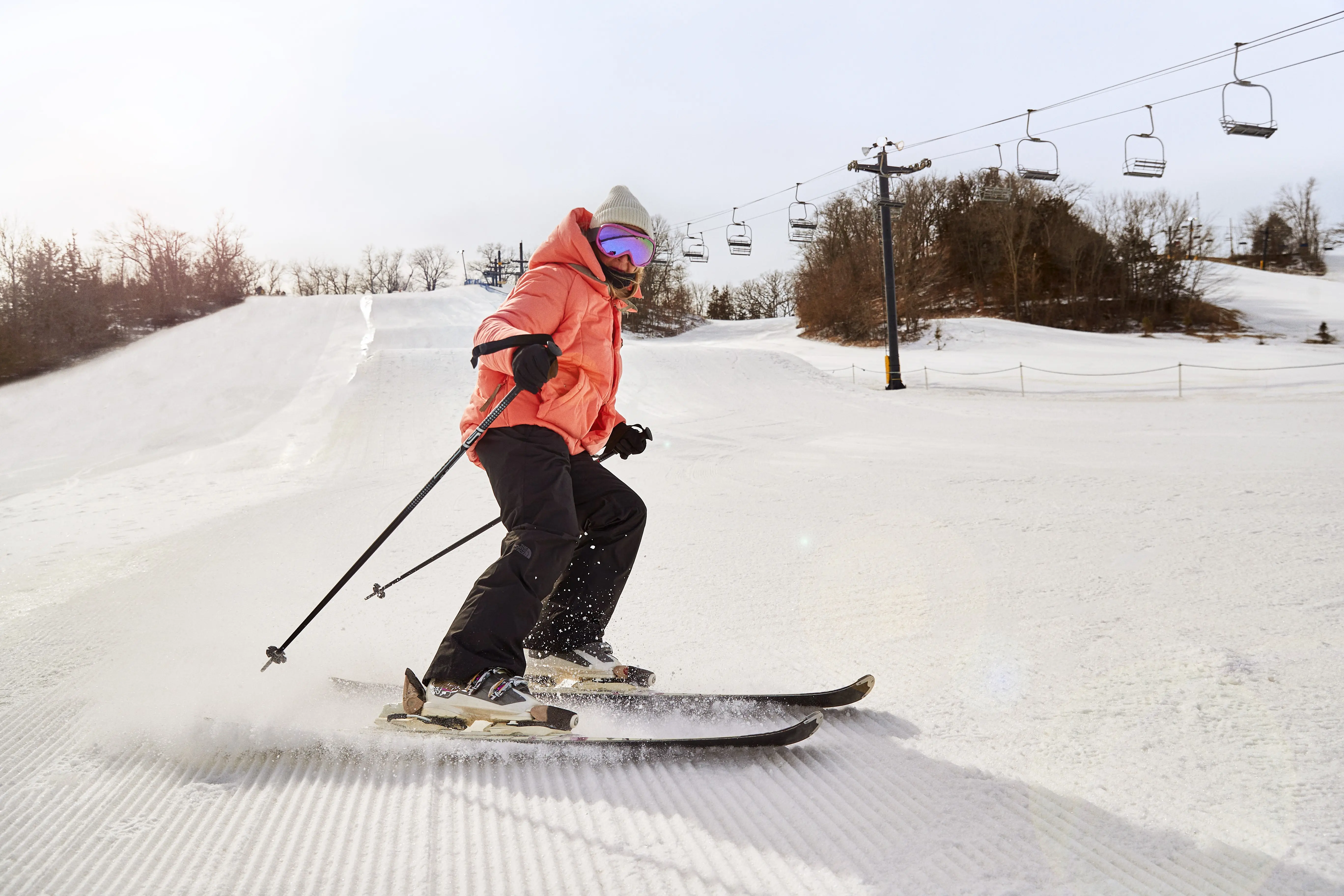 This family-owned and operated attraction brings visitors to Boone to enjoy 11 slopes for varying skill levels, a terrain park, rail yard and beginner area. With every lift ticket, free lessons are provided, making this the perfect spot for learning and mastering the art of skiing.
Experience the beauty of the Loess Hills in the winter with a visit to Mt. Crescent Ski Area. With 2,400 feet of slopes for all levels and a Swiss-style lodge and sundeck, this destination is one of the best winter getaways. They also offer classes for those just getting started.