Escape the crowded hotels and discover a unique lodging destination hidden among Iowa's prairies and rolling hills. These 10 renovated barns and bins invite you to experience the rural lifestyle in comfort and luxury.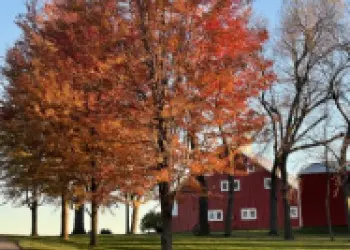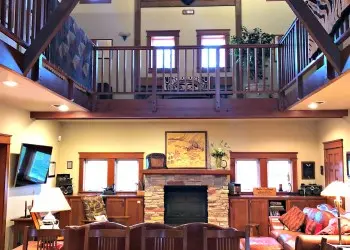 When a family farm comes together to save the property's classic red English-style barn, the result is a charming bed and breakfast. Guests can choose from six themed rooms in the property's classic red English-style barn, two of which have private bathrooms. The other pairs share bathrooms, making them a great space for families. A hot breakfast is served each morning to start off an exciting day of exploring Audubon.

While barn lofts usually store hay, this farm family decided to turn theirs into a 1,400-square-foot vacation destination. Situated above the timber framed barn, the Barn Loft features four bedrooms, 2.5 baths, a full kitchen, TV, fireplace and a deck to enjoy the views. The outdoor space is just as amazing and includes a swimming pond, fire pit, grill and hiking/walking trails throughout the acreage. It's also a short drive away from Dorchester some of the best trout fishing in the state, making it an ideal location for any angler.


Enjoy a unique stay filled with rustic charm at the Grain Bin Lodge & Retreat, which is just a short drive away from the Ice Cream Capital of the World, Le Mars. This renovated bin was brought back to life with reclaimed barn wood and corn crib lumber then filled with antiques. The lower level includes a full bath, vintage kitchenette, smart TV with Wi-Fi and a large dining area. The loft above includes one full bed and two queens with a changing area.

Sleep inside a 100-year-old post and beam barn that was converted into five levels to welcome guests seeking rest and relaxation. Reserve the entire Elkader space for a large gathering of 20+ people or choose from three private bedrooms, two dorm-style bedrooms or two lofts accessible by ladders. The modernized barn includes a full kitchen, three bathrooms, a fireplace, game room and covered porch and fire pit, all while preserving its rustic character.


Crafted from a salvaged barn and corn crib that were torn down and moved piece by piece to its current location in Postville, this "new" barn features high ceilings and repurposed materials throughout. The property includes accommodations for up to six people, two beds in the loft and a sleeper sofa on the main level, and a warm breakfast served every morning. Recharge with friends and family while enjoying the outdoor grill, playing games, reading in the corner nook or savoring a peaceful night in front of the gas fireplace.

Experience the best of farm life on this former dairy farm in Ionia, whose owners renovated the gambrel-style barn to share their piece of paradise with guests. Choose from eight guest rooms named after the farmer's favorite cows and enjoy a complimentary, farm-fresh breakfast and dinner each day of your stay. Two of the rooms are handicap accessible and each room includes a private bathroom. Outside, you'll be greeted by Alfie the farm dog and an abundance of barn cats, and you might even see the owners tinkering around on the farm.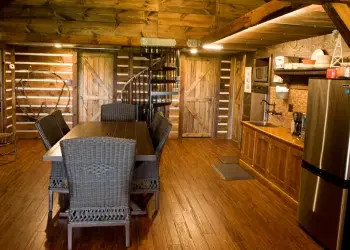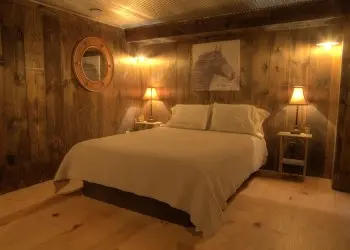 Situated on a fifth-generation farm in Seymour, this distinctive batten-board barn is a direct replica of the one that previously stood in its place. Inside, you'll discover a quaint, rustic space, which can accommodate 14 people, featuring four bedrooms, three bathrooms, a huge living room, a full kitchen, breakfast bar and laundry. Plus, the barn offers unmatched views of the timber, Thumper the farm dog (aka the friendliest host) and a short drive to Lake Rathbun.

Nestled at the foot of the Loess Hills, this repurposed grain bin has been customized to offer a relaxing, luxurious country getaway. The bin features two bedrooms and a sofa bed for up to six guests, one large bathroom, a full kitchen, laundry, WiFi, a custom-made spiral staircase and a patio with a fire table. The best part? The land includes 20 acres of Loess Hills to explore, and is also a quick drive away from Missouri Valley and numerous state parks in the area.


If you're not one for camping but still want to experience the breathtaking beauty of Dog Creek Park, enjoy the scenery in luxury with a stay in park's converted metal silos. Appropriately named after the grains they once held, the identical Beans and Corn bins house six queen-sized beds each. The cabins also feature handicap accessible full bathrooms and kitchenettes plus an outdoor space that includes picnic tables, a grill and fire ring all overlooking the Sutherland park's picturesque lake.

Whether you're looking for a golf getaway or a simple weekend retreat, check out Bill's Cabin at the Primghar Golf & Country Club. This renovated grain bin can sleep up to four guests comfortably and boasts attractive hickory floors and kitchen cabinets, a full bathroom, full kitchen, cable TV and a large balcony overlooking the golf course. Ask about their "Stay and Play" package to take full advantage of the cabin's location.