Winter offers spectacular scenery, challenging fitness sports and wildlife sightings galore, creating the perfect time to try something new. When snowflakes lightly blow across the blanketed landscape and icicles twinkle on rooflines, don't cower next to the fireplace. Pack a thermos of steaming hot cocoa or soup and snacks in a backpack, dress in layers, grab the hat and mittens and head outside to experience an underutilized season in a whole new way.
Ice Boating

Winter's strong winds paired with a frozen Clear Lake make for prime iceboat sailing conditions. This surprising winter activity welcomes adrenaline-seeking ice boaters as they look for open spaces where winds sweep across miles of frozen water to take boats up to 60 miles an hour. The ice must be at least four inches thick and free of holes, heaves and fissures.
As iceboats are mounted on skate-like runners, the pressure of the stainless-steel blades creates a thin layer of water to glide on. Look for ice boaters in Clear Lake, Heron Lake at Raccoon River Park in West Des Moines and at Lake MacBride near Solon.
If you get an opportunity to join the ice boaters, be sure to wear layers of winter insulation, coveralls, insulated boots, thick gloves and a snowmobile helmet with a full-face mask. Carry an ice pick, in case you must haul yourself out of water. Learn more about this unique activity by watching a video from Iowa PBS.
Sled for Free or a Small Fee

You don't have to be young to enjoy the thrills of sledding down a slippery slope. Some areas even help you get back uphill.
Sledding at Moorehead Pioneer Park near Ida Grove provides fun up and down the hill. They operate a tow rope on Sundays from 1:30 p.m. to 4:30 p.m. and a lift ticket is only $2. A relocated train depot serves as a warming house, so the whole family can make an afternoon of it. Named for the Moorehead family that operated a stagecoach inn in the 1850s and is home to historical features such as the inn, hand-hewn barn with wood-pegged timbers and the Grant Center Schoolhouse.
For more slippery fun, bring your sleds and inner tubes to "The Chute" – a notorious, incredibly steep hill – at Hitchcock Nature Center in Honey Creek. The lodge also rents out snowshoes when there is more than four inches of snow on the ground for $6 per day.
Head to Horseshoe Bend in Milford to take adventure of their tube rentals and tow rope return for $10 per person per day. Regular hours are Saturdays and Sundays from 11 a.m. to 5 p.m., depending on weather conditions.
Finally, Seven Hills Park near Jefferson has a free rope tow on Saturdays and Sundays from 1:30 p.m. to 4:30 p.m. when there is at least four inches of snow cover.
Cross-Country Skiing

Iowa also offers great terrain for cross-country skiing, and the scenery is especially beautiful in parks. Many state and county parks offer clinics and rent skis to introduce folks to the sport, making it a perfect winter hobby to take up.
Prairie Springs XC Ski Trails in Cresco combines a skating lane and classic track on the main recreation trail, which is set among stunning views and superb displays of nature. Start at Prairie's Edge Nature Center two miles south of Cresco.
George Wyth State Park in Waterloo has three miles of groomed skate ski trails, and Big Creek State Park on the northwest side of Polk City has two and a half miles of trails groomed for skate and Nordic-style skiing.
Snowshoeing

A snowshoe walk in the woods during snowfall is the closest thing to absolute peace in this world. Get an up-close look at nature and exercise in any snowy public area.
With many snowshoe styles for different terrains, it's best to borrow or rent. The first time, head out for 30 to 45 minutes, take a five-minute break, then follow your own trail back to your starting point.
Many county parks rent gear and give guided snowshoe hikes, so call county conservation boards for details.
Ice Skating

What's more special than holding hands with a special someone under starlit nights, or helping a helmeted 4- or 5-year-old keep their balance on ice? Whether you prefer figure skates or hockey action, skating is an invigorating way to connect with the winter season.
Great outdoor skating includes the 15-acre lake at Pilot Knob State Park near Forest City, Jones Park or Noelridge Park in Cedar Rapids, Red Haw State Park near Chariton, Marian Park in Clear Lake, Brenton Skating Plaza in Des Moines and the Shrine of the Grotto of the Redemption in West Bend.
Wildlife Tracking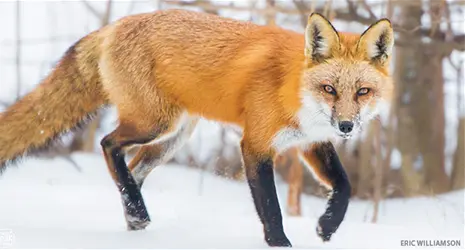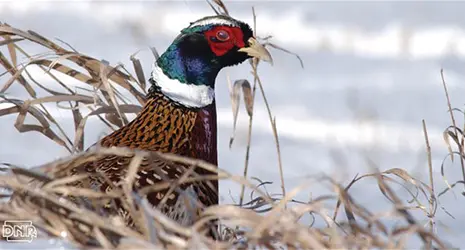 In daylight, follow animal tracks in the snow to find their watering holes, where they've slept—even what they've eaten by trailside scat. Look for wing prints in the snow, as well as hoof, feet and paw prints.
Night walks are about sounds. You'll likely hear hoots of owls as they warn others to avoid claimed hunting grounds. Hear coyote calls to gather the family pack. As they gather, more voices join with yips, yelps, barks and whines. If you get too close to a deer family bedded for the night, one will snort to warn others. Raccoons too, are active and vocal. Hear them purr, coo, chirp, whimper, snarl, growl, hiss, scream or whinny. An opossum may hiss if you cross its waddling path. Bobcats have a low-pitched growl and high-pitched scream—rare to hear—as their great night vision and hearing allows them to vacate long before you near.
Winter Destinations

Whiterock Conservancy in Coon Rapids is popular for winter family gatherings with a five-bedroom home, rooms at the Garst Farmhouse and two cottages. Children enjoy the historic farm and pond areas. Trails are easy to walk and wildlife evident. See snowy tracks of deer, rabbits, beaver, river otter, birds, field mice and waterfowl. Cross-country skiing, snowshoeing and hiking allowed on trails. View their bison herd clad in thick winter coats.
Honey Creek Resort, located near Honey Creek State Park, features cozy getaways. Kids relish the indoor waterpark and wildlife watching. Check schedules for ice fishing classes, or fish the boat docks where de-icers keep water open. Explore 47 miles of lakeside snowmobile trails that lead to the resort. Guided hikes include birding, animal caches and "winter wonderland." A fireside program, "Nature Tales," gives families a chance to enjoy a story while making s'mores—held outdoors weather permitting, or around the indoor fireplace. Monthly stargazing classes are held under clear winter skies.
Winter Camping

No bugs, no poison ivy and few people describes winter camping. With a four-season tent to shed snow and wind, a mummy bag, an insulating, closed-cell foam ground pad and a fleece hat while asleep, winter camping can be comfortable—with great star viewing.
Yellow River State Forest in Harpers Ferry offers year-round camping at non-electric sites. The Paint Creek Unit has equestrian accommodations, fishing, hunting and more than 25 miles of trails for hiking, equestrian, cross-country skiing and snowmobiling. Ski the Luster Heights Unit's groomed trails or backcountry ski through forest.
Find more winter camping at Scott County Park, Wildcat Den State Park, Eden Valley Wildlife Refuge and Pikes Peak State Park.
Horse Trail Rides

Gazing across snowy fields, hills and forests from horseback is blissful. For a list of parks and forests that welcome equestrians and phone numbers to check trail conditions, search "equestrian" at iowadnr.gov. Otherwise, Jester Park Equestrian Center near Granger offers guided and unguided trail rides, and wagon and sleigh rides.
Ice Fishing

Walleyes, northern pike, crappies, bluegills, trout, yellow perch and even catfish are as exciting to catch in winter as any other season. Ice should be at least four inches thick, children should have adults with them, and never fish alone.
Most ice-fishing classes are held in northern Iowa. Check with county conservation boards or local fishing guides to find outings.
Published with permission from Iowa Outdoors magazine, a publication of the Iowa Department of Natural Resources. To subscribe, visit iowadnr.gov.