The chill in the air does not mean you have to shelve your passion for fishing. Thousands of anglers take to the ice each winter and enjoy some of the best fishing experiences of the year. And Iowa offers some of the most impressive winter catches in the country.

Although fewer anglers fish in the winter, the Iowa Department of Natural Resources says anglers often catch more fish through the ice than during the spring, summer or fall. Fishing tends to be best during the early and late winter weeks. Mid-winter anglers can have success, particularly if they fish in the early morning or late evening hours.

Get more ice fishing tips and tricks from the Iowa DNR.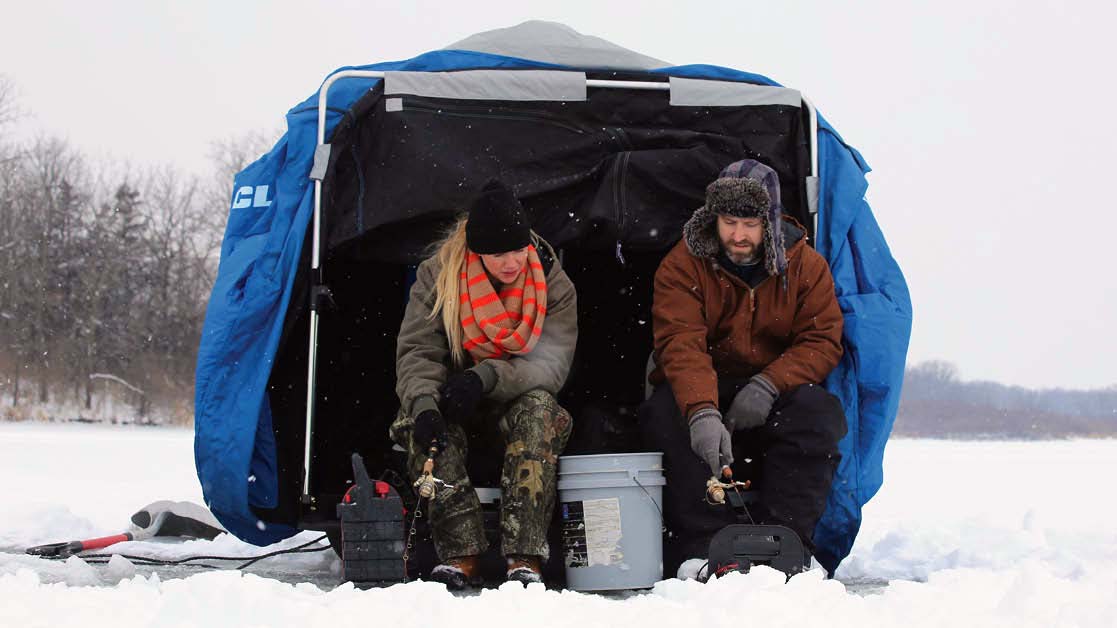 Northern Iowa Hot Spots
Ice fishing conditions can vary significantly across the state. Northern Iowa tends to offer the longest ice fishing season due to colder winter temperatures than central and southern Iowa. It's also home to Iowa's largest lakes such as Big Spirit Lake in northwest Iowa. Big Spirit and the other Iowa Great Lakes offer a diverse winter catch including yellow perch, walleye, bluegill and crappie.

Clear Lake in north central Iowa attracts anglers from as far away as Des Moines and southern Minnesota. In fact, you might find more than 100 ice fishing shelters sitting on the lake for several weeks during the winter where anglers catch yellow bass, walleyes, bluegill, yellow perch and crappie. Shelters range from simple tents to homemade heated plywood and canvas shelters to trailers that resemble tiny houses complete with furniture, kitchens and flat screen TVs.
The Scenic Mississippi Backwaters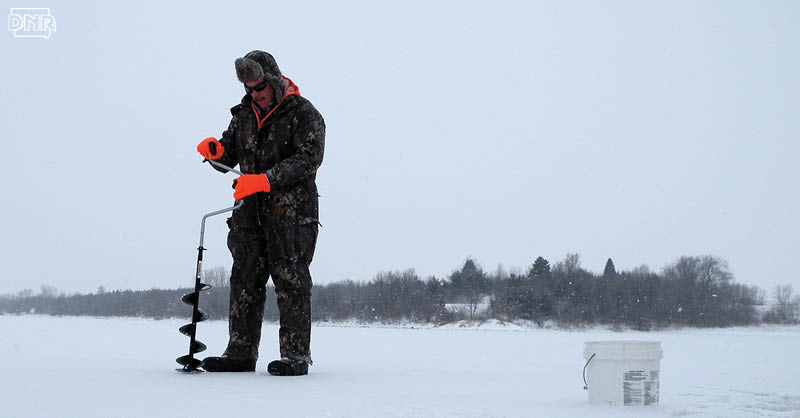 The Mississippi River backwaters in northeast Iowa have earned a reputation for producing record winter catches of yellow perch, thick bluegills and crappies as well as largemouth bass. Fish do not overwinter well in shallow backwaters. Instead, focus your ice fishing trip in dredged backwater areas such as Mud Lake and Sunfish Lake (Pool 11), Shore Slough near Lansing (Pool 9) or Bussey Lake (Pool 10).
Central and Western Iowa Gems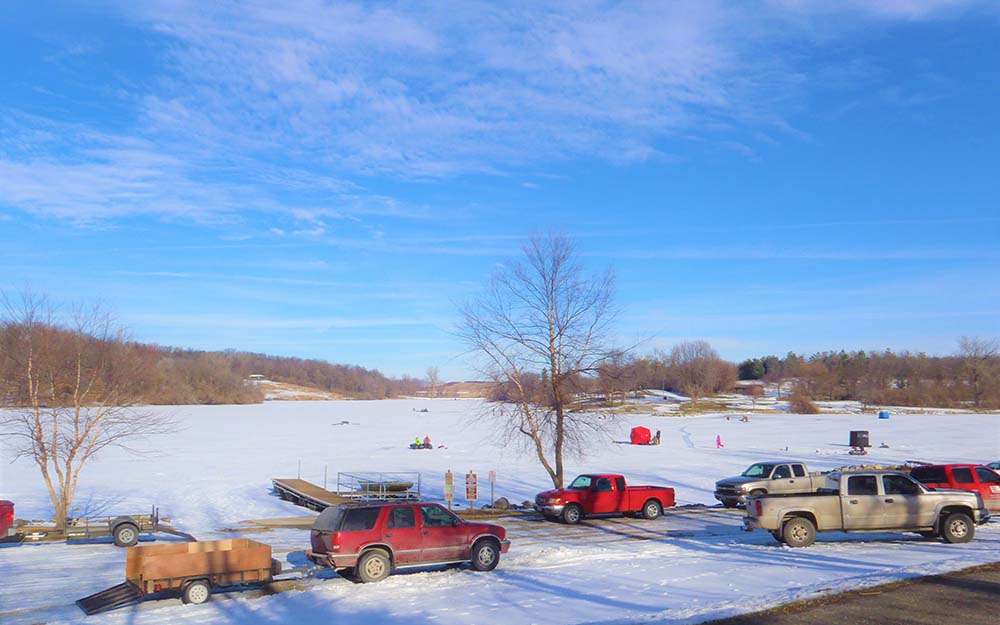 Central Iowa also has numerous ice-fishing hot spots. Big Creek State Park northwest of Des Moines offers a large, deep lake with a wide variety of fish, including hybrid striped bass (wipers), walleye and crappie. This lake usually takes a little longer to freeze over than the smaller water bodies.

About 50 miles north is Brushy Creek near Fort Dodge -- another large, deep lake. Submerged trees that poke through the surface provide ideal habitat that supports large populations of bluegill and crappie as well as walleye and perch.

Twelve Mile Lake, east of Creston, is also a popular spot for ice fishing. Ice anglers usually focus their efforts on the deep cedar tree brush piles or rock piles along the submerged roadbed for bluegills, crappies and walleyes.

In western Iowa, Black Hawk Lake in Lake View is a hot fishing spot for crappie. Quality size yellow perch are a bonus. If you're after channel catfish, bring a big auger to make a hole large enough to pull Black Hawk's big cats through. A newly dredged area in the east basin offers new dredge cuts and other areas to explore.
Be Prepared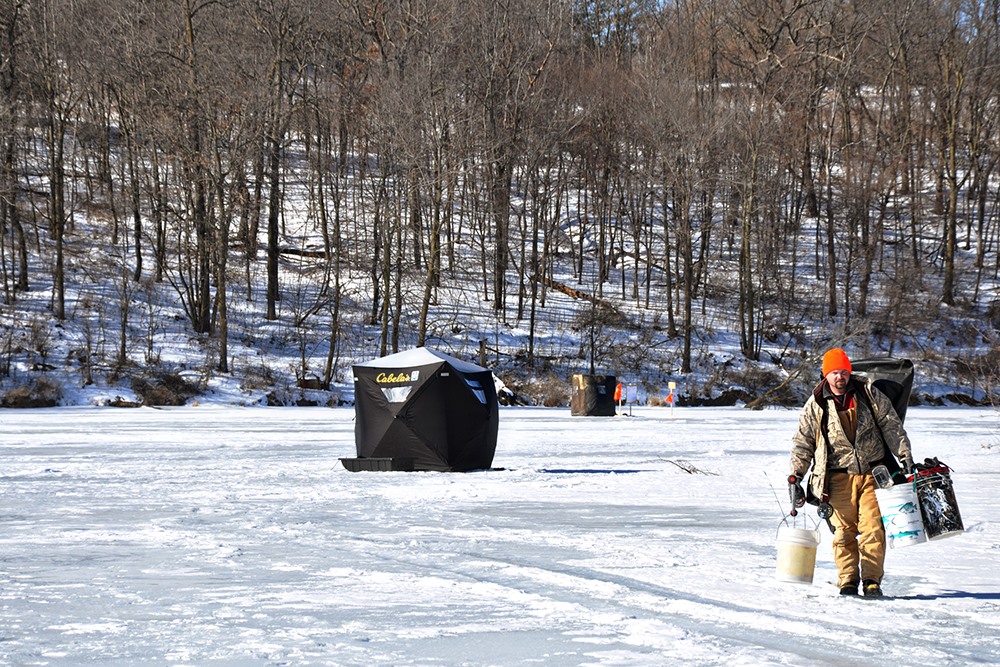 Every successful ice fishing experience starts with careful preparation. Chris Larson, fisheries supervisor for the Iowa Department of Natural Resources, says the most important step is to be sure the ice is thick enough to support your fishing party. Four inches of clear blue ice can support an adult. Five to six inches of clear ice is needed for groups of three to four people, snowmobiles or ATVs.

"One of the first things I suggest is to visit with someone who has ice fished before and get some good insight on how to get started," Larson says. "You can also visit with any local DNR biologist anywhere across the state as far as where to fish and how to do it."

Most sporting goods retailers can supply novice anglers with basic equipment and bait for a successful ice fishing trip, as well as up-to-date fishing regulations and licenses. The Iowa DNR also allows anglers online access to the state's fishing regulations and a secure portal for purchasing fishing licenses.

The Iowa DNR also maintains an online database of fishing locations in Iowa and the species of fish you can find. They also produce a weekly fishing report with the latest statewide news. And, while most anglers won't tell you their favorite fishing spots during the summer, it's pretty easy to spot great locations in the winter. Look for spots where someone else drilled through the ice.
Ice Fishing Events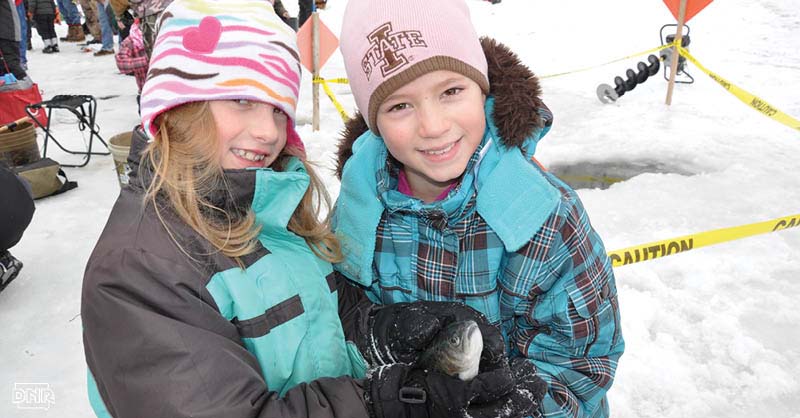 Several communities and county conservation boards will host ice fishing clinics and events during the winter months. Visit our events calendar to search for upcoming fishing events.