Get rolling on the river this summer with some great water adventures across the state. We've gathered some of the best tips and tricks from local experts, along with some of the best beginner-friendly locations, to help you have the best experience. So, grab your gear, pack up the car and explore Iowa's waters.
Meet the Experts
Todd Robertson
Todd is the river programs Outreach Coordinator with the Iowa Department of Natural Resources (DNR). He is a certified canoe instructor who loves teaching people to be more efficient paddlers.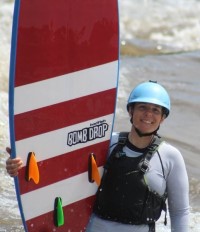 Hannah Ray J
Hannah is an Iowa native and multi-disciplined athlete who loves being outdoors and pursuing her whitewater endeavors. She is a frequent visitor to the Charles City and Manchester Whitewater Parks, and also leads surfing and kayaking lessons.
Know Before You Go
Preparing for the Water
• Learn by doing. After purchasing a kayak, canoe or paddle board, test your skills in a safe environment or participate in beginner classes.
• Be sure to check the river levels, water temperatures, weather, location of dams and hazard areas and know where all the access points are.
• Dress for immersion. Wear sturdy shoes and necessary clothing.
• File a float plan. Plan the details of your trip and let someone who is not part of the group know your location and expected return.
• When possible, don't go alone. Always take a friend or go with a group as a safety precaution. Plus, it's more fun.
• Pack a life jacket. And preferably know how to swim.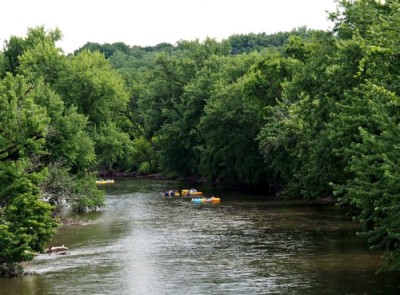 River Tips
• Avoid large piles of wood and rain-swollen streams.
• Pack a dry bag with an extra set of clothing.
• Take a litter bag.
• Keep your cell phone in a waterproof case or dry bag.
• Use the DNR interactive paddling map for real time hazard locations.

Whitewater Tips
• Get the right gear. Must have a whitewater kayak/surfboard, whitewater paddle, personal flotation device, helmet and spray deck. No ankle or leg leashes in the river.
• Consider additional equipment. Look into a drysuit, wetsuit, ear protection, paddling mittens/gloves, insulated river boots, insulated layers, etc. Must be fleece/performance wear. No cotton.

Resources
• At iowadnr.gov, you'll find water trail maps and brochures, an interactive paddling map and paddling regulations.
• Visit American Whitewater or USGS to track river levels. Sign up for text alerts. Keep a log of changes to build your personal river level history knowledge.
• Check out NRS' whitewater kayaking safety guidelines.
Beginner-Friendly Water Trails & Lakes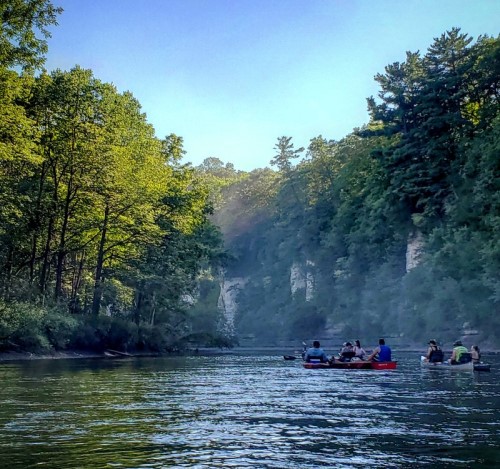 Long known for its legendary views and picturesque vantage points, the nationally recognized paddle trip from Kendallville Park to the Bluffton Access pretty much has it all: eagles, campgrounds and boat rentals along the way. The trip can be split up into smaller segments. Visitors can get rental and camping packages through Harvest Farm Campground Resort or Chimney Rock Campground & Canoe Rental in Cresco.
With its low gradient and good access points mixed with not being remote, the river between Walnut Woods and Waterworks Park in Des Moines offers a good starting point for paddling experience at normal water levels. For the average paddler, it's about a four-hour trip, and has camping options available at the trailhead and a beautiful park to explore at the end.

Blue Heron Lake @ Raccoon River Park - West Des Moines
This small but scenic lake offers the opportunity for anyone to get on the water with boat rentals available at the Raccoon River Boathouse. Visitors can rent single and double kayaks, fishing kayaks, canoes and stand-up paddleboards. The stocked lake also offers good shore fishing, trails, a swimming beach, playground and restrooms.

Enjoy the scenic Bridges of Madison County at the put-in and end at Holliwell Covered Bridge south of Winterset. This state water trail begins at Middle River Forest County Park and meanders downstream through the beautiful countryside, covering about 45 river miles. All the accesses and necessary routes are marked by signage, making this an easy and relaxing trail to navigate. Reach out to CanoeSport Outfitters in Indianola for rental options.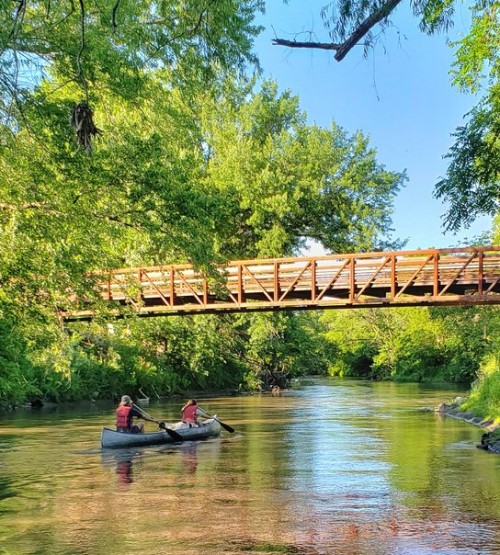 This relaxing and lazy stretch of prairie stream between Avoca and Macedonia provides shorter segments within and several parks including the famous Botna Bend Park in Hancock. Grab your canoe, kayak, tube or poly tank rentals from Rubber Duck Outfitters in Hancock and hit the water.
This short and easy paddle from Iowa Falls to Eldora provides a good introduction to the Iowa River system. Tons of access points along the entire river offer many paddling opportunities with customized starting and ending points or take a pre-determined trip with tube and kayak rentals from Rock-N-Row Adventures in Eldora. Or save yourself some paddling and hop on the Scenic City Empress, a double-decker pontoon boat, to experience the river's beautiful limestone bluffs, man-made waterfall, the historic swinging bridge and more.

This backwaters section of the Mississippi River is a wildlife magnet with many trails within the lake system to enjoy. Beware; some trails open and close depending on time of year and some paddlers have been known to get a little lost! Watch for signs and maybe even take your GPS. River otter and eagles thrive here. Get all the best advice and rental gear from River Basin Canoe & Kayak in Burlington for the best experience.
Guide to Iowa Whitewater Adventures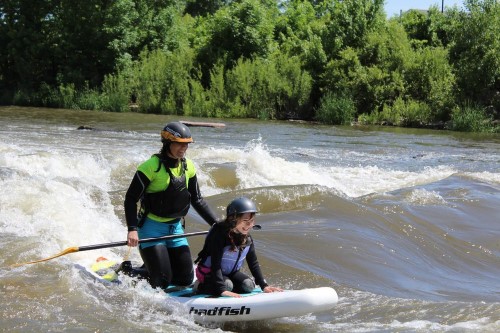 Charles City is home to Iowa's first whitewater park and the best whitewater play in Iowa. The first feature at Charles City is DD (Dam Drop) Wave. This dreamy wave is arguably the best river surfing wave in the Midwest. Playboats, long boards, river surfboards and stand-up paddle boards can catch endless carves on this wave's glassy face. The next features, Tew Shanez and Exit, offer up exceptional playboating opportunities for paddlers of all skill levels. Grab a kayak, tube or canoe rental from Rapids End Outfitters.
The Maquoketa River courses through the Manchester Whitewater Park, creating six features that offer an exciting whitewater experience for paddlers, tubers and swimmers. This park has numerous eddy lines for whitewater play and front surfing at medium/higher river levels. The limestone clad riverbanks offer river access, picnic and viewing areas. Ride the rapids in a tube or kayak rental from the Watershed Tube Rentals.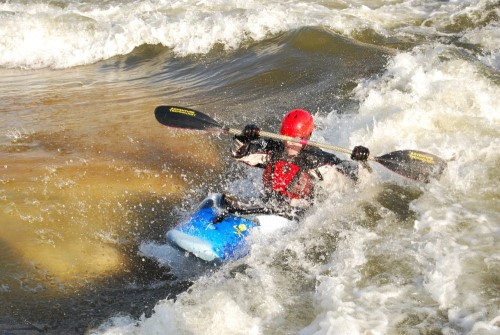 The Turkey River's naturally high-water levels creates a route offering the ultimate Iowa water thrills. Adventurers can surf the Gobbler Wave, navigate the rocks of Boulder Island or cruise past all the obstacles with the Fish/Canoe Passage. Try it for yourself with canoe and kayak rentals from Turkey River Rentals.