By Mary Bergin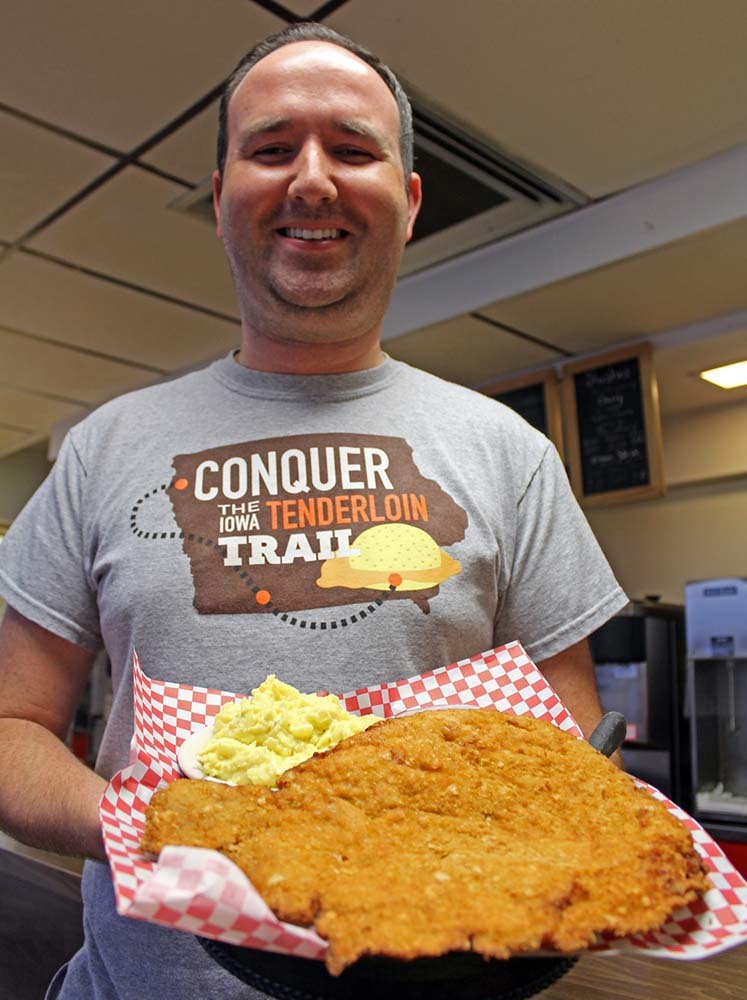 Forgive me, Iowa, for presuming all breaded pork tenderloins are pretty much the same.

I am a Wisconsin farm girl who should know better, having endured numerous shrugs of indifference from the uninitiated in response to the deceivingly simple question, "Is that a good brat?" The bratwurst is to Wisconsin what the pork tenderloin is to Iowa: a product of state identity, pride, unity and often-subtle culinary creativity.

Let's deconstruct Iowa's golden specialty, which resembles a Weiner schnitzel in appearance. Is the pork pounded thin or served thick? Covered with breading or batter? Spiced with what? Fried in what? Served naked or dressed up with lettuce and tomato? Arriving with a dollop of mayo or side of gravy? Sandwich or entrée?

"Cut fresh" and "breaded by hand" are typical descriptions.

Iowa is passionate and picky about pork for good reason. No state produces more of it. About 20 million pigs are raised on at least 6,000 Hawkeye State hog farms, and nearly all of them are family-owned operations. Count the tenderloin among the most tender cuts of pork, and it is as lean as a boneless, skinless chicken breast.

The pork tenderloin stars in Iowa school fundraisers and formal celebrations, from the tiniest of communities to the largest. Since 2003, the Iowa Pork Producers Association annually selects the state's best breaded tenderloin sandwich; 3,014 nominations from 271 establishments were submitted in 2017.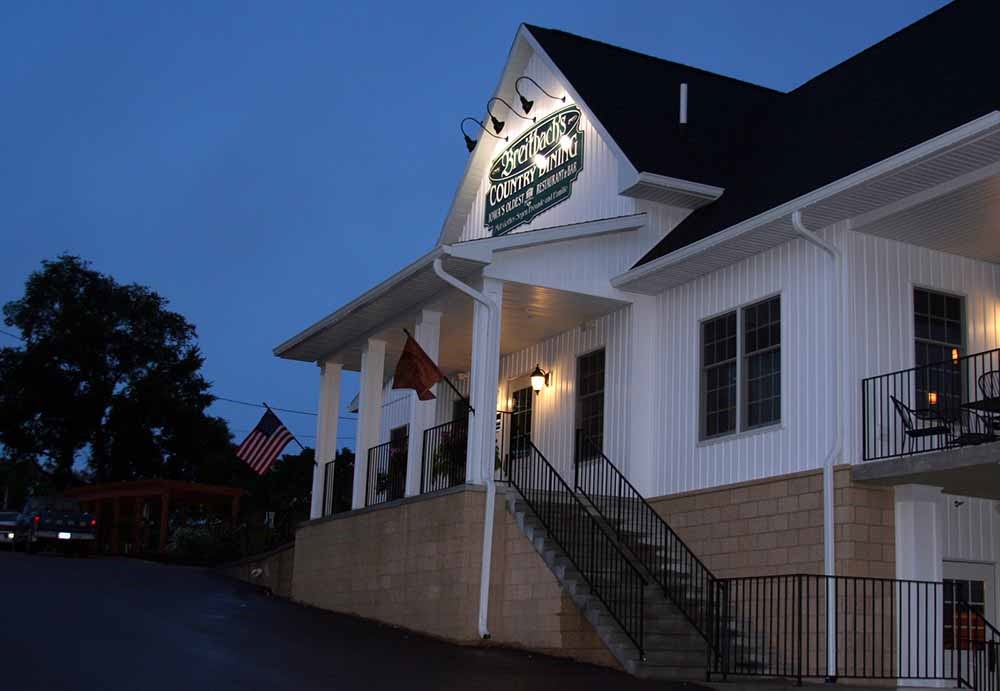 Among the winners: Breitbach's Country Dining in Balltown, population 68. The business won the best tenderloin title in 2012 and is Iowa's oldest established restaurant (open since 1852). Breitbach's also is a James Beard Foundation America's Classics winner, a lifetime achievement award for the restaurant industry and elite honor.

The breaded tenderloin also shows up at drive-ins and bowling alleys, supper clubs and sports bars, diners and the Iowa State Fair. Overwhelmed by the range of choices? The 14-stop Iowa Pork Tenderloin Trail makes it easier to sniff out the best of the best.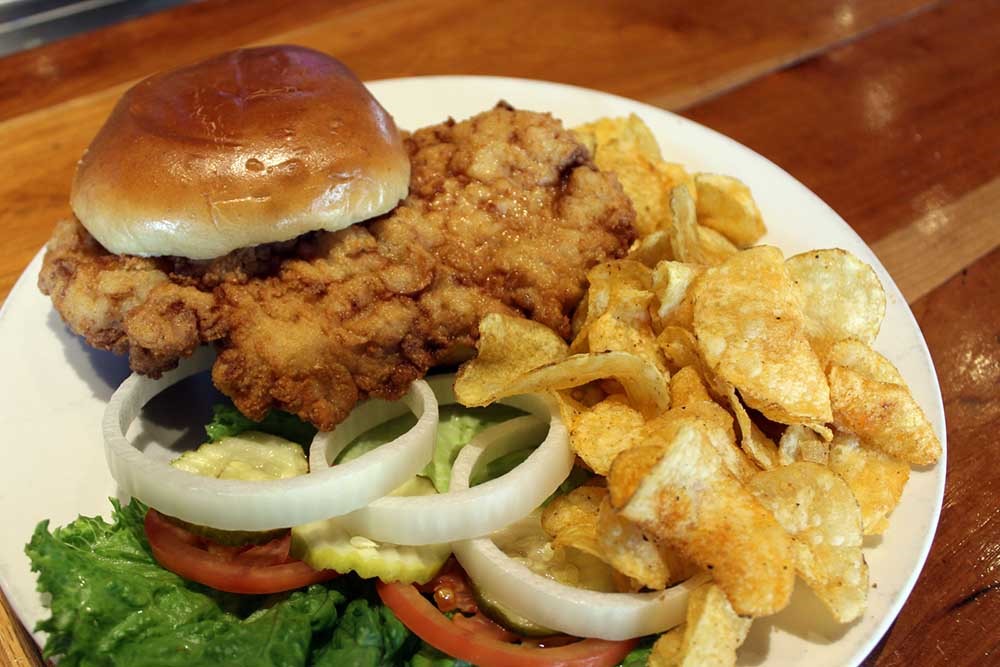 Located in central Iowa is The Other Place in Clive, which started as a Cedar Falls college bar that served pizza in 1970. Now multiple locations in Iowa and Kansas especially cater to sports fans.

Expect dozens of televisions, a roomy patio, fat menu of pizzas and one-half-pound tenderloins. The weekly Tenderloin Tuesday special saves you a couple of bucks on the sandwich; pair it with a 25-ounce mug of beer.
Across from the World's Largest Truckstop, off Interstate 80 and just west of the Quad Cities, is Gramma's Kitchen and proof that breaded tenderloins aren't just for sandwiches. The Walcott restaurant specializes in comfort food, which includes a pork tenderloin breakfast. The hand-breaded meat arrives with thick, sausage-spiked gravy and a couple of eggs on the side.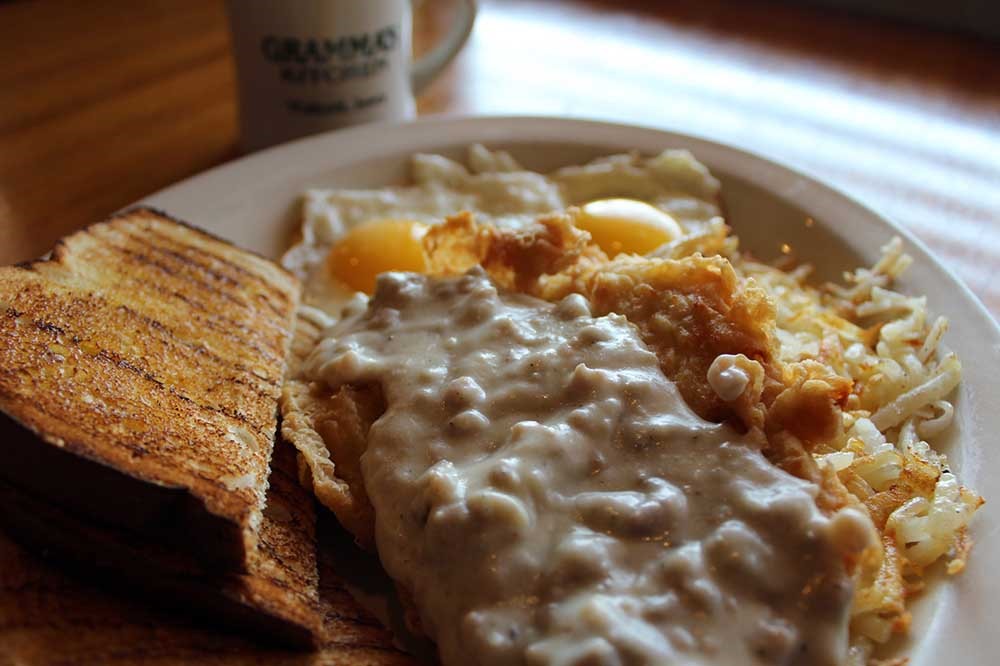 Gramma's breaded tenderloin was Iowa's state champ in 2011, and a big banner to that effect caught the attention of Travel Channel researchers one year later. So the cheery restaurant with a fun, down-home gift shop got a double dose of attention in a short time.

Sometime the backstory is just as fascinating as the food, and that deepens the Iowa tenderloin experience.

Brick Street Café in Bondurant, 15 miles northeast of Des Moines, is inside a grocery store that opened after owners Brian and Mary Lohse won a $202 million Powerball lottery in 2012. They used the money to buy a new house, pay off their church's mortgage, replace the high school football stadium and build the community's lone, full-line grocery store.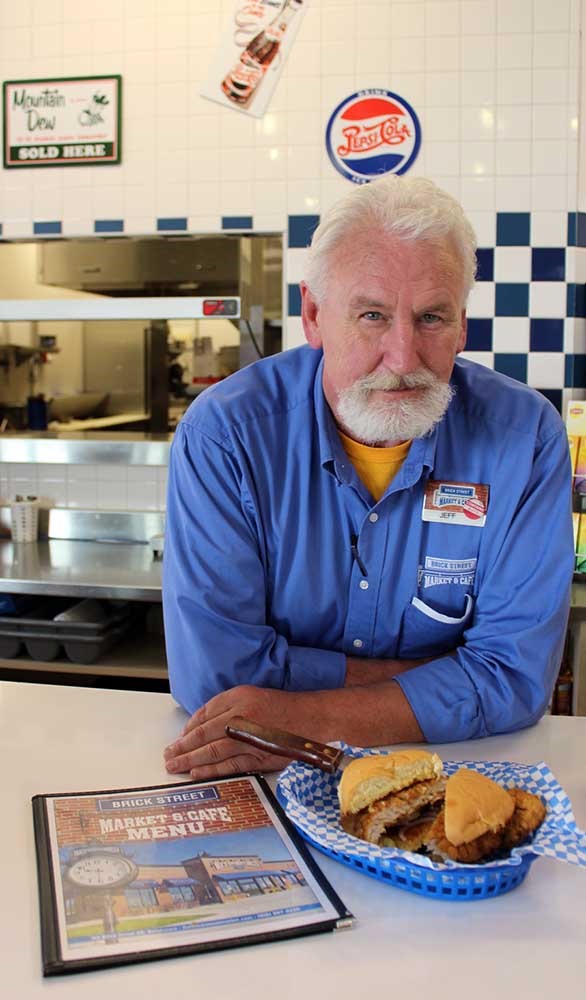 The breaded pork tenderloin is the café's top seller and 2014 runner-up as best in Iowa. The secret breading mix is sold by the pound at the grocery. Some fans like it so much that they'll spend more on overnight shipping for the sandwich (as far as Florida) than they do for the sandwich itself.

Less than 20 miles southeast is Brad Magg, who produced Iowa's best breaded tenderloin in 2009, two years after he turned 20 and bought Goldie's Ice Cream Shoppe in Prairie City, population 1,680. The little business used to operate seasonally; now it is open all year, and fans expect to wait for seating during prime meal times.

"Food tastes better if you have a wait a few minutes for a table," the owner believes, so don't bank on a business expansion because of his success. Magg, who baked and sold pies and cakes when he was merely 10 years old, is an Iowa Culinary Institute grad who tries to keep things simple. Match a pork tenderloin, pounded thin enough to cover a dinner plate, with potato salad that is made from his grandmother's recipe.

And sometimes the tenderloin show hits the road, big time. The 2009 state runner-up, TC's Point After, began perfecting its tenderloin sandwich recipe in 1980. The neighborhood sports bar and grill in DeWitt closed in 2017, but that's not entirely bad news: Owner Charles Cox for 10 years has spread the good word, smell and taste of Iowa pork tenderloin through his food truck business.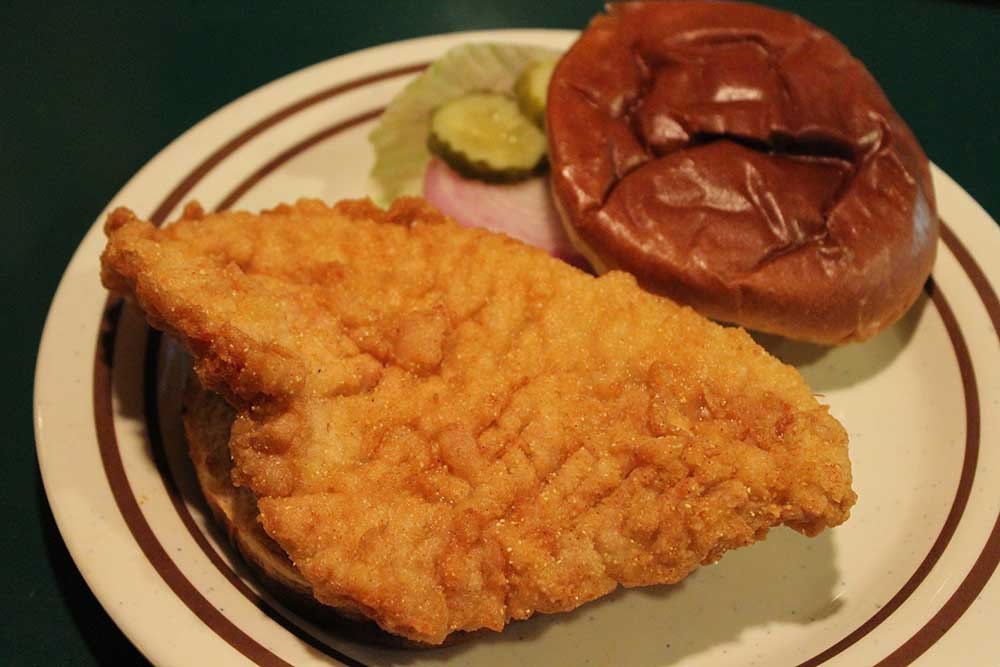 Chuckie's Tenderloin Trucks sell the sandwiches – whose meat is far larger than the bun – at NASCAR races, state fairs, spring training baseball games and other events in and out of Iowa.

"Please come back to Arizona," pleads one Facebook fan.

"See you guys tomorrow in Texas … we hope!" writes another.

"Best in Iowa? I think it's the best in the world," praised the late Ron Santo of Chicago, a WGN radio baseball commentator and Hall of Fame third baseman.
Travel the Tenderloin Trail
The Iowa Tenderloin Trail features 14 unforgettable sandwiches while celebrating the passionate families around the state who work diligently to provide safe, affordable and delicious pork. You don't have to take our word for it though, take on the trail and experience the tasty tenderloin goodness for yourself!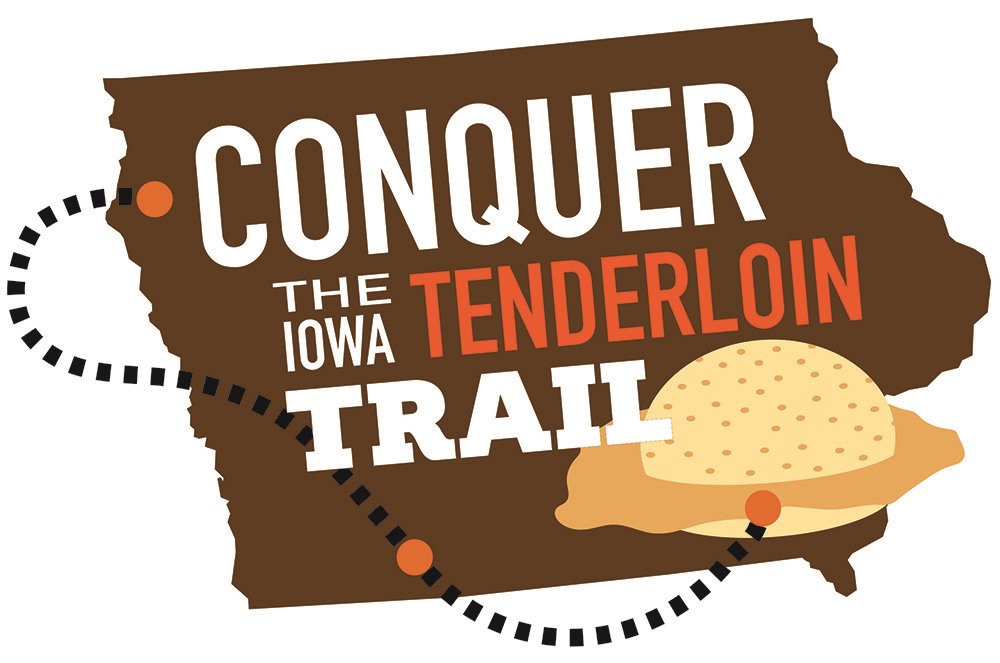 Download your Tenderloin Trail passport (or pick one up at any of the participating locations) and get it stamped at each spot. Receive 10 stamps in 24 months and get a free t-shirt from the Iowa Pork Producers Association commemorating your trip on the Tenderloin Trail.

Mary Bergin is a longtime, award-winning food and travel writer in Madison, Wis., whose syndicated newspaper columns are archived at roadstraveled.com. Her most recent book is Wisconsin Supper Club Cookbook.