The Iowa Wine Growers Association has declared June Iowa Wine Month. We can't think of a better way to kick off summer than with a crisp glass of locally sourced vino. Pop, pour and get ready to explore nearly 100 wineries, tasting rooms and vineyards across the state. From special events to historic vineyards, continue reading for our list of five unique ways to celebrate Iowa Wine Month – and support local winemakers – this June, and all summer long.
1. Visit a Historic Winery
Like a fine wine, these historic wineries located across southeast Iowa only seem to get better with age.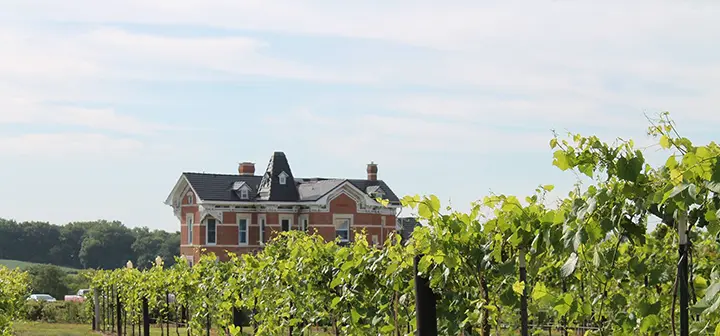 Buchanan House Winery, Tipton
Established in 1956, Ackerman Winery in Amana is Iowa's oldest winery. The family-owned-and-operated business has produced award-winning fruit wines for nearly 70 years.
Buchanan House Winery is housed in a 135-year-old mansion that was successfully moved to Tipton in 2009. While renovations to the historic home are currently underway, the winery features a nearby tasting room and charming outdoor garden with stunning views of its 19-acre vineyard.
East Grove Farms is one of only three meaderies in Iowa that produces mead with homegrown fruit from its family farm. Settled by relatives in 1837, the Victorian farmhouse in Salem is featured on the National Register of Historic Places.
Situated on a farm that's been in the family for over 160 years, Wooden Wheel Vineyards near Keota produces a wide range of classic wines and features a historic barn-turned tasting room to drink in the lush outdoor views.
Olathea Creek Vineyard and Winery derived its name from the history of the land, which was once a campsite for the Sauk and Fox tribes. The term "olethe" in Fox means beautiful, an understatement when it comes to describing the property. Located in the quaint river town of Le Claire, the vineyard features a picturesque creek and provides a quiet, country setting along the majestic Mississippi River.
2. Wine and Dine
It's no surprise that when someone says "winery" you think "wine." But, these tasting rooms are serving up some seriously delicious food, giving you two reasons to visit this summer.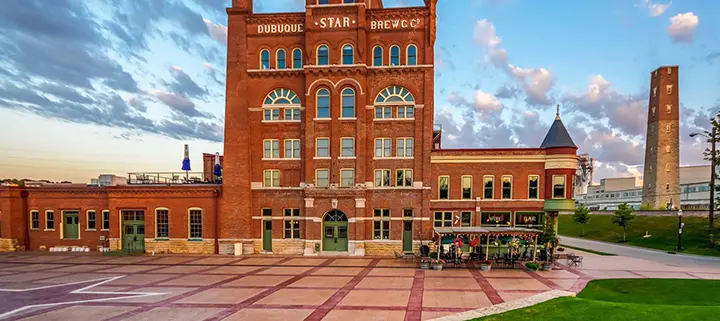 Stone Cliff Winery, Dubuque
Located outside Cedar Rapids in Swisher, Cedar Ridge Winery offers a full-service restaurant with signature dishes including wood-fired pizzas and a smoked meat selection best enjoyed with handcrafted wine from its very own vineyard.
Walker Homestead, a field-to-fork farm and winery situated on 85 acres just outside Iowa City, is open just once a week pouring local wine and serving up a dinner menu that regularly changes based on ingredients sourced from its garden.
If a dinner and a show is more your style, try Stone Cliff Winery in Dubuque, which hosts a murder mystery party complete with a four-course meal every month.
When it comes to wineries with wood-fired pizza, Tycoga Vineyard and Winery in De Witt offers a unique selection of specialty 'zas, including Mac and Cheese with Bacon and Chicken Arugula. Choose from its selection of more than 20 different wines to pair with your pizza.
If you prefer customizable options, Park Farm Winery near Bankston offers more than 20 different pizza toppings to choose from before its baked to perfection in their own brick oven. The chateau-style winery is reminiscent of France and offers breathtaking views of the Driftless Area scenery for you to soak in, too.
3. Sip, Shop and Stay
Why not make a whole weekend out of wine month? These wineries and boutique tasting rooms offer onsite accommodations and convenient access to local shops and nearby attractions.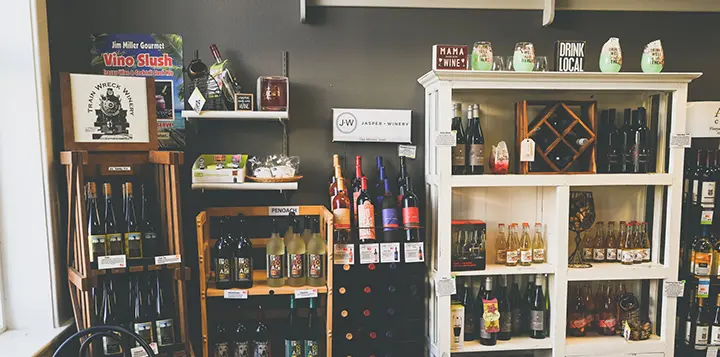 The Wijn House, Pella
With unique lodging opportunities in a converted chicken coop and grain bin just steps away, Heaven Boutique Winery in Fayette is the perfect place to rest, relax and discover your new favorite Iowa wine.
Wide River Winery features three locations along the Mississippi River in Davenport, Clinton and Le Claire. While its Clinton winery offers stunning views of the water, the tasting room in historic Le Claire offers a charming courtyard with spacious accommodations just next door, at the Wide River Winery Inn.
As the only true urban winery in Des Moines, Jasper Winery offers a modern tasting room complemented by an expansive green space and patio. Reserve a tasting experience to sample Jasper wines paired with different chocolates or cheeses.
Wines of Iowa in West Des Moines' Valley Junction neighborhood carries more than 400 varieties of Iowa-produced wine, along with wine accessories and fun décor. #SipLocal at this sister-owned wine shop, which offers complimentary wine tasting daily.
Amidst the cobblestone streets in historic downtown Pella is The Wijn House, a boutique wine shop and tasting room specializing in Iowa's finest wines. Fun fact: Wijn is pronounced "vine" and is the Dutch word for wine.
4. Soak in the Sounds of Summer
The perfect pairing: warm weather + homegrown grapes + the sweet sounds of summer.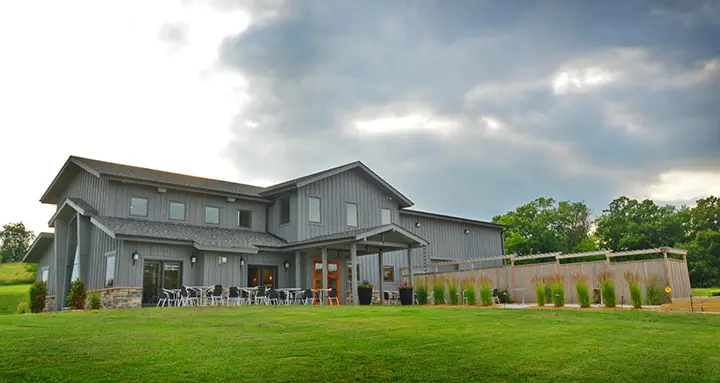 Covered Bridges Winery, Winterset
Snus Hill Winery near Madrid hosts live musicians for countryside concerts on Friday evenings and Sunday afternoons throughout the season. Paired with a glass of its award-winning Blushing Claire, a trip to this winery makes for a sweet summer night.
In Fort Dodge, Soldier Creek Winery hosts Vineyard Vibrations, a free live music series with performances on Friday evenings. Bring your own snacks, pull up a chair, and sample some delicious wines produced by the vineyard's female winemaker.
The weekly music series at The Cellar Winery at White Oak in Cambridge offers live performances every Sunday this summer, best enjoyed with a wine tasting flight.
The peaceful setting at Breezy Hills Winery in Minden is a great place to sit back, relax and enjoy a crisp glass of vino while listening to live music. Concerts take place on Friday nights this summer.
Covered Bridges Winery in Winterset, a scenic 45-minute drive southwest of Des Moines, offers free live music on select Saturdays and Sundays this summer.
P.S. – Save the date for these other special events you won't want to miss this summer!
Sip and Sample tasting event in Lake View on June 4 featuring wine samples from Iowa winemakers.
Penoach Winery: Arts and Crafts in the Vineyard on June 11. Kick off the summer at this charming, family-owned winery and repurposed 1917 barn in Adel. Shop unique products from more than 40 local artists and crafters as you listen to live music and sip local wine.
Madison County Winery: Free Dog Night on June 25. Bring your furry friend to this picturesque winery in St. Charles for a stroll through the vineyard, complete with rolling hillsides, a pergola, a firepit, wine samples and much more!
Lazy Acre Vineyard: Tie-Dye Workshop on June 25. Tie, dip, swirl and sip during this special event at the Lake Mills winery.
5. Savor Award-Winning Wines
Good wine starts at the vine, and winemakers from across the state look forward to showcasing the fruits of their labor at the Iowa State Fair Wine Competition. Every year, around a dozen qualified wine judges select medal winners through a blind sensory and tasting evaluation, and the very best wine is honored with the Governor's Cup Trophy Award, presented by Governor Kim Reynolds herself. So, get ready to raise your glass and toast to these 2021 award winners.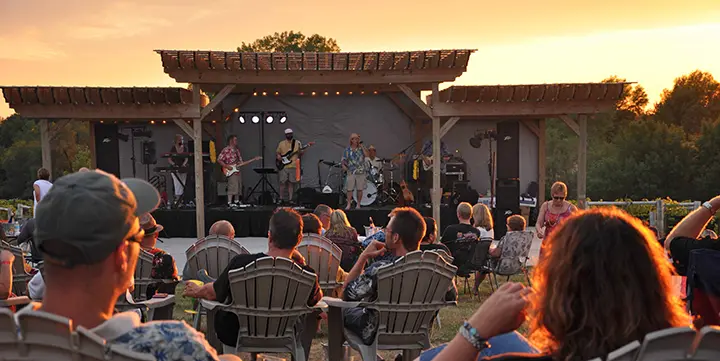 Fireside Winery, Marengo
Fireside Winery in Marengo bottles the best of the best in white wine, receiving a Double Gold Award and Best of Show for its Storyteller. With delicate aromas of tropical fruit and pear, the palate is full of pineapple, apple and citrus. Visit the vineyard or host a private group tasting to see for yourself! The winery is also honoring its 15th Anniversary with a special celebration on June 25.
The husband-and-wife duo at Oscar Carl Vineyard in Sioux City bottled their very first wine in 2019. Called Loesscato, this Gold Award Winner Frontenac Blanc wine features flavors of honeyed apple and tropical fruit cup with beautiful aromas of melon, pear, lychee, eucalyptus and tea. The vineyard also took home Best of Show in the red category for Aunt Billie, an incredibly smooth, yet bold, dry Petite Pearl wine.
When it comes to fruity wines, Eagles Landing Winery in Marquette is one of Iowa's very best producers. Its renowned Bluesfest, a semi-sweet blueberry wine reminiscent of berry jam, won a Gold Award and Best of Show. Sample it for free at the winery, which offers complimentary wine tastings daily.
Sometimes you crave a little sparkle, and Tassel Ridge Winery's Oskyfizzante Iowa White features just the right amount of fizz. The Leighton winery received a Gold Award, Best of Show title, and the Governor's Cup Trophy Award for its semi-sweet, sparkling wine with notes of kiwi, peach and citrus on the palate.
Frisky Fox Vineyard and Winery in Riceville's Gold Award-Winning Habanero Heat boasts the perfect blend of sweetness from white grapes and spiciness from habanero peppers.
Cheers to Iowa Wine Month! We hope you enjoy celebrating – and sampling – at unique venues across our great state. To view a map of Iowa wineries, and to sign up for the Iowa Wine Passport program, please visit drinkiowawine.com. You can sign up for the free passport after June 8 for the opportunity to win prizes by visiting wineries.
Click here for more inspiration, and don't forget to share your wine adventures on social media by tagging @traveliowa and using the hashtag #IowaWineMonth.