By Jess Rundlett
It's no secret that biking requires refreshments and hydration. Refuel at these ice cream shops, breweries and shaded patios along or near some of Iowa's most popular bike trails.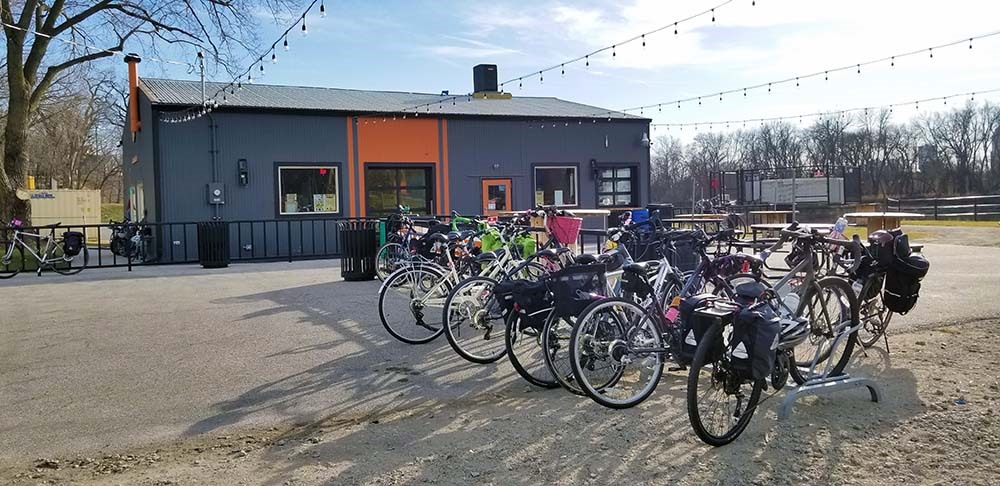 Des Moines
Since opening in 2017, Captain Roy's has quickly become a favorite destination for cyclists. It's located at Birdland Marina on the Des Moines River and draws a diverse crowd, including neighborhood residents, cyclists and river enthusiasts. Captain Roy's hosts live music outdoors on their pontoon stage in the summer and indoors in the winter, ensuring fun for all seasons. From a kitchen in a converted school bus, they serve up Americana food that pairs perfectly with the cold brews available at the bar. Ample bicycle parking and beautiful river views make Captain Roy's a welcome stop on the Neal Smith Trail.
Le Mars
The Le Mars Recreational Trail is the perfect family-friendly destination for cycling Northwest Iowa. The Blue Bunny Ice Cream Parlor is tempting for any cyclist with a sweet tooth. They offer 40 flavors of ice cream (including some not found in stores) and a variety of ice cream treats, all made locally by Wells Enterprises, the largest privately held, family-owned ice cream and frozen treat manufacturer in the United States. After cleaning up from a long ride, Archie's Waeside, winner of the 2015 James Beard Foundation Award for Excellence, is the perfect place for dinner. Since 1949, Archie's has offered dry-aged steaks cooked to order and a classic steakhouse relish tray.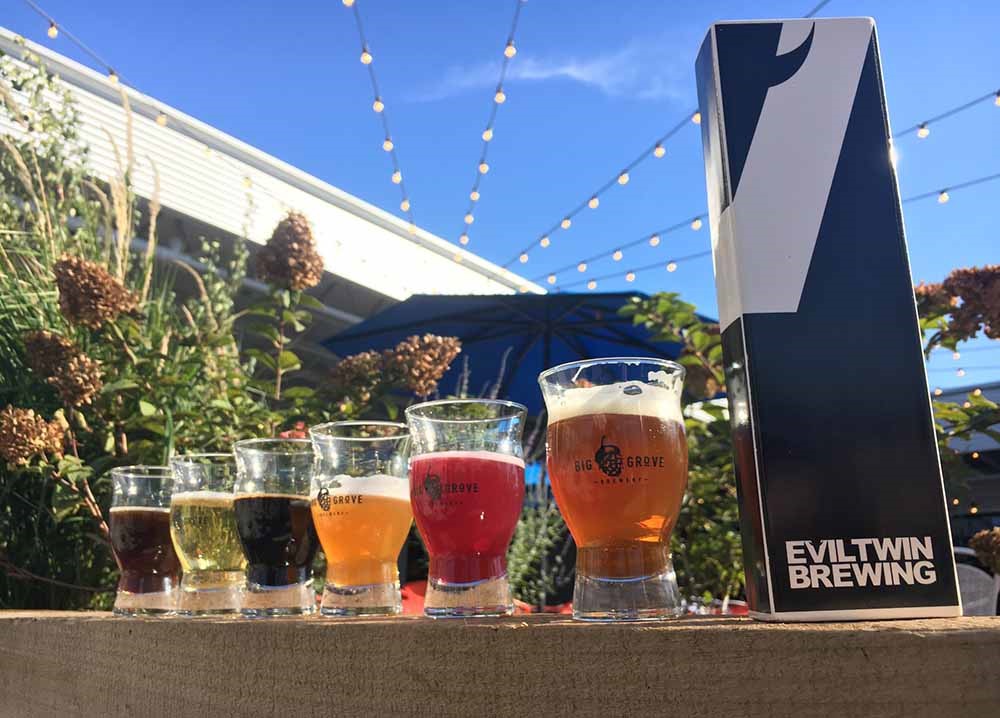 Iowa City & Solon
Big Grove Brewery, with two locations (and two patios) in Johnson County, is a relaxing stop for cyclists near Iowa City. The original Iowa Lumber Company warehouse has a new life as the Iowa City location: Big Grove Brewery and Taproom, located just off the Iowa River Corridor Trail. The Big Grove beer garden features lawn games and a kids' play area. Big Grove Brewpub, the Solon location, is the center of downtown and is connected to Lake Macbride State Park by a five-mile multi-use unpaved trail and a series of in-town streets. Both locations have menus that include several locally-sourced, seasonal items.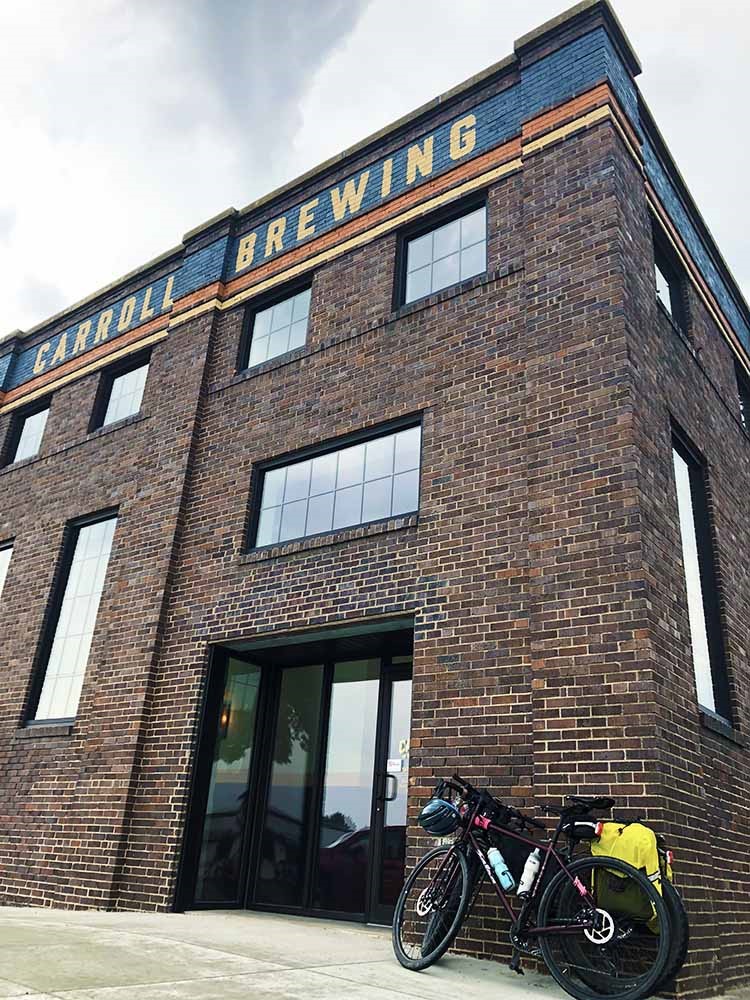 Carroll
The Sauk Rail Trail, linking Swan Lake State Park near Carroll and Black Hawk State Park in Lake View, is the only trail connecting two state parks in Iowa. The parks anchoring the trail are quite popular, complete with lakes and full-service camping amenities, but Carroll Brewing Company is a hidden treasure for trail users to discover. A short ride through Carroll's quiet city streets leads to the 100-seat taproom housed in a historic brick building, formerly a steam plant. The building has been updated to function as a modern brewery and taproom, but the space retains its early 20th century industrial character, giving the location a very distinct feel. Carroll Brewing Company boasts locally-brewed easy-drinking ales and lagers, making it the perfect place to stop for a beer.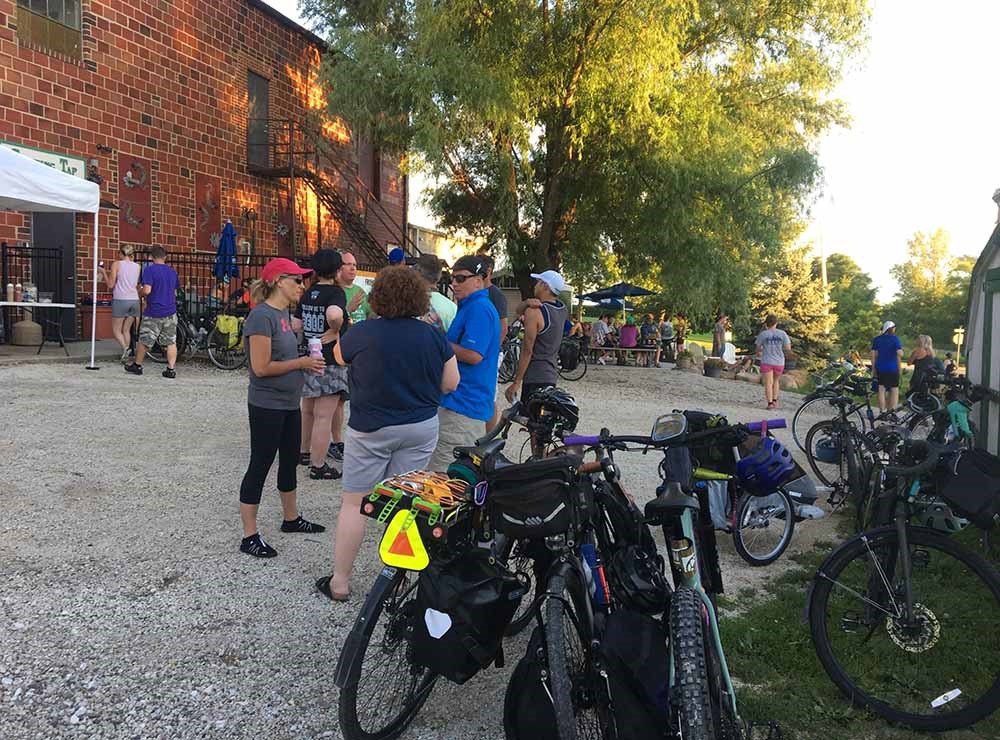 Cumming
Cumming Tap, located just eight miles south of Des Moines via the paved Great Western Trail, is a legendary destination for cyclists. The Tap has a cult-like following for Taco Tuesday and Wednesday Night Steak Night, due in no small part to the homegrown hospitality and Moscow Mules served up by the bartenders. The street-side entrance at Cumming Tap is non-descript and sandwiched between the United States Post Office and the American Legion Hall, making it look like countless other tiny town bars. But, the trail-side entrance, easily accessible by bicycle, is what sets the Cumming Tap apart. The casual back patio is shaded by mature trees and overlooks the gently sloping trail, built on the former Chicago Great Western Railroad railbed. Located between Des Moines and Martensdale, the Cumming Tap makes a great refreshment stop for a ride from either community.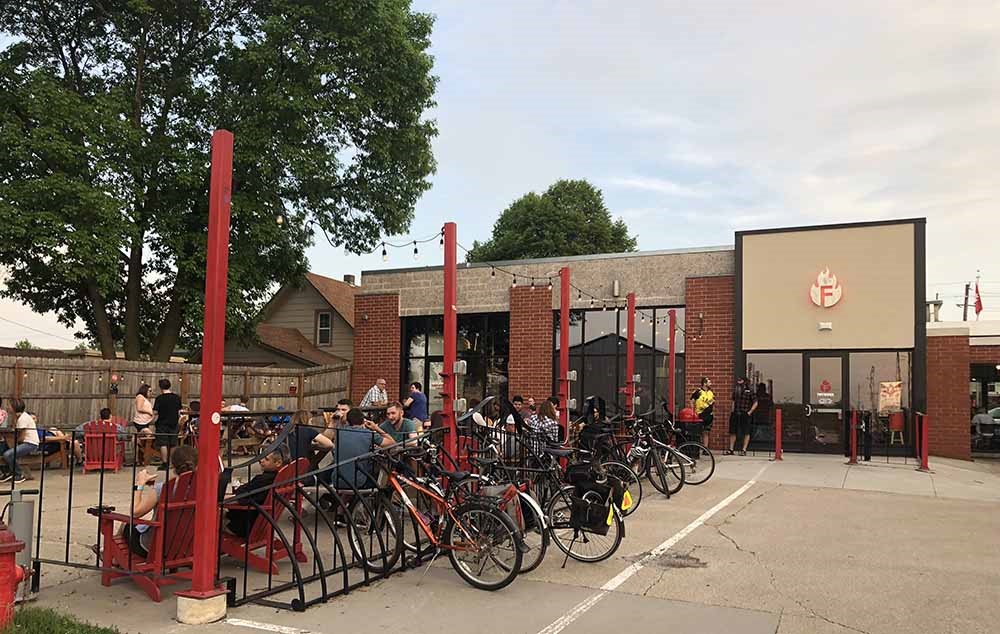 Ankeny
Firetrucker Brewery, in the heart of Uptown Ankeny and next to the High Trestle Trail trailhead, is built in Ankeny's former fire station. The thought put into the adaptive re-use of the building, an homage to the previous function, is evident throughout the construction and design. Firetrucker offers a complete line of beers, including steam, ginger and IPAs, as well as a broad selection of dark beers made with smoked and milled grains. There truly is a beer for everyone at Firetrucker Brewery. The large patio has relaxing Adirondack chairs, tables made from classic bicycles and an oversized cornhole game. A 19.8 mile trip up the High Trestle Trail from Firetrucker Brewery leads to the world famous High Trestle Bridge, soaring 13 stories above the Des Moines River. A stop at Firetrucker Brewery is the perfect way to celebrate a round-trip ride on the High Trestle Trail.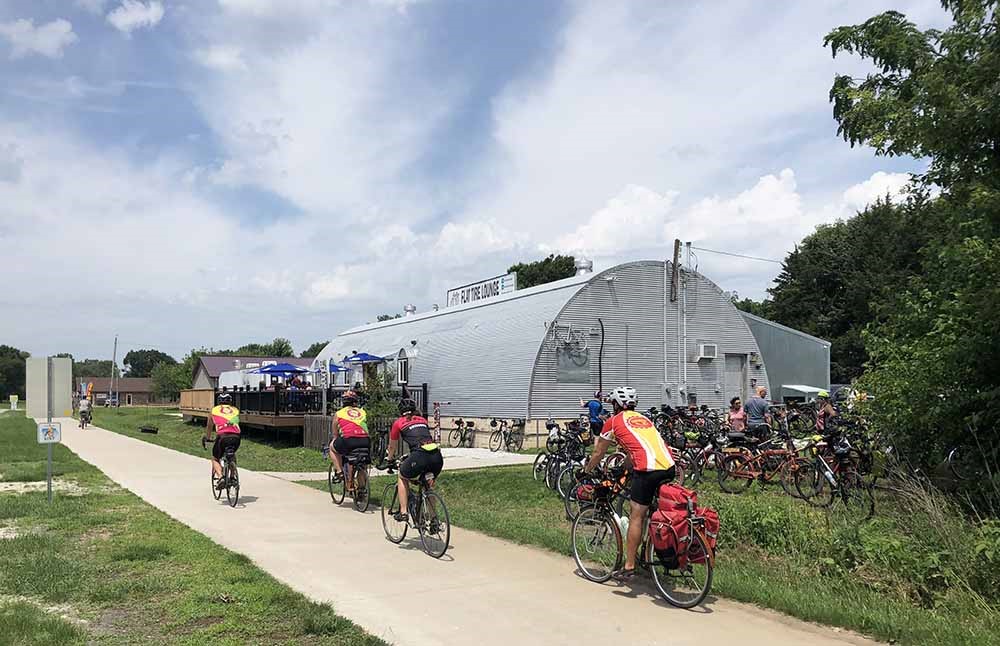 Madrid
A Quonset hut in Madrid, on the north side of the High Trestle Trail, quickly transformed from industrial building to social hub when the trail was completed in April 2011. The building, now known as the Flat Tire Lounge, boasts an 800 square foot deck only 12 feet from the trail. From the Flat Tire Lounge, it's a quick 2.5-mile spin out to the High Trestle Bridge, designed with public art that honors the area's coal mining history. Most of the High Trestle Trail is built on an abandoned Union Pacific Railroad rail bed, and nowhere is that more clear than in Madrid where tunnel murals depict the connection between the trail and the railroad.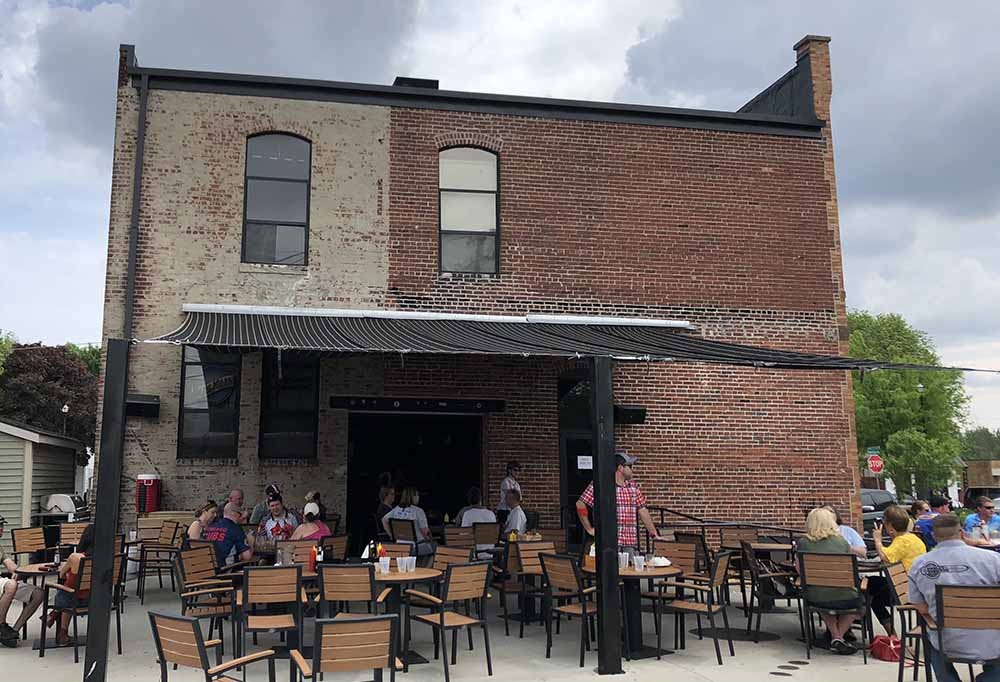 Bondurant
Founder's Irish Pub, located on the Chichaqua Valley Trail next to the Bondurant Regional Trailhead, is the perfect destination for Sunday brunch. In addition to a complete menu and 12 draft beers, Founder's offers daily drink specials, an extensive selection of Irish whiskey and a seasonal weekend Bloody Mary Bar. Bike parking is easily visible from Founder's, providing an extra layer of security. The patio, with several seating options (including soft furniture) and outdoor games, is located on the west side of the building and is well-shaded by an awning, making it a great place to stop no matter the time of day.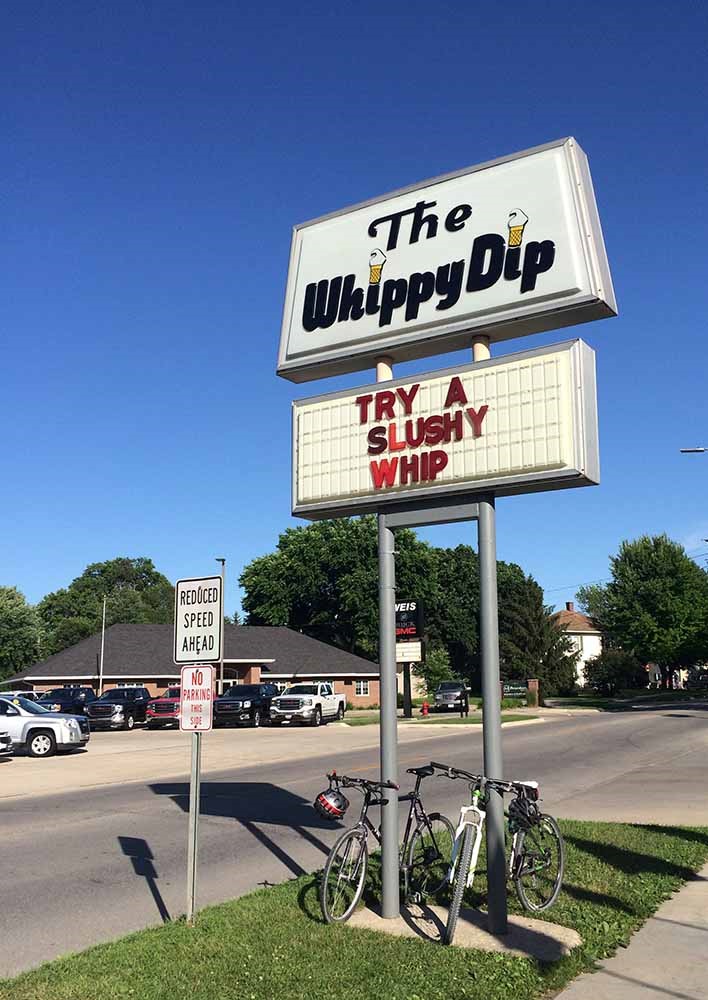 Decorah
The Trout Run Trail, an 11-mile route that surrounds the city of Decorah may well be one of the shortest, but best, trails in the state. The paved route features three pieces of public art, sections that meander along the Upper Iowa River and hills that show why Northeast Iowa is known as the Driftless Area. The trail also goes by the famous Decorah Eagle's Nest and the Decorah Trout Hatchery, meaning plenty of opportunities to see wildlife. After a ride on the Trout Run Trail, refreshments are in order. Pulpit Rock Brewing Company and The Whippy Dip, between downtown and Luther College, are easily accessed from the trail. Pulpit Rock is a microbrewery with continually rotating locally made beer and The Whippy Dip, an ice cream shop that's been operating since 1954, both beckon to bicycle riders.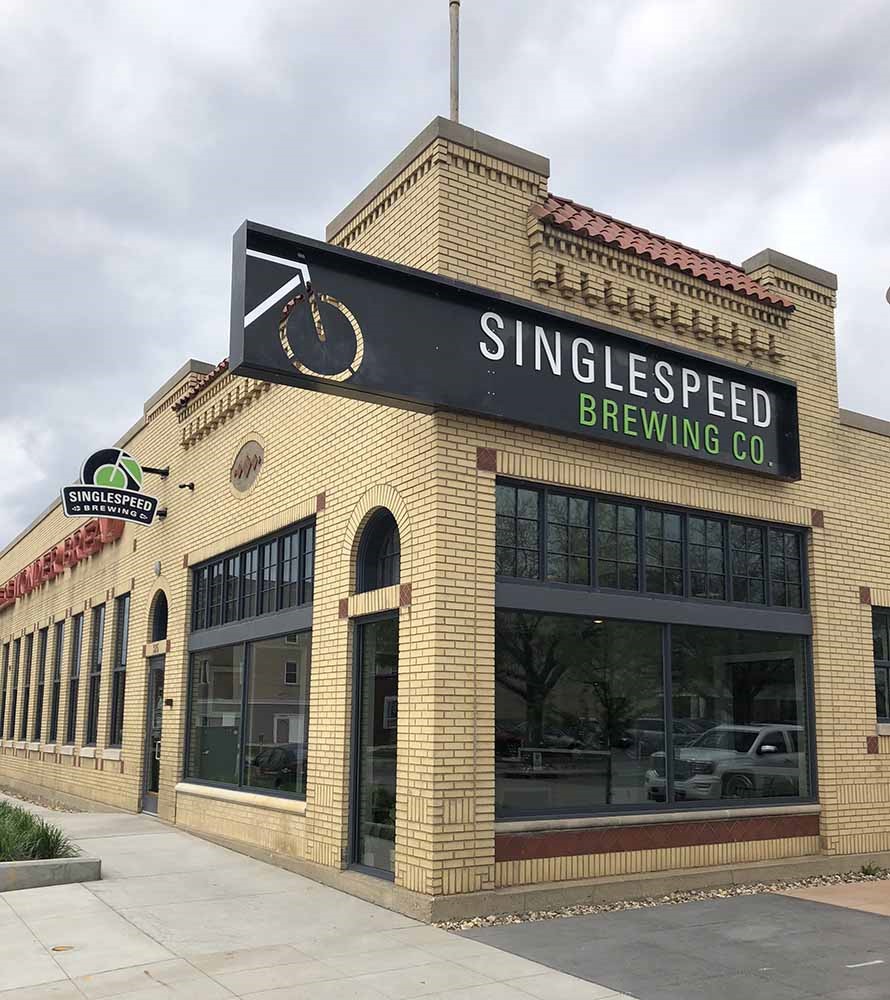 Waterloo
SingleSpeed Brewing Company has breathed new life into the former Wonder Bread Bakery in Waterloo. The building was targeted for demolition when SingleSpeed Brewing Company of Cedar Falls stepped in to expand their operation and turn the building into a beer hall and beer garden. Near the Cedar River, SingleSpeed is easily accessed from the Cedar Valley Lakes Trail. Twice a month from April to October, cyclists gather for Pint Night to enjoy the eight-mile ride between SingleSpeed's Cedar Falls and Waterloo locations. Single Speed Brewing Company's Waterloo location boasts a shaded patio, ample bicycle parking (both indoors and outdoors) and a full menu with ingredients sourced from local farmers.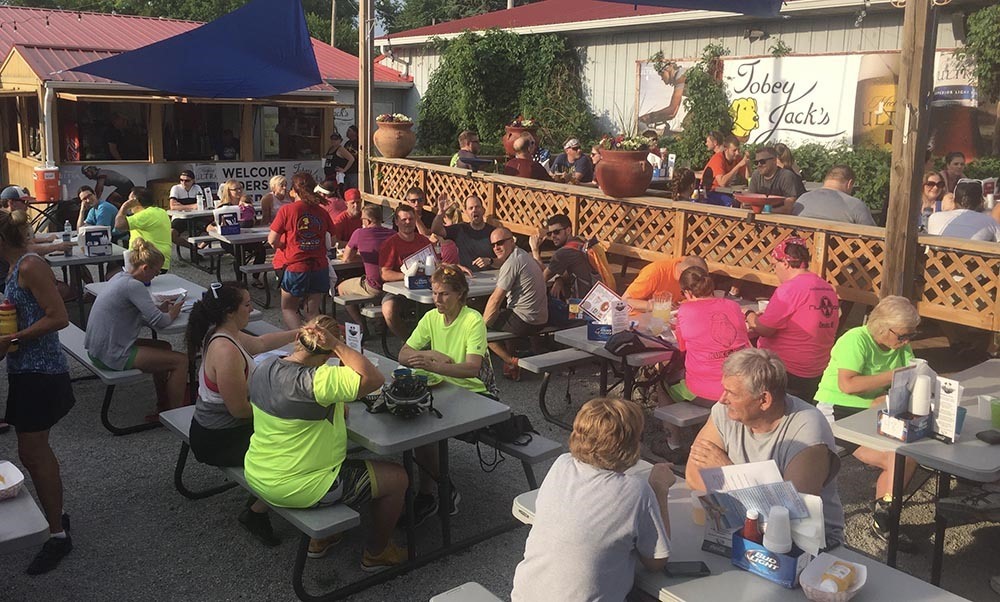 Mineola
Tobey Jack's Mineola Steakhouse has been a staple along the Wabash Trace Nature Trail since it opened in 2010. The Wabash Trace, a trail 63 miles long with 72 bridges, runs along the Wabash Railroad's abandoned main line, from Council Bluffs to Blanchard. The trail cuts through Iowa's Loess Hills, a unique land formation of hills built up from wind-blown soil found only in western Iowa and northern China. Mineola, just 9.6 miles away from Council Bluffs, is home to Tobey Jack's and the Thursday Night Taco Ride, which draws hundreds of riders every week during the summer.