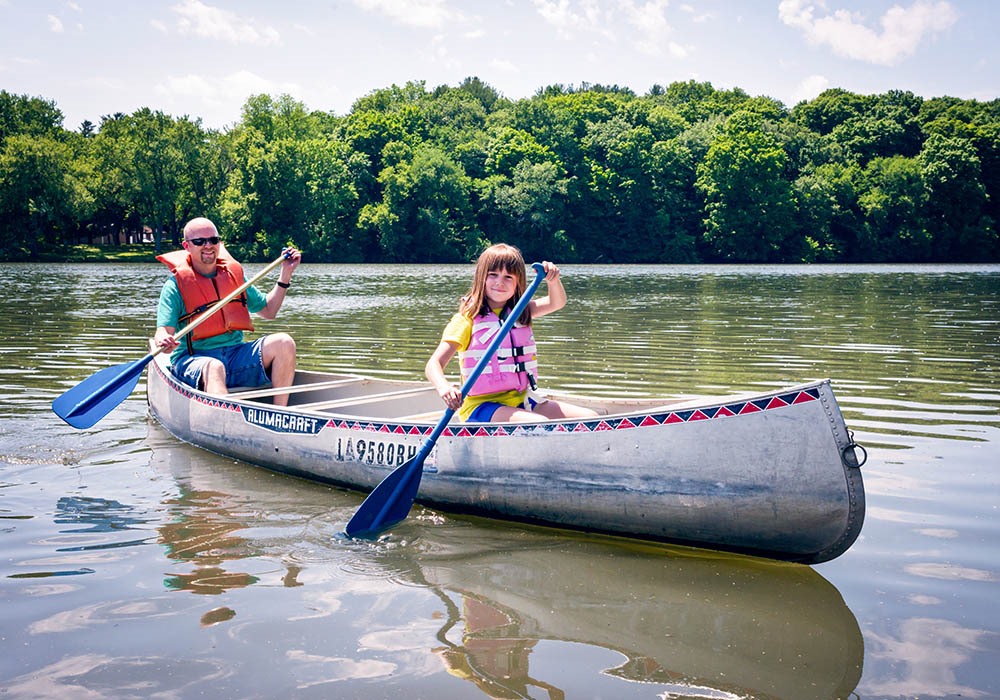 Backbone State Park near Dundee in Northeast Iowa became Iowa's first state park when it was established in 1920 to preserve its steep, narrow ridge of bedrock known as Devil's Backbone. Those sheer faces and craggy columns still attract visitors. In fact, rock climbers regularly rappel the 80-foot walls.

HIKING
Even if you like to keep your feet on the ground, you can still appreciate the backbone from the 21 miles of hiking trails. Scramble over rocks along Backbone Trail and its numerous offshoots leading to rock shelves that will make you feel like you're almost standing on the edge of the world. For a more all-age-appropriate outing, the relatively flat, wooded East Lake Trail follows Backbone Lake, where you might spot blue herons or cormorants.

LAKE ACTIVITIES
Backbone Lake is the linchpin of the park. Rent kayaks, canoes and paddleboats at the Boathouse. If you have a boat with an electric motor, launch it to explore the 85-acre lake, or simply spread a towel on the sand or the swimming beach for a day of splashing fun. The Maquoketa River carved Backbone, but its clear, now-shallow waters invite wading and crawdad hunting. For bigger game, cast a line in Richmond Spring's cold waters for rainbow, brown and brook trout.

CAMPING
Since the Great Depression, when the Civilian Conservation Corps built the park's limestone lodges, campsites with modern amenities have made the park even more comfortable. Most families opt to stay in the South Campground because of its playground and large shower-bathroom facility. Six Pines is less crowded, but more primitive with pit latrines.

CABINS
Cabins come in two levels: modern and deluxe. Though it's not luxury housing, deluxe cabins come with a second story and amenities such as carpet, a microwave and back porch. Woods surround the modern cabins, which were built by the CCC. They are comfortable enough with a small bedroom, kitchenette with pots and pans for the four-burner stove, refrigerator and a sink. For the perfect end to a day of adventure, build a fire in the pit and toast marshmallows for s'mores.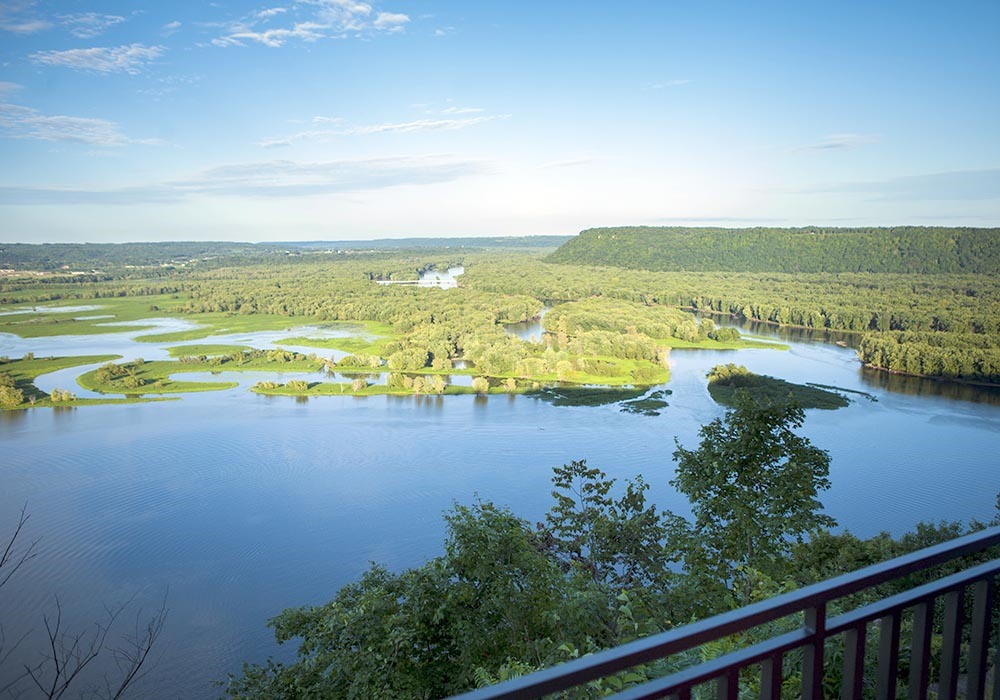 Short jaunts lead to a handsome waterfall and scenic overlooks with panoramic views of the Mississippi River at this McGregor park 40 miles north of Backbone.

MISSISSIPPI RIVER
You barely have to get out of your car to see the main attraction of Pikes Peak State Park. A playground, picnic shelter and observation platform—with sweeping views of the Mighty Mississippi—next to the parking lot satisfy families short on time.

HIKING
But wilderness isn't far afield. Before you've walked a half-mile on Bridal Veil Trail, you'll feel removed from civilization. As the wide, paved walkway becomes a wooden boardwalk through dense forest, listen to birds chirping and wind rustling through trees. Mushrooms and large ferns dot the valley floor.

As delicate as the lace it's named for, Bridal Veil Falls is 0.2 miles from Crow's Nest and 0.5 miles from the trailhead. From here, it's a half-mile to Hickory Ridge, a clearing on top of a ridge. Another 0.4 miles gets you to Pike's Peak overlook (.2 miles from the trailhead). It's 500 feet above the river, making it one of the highest points along the Mississippi River.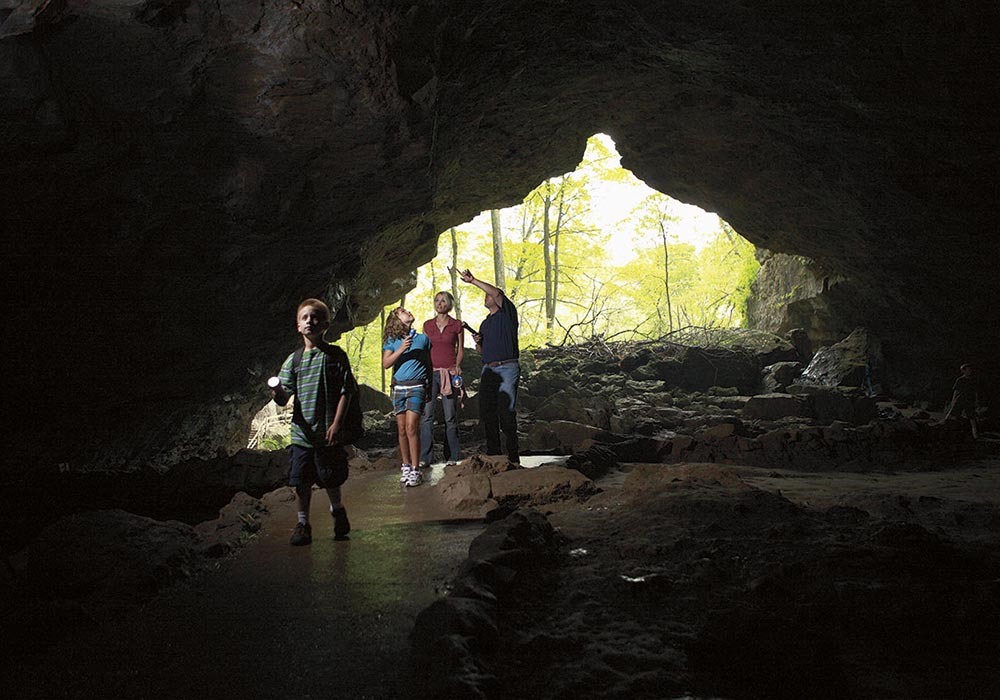 From Backbone, drive an hour and a half southeast to explore more than a dozen caves (some with bats!) in dense woods at Maquoketa Caves State Park.
BEFORE YOU GO
Good news for spelunkers. After having been closed for two years to protect bats from White Nose Syndrome, the 13 caves in Maquoketa are open to the public again, though everyone must first attend a lecture on how to prevent transmitting disease to bats.

HIKING
As you head through the jungle of greenery, watch for signs pointing you to the caves. Two trails loop through the park. In one direction is Ridge Trail, in the other is Valley Overlook Trail. Step on stones to cross a clear stream under Natural Bridge, a 50-foot rock formation with a 60-foot span.

CAVES
Dugout Cave, and some others are accessible only by crawling; others could accommodate a party, like 1,100-foot-long Dancehall Cave, with its concrete walkways and lights. Children love these tight spaces and hideaways. Walk through Twin Arch Cave; it looks like a caveman's dwelling with boulders for chairs. Other faves include 17-ton Balanced Rock, Hernando's Hideaway (wriggling required) and Up-N-Down Cave.

INTERPRETIVE CENTER
If you don't want to tackle the rugged terrain, climb steep stairs and dirty your clothes, watch the video at the Interpretive Center.
Content and Photos Courtesy Midwest Living