By Brian Gibbs
For many people it may seem easy to dismiss Iowa simply as the fly-over state or tall-corn state; however, those taking a closer look at recreational opportunities in the state may be surprised to discover Iowa's state forests are home to over 20 scenic backpacking campsites.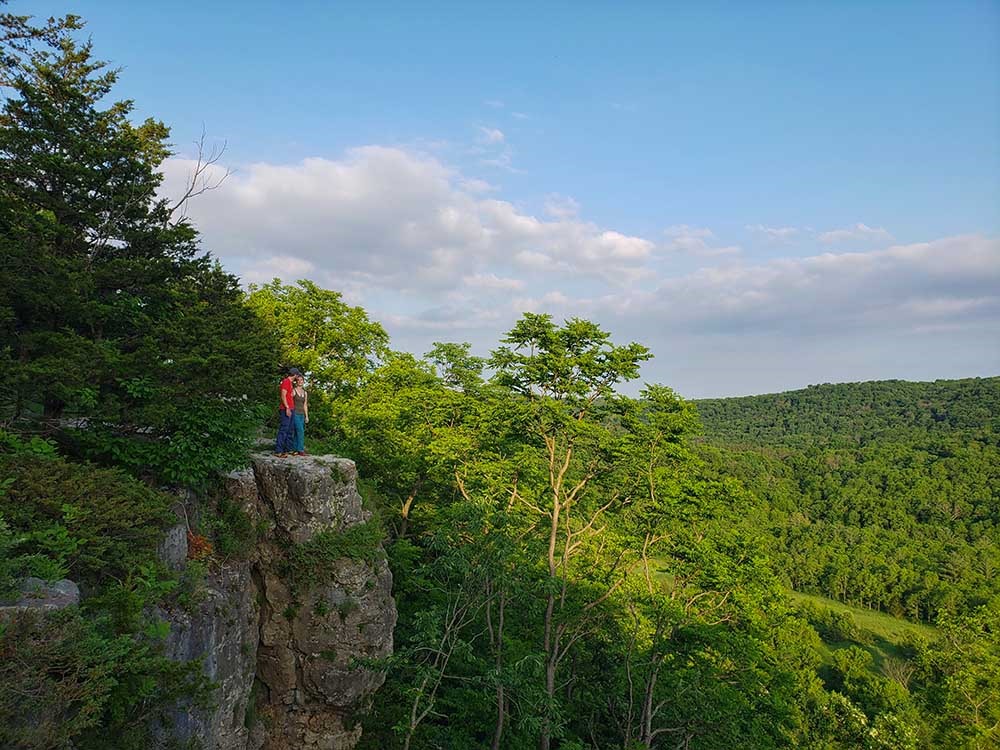 Summer and fall are great times to explore Iowa's backpacking trails, but hikers who camp in the spring will be delighted to discover hundreds of wildflowers lining the trails. Fresh from a recent rain, the earth smells like spring and the forest is radiating green. Pine trees coat the chalk-colored bluffs. Bird song serenades with each step. A gentle stream flows by the trail and clear water tumbles over colorful stones. The ethereal song of a Louisiana waterthrush echoes from the stream. Eagles are soaring above the giant red oaks. This is Yellow River State Forest, a rugged landscape and globally important bird area in the heart of Northeast Iowa's scenic driftless area.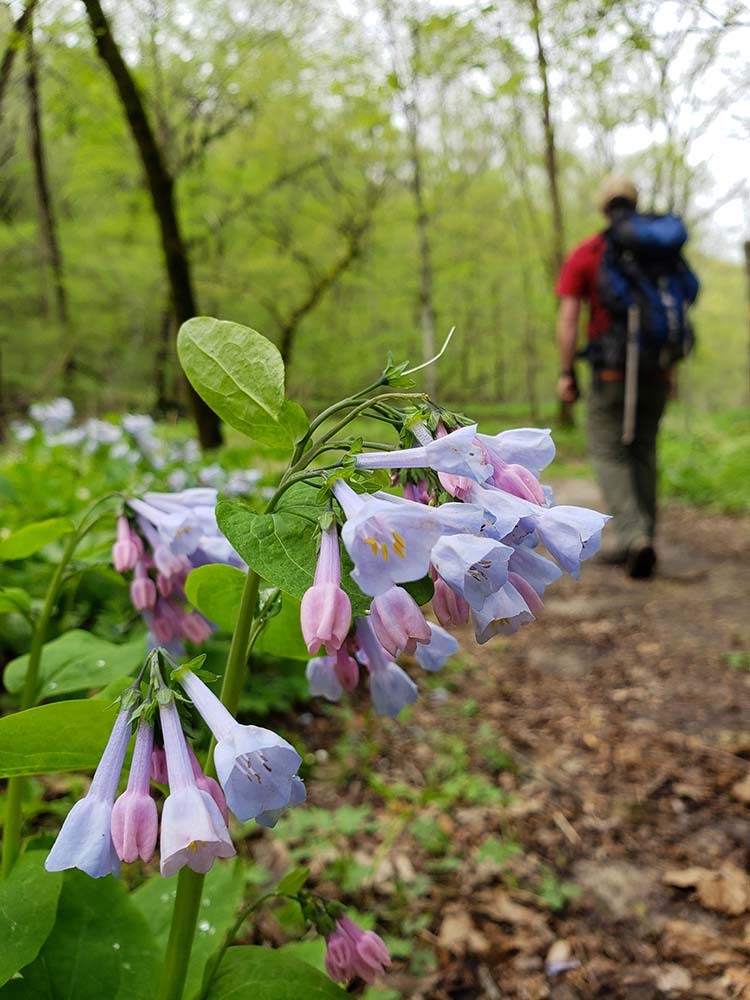 Characterized by its rocky topography, majestic trees, scenic overlooks, cold-water trout streams and 25 miles of trails, the 8500-acre Yellow River State Forest is a hiker's paradise that has been featured in Backpacker Magazine. Before hitting the trail, hikers should register at the park headquarters kiosk. Four hike-in sites, furnished with a picnic table and a firepit, are available on a first-come basis in the Paint Creek Unit of the forest.

From the trail kiosk, take the Forester Trail to hike under a canopy of large oak and maple trees. At half a mile, the trail forks and hikers can stay right to Camp Glenn Wendel which rests by a small pond overlooking the forest, or go left on a strenuous but beautiful hike to Camp John Schultz. Make sure to pack a hammock if you decide to stay at Camp John Schultz, as the campsite is nestled in a scenic grove of towering white pines.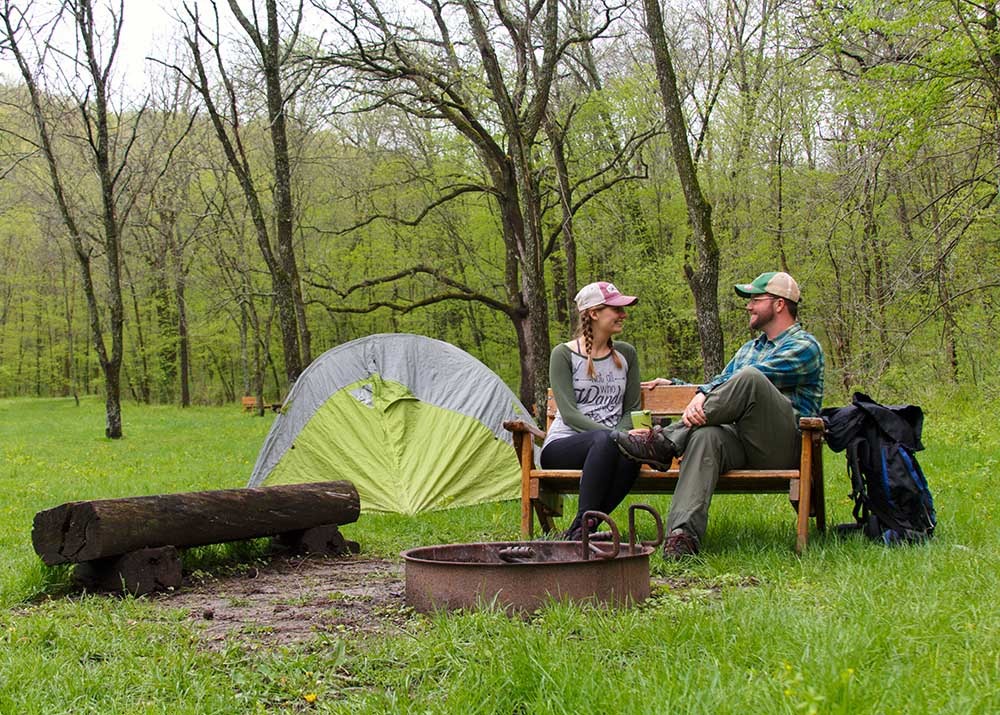 Beginning backpackers or hikers looking for an easy family hike-in campsite should check out the Brown's Hollow campsite located off either Donahue Road or Firetower Road. This one-mile hike features a level walk into a gorgeous camp site surrounded by mature walnut trees and a clearwater stream.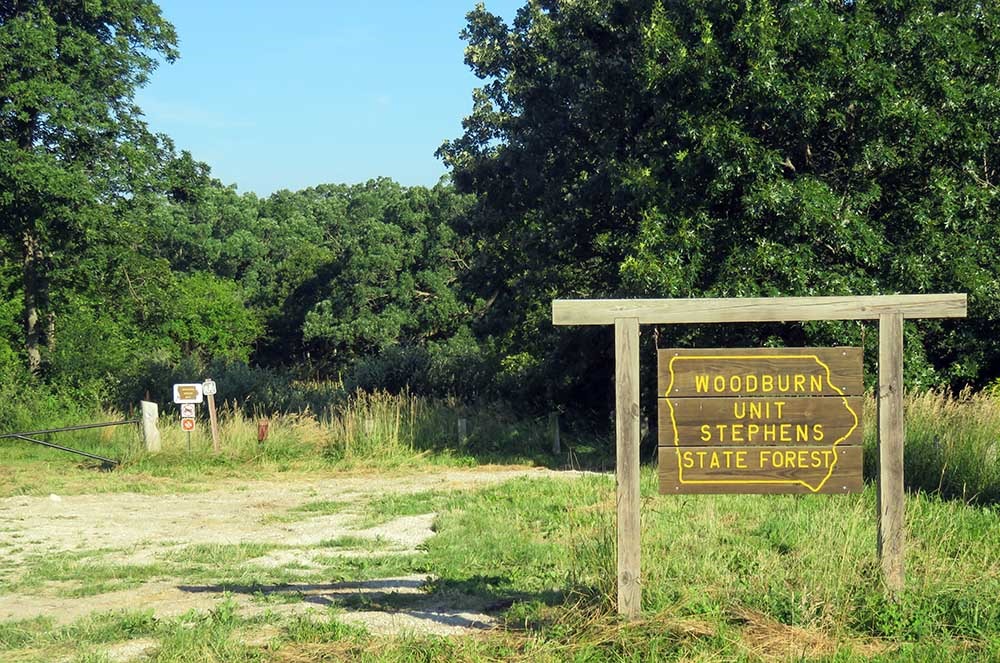 Just an hour outside of Des Moines, Iowa's largest state forest - the 15,500-acre Stephens State Forest - offers backpackers a memorable opportunity to explore the wild side of southern Iowa. The rolling topography of the Woodburn Unit feels like a wooded hike through a real-life Grant Wood landscape painting. The trail system here features two lightly traveled loops, offering the backpacker six miles of trails and five different campsites to experience. Each of these primitive sites only has a picnic table and fire ring; water is available from the red spigot at the trailhead.

There are no fees for the hike-in sites and they are first-come, first-serve. Late spring (after turkey season) and early fall (before deer season) are the preferred times to do this trip. Summer hikers should wear long pants and bring plenty of bug spray.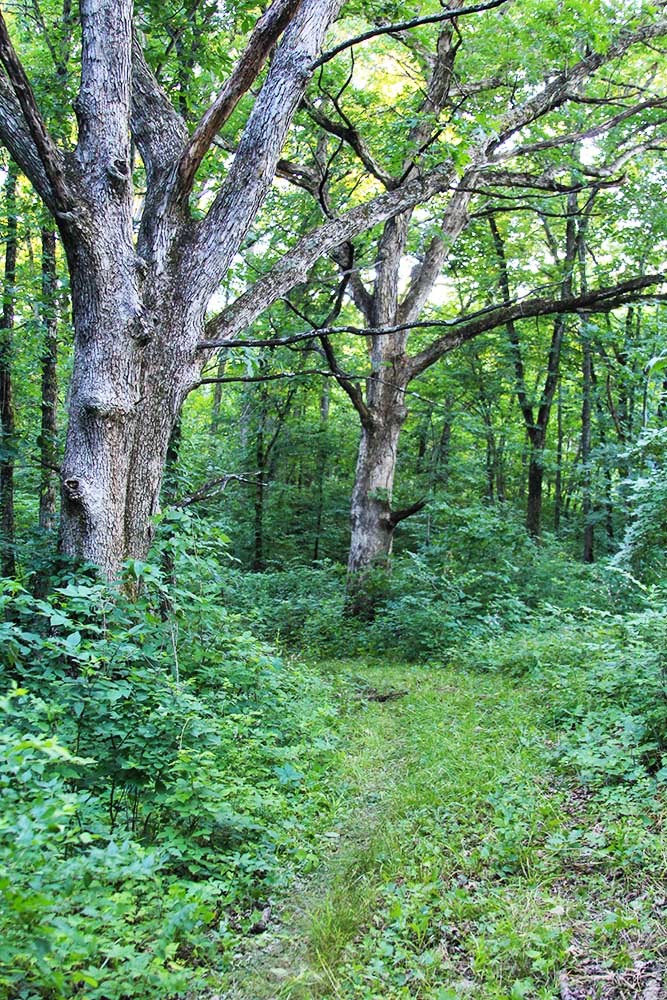 East Loop of Stephens State Forest
Across the road from the parking lot is the Turkey Foot Trail, named after a wild turkey recovery effort in the 1960's when the Iowa Conservation Commission stocked wild turkeys from Missouri into Stephens State Forest. The birds quickly reproduced and were later relocated throughout southern Iowa. Highlights along the trail include a bottomland forest, grey squirrels and white-tailed deer dashing through the trees and several intermittent streams that cross the trail. The streams can be difficult to ford after a good rainfall, so visitors should plan their trip accordingly. This three-mile loop can be strenuous at times, but hikers will be rewarded the opportunity to sleep beneath beautiful white oak trees at all three backpacking sites along the trail.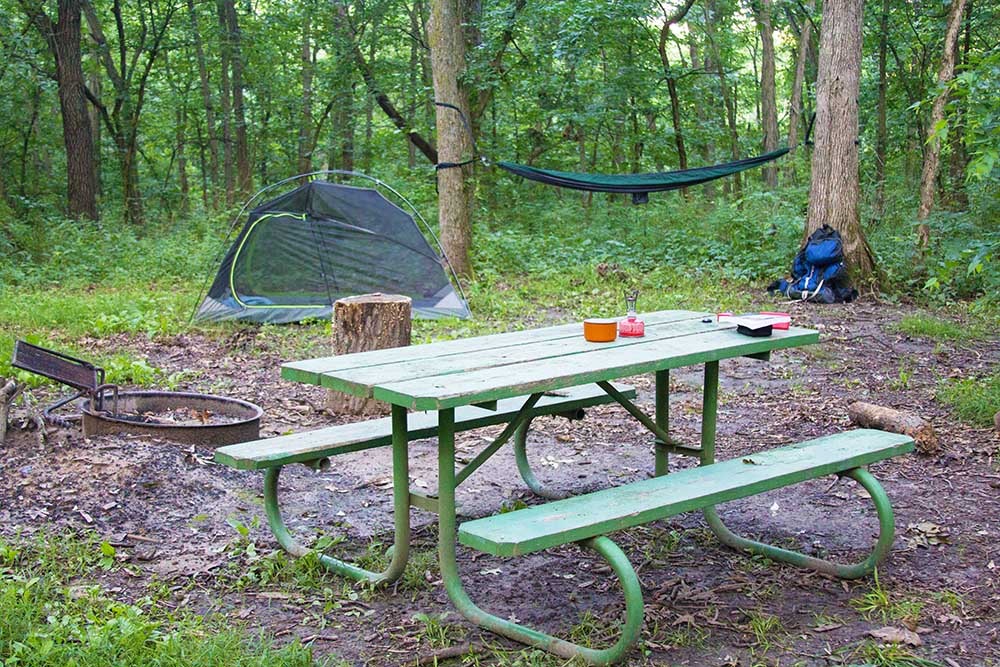 West Loop of Stephens State Forest
The West Loop features similar picturesque scenery, sentinel white oak trees and lots of birdsong. Following the Shagbark Trail west out of the parking lot leads hikers to an open field where, in the summer months, raspberry and blackberry bushes provide the weary hiker with a tasty food source. A majestic 100-foot cottonwood tree marks the stream crossing at the other end of the field. Visitors who desire to hear the wind blowing in the pine trees or whip-poor-wills at night, should camp at the Buckstop Campsite. From there, the path winds down to an idyllic spot aptly named "rock crossing," which is the perfect place for hikers to rest their feet and look for fascinating rocks and fossils.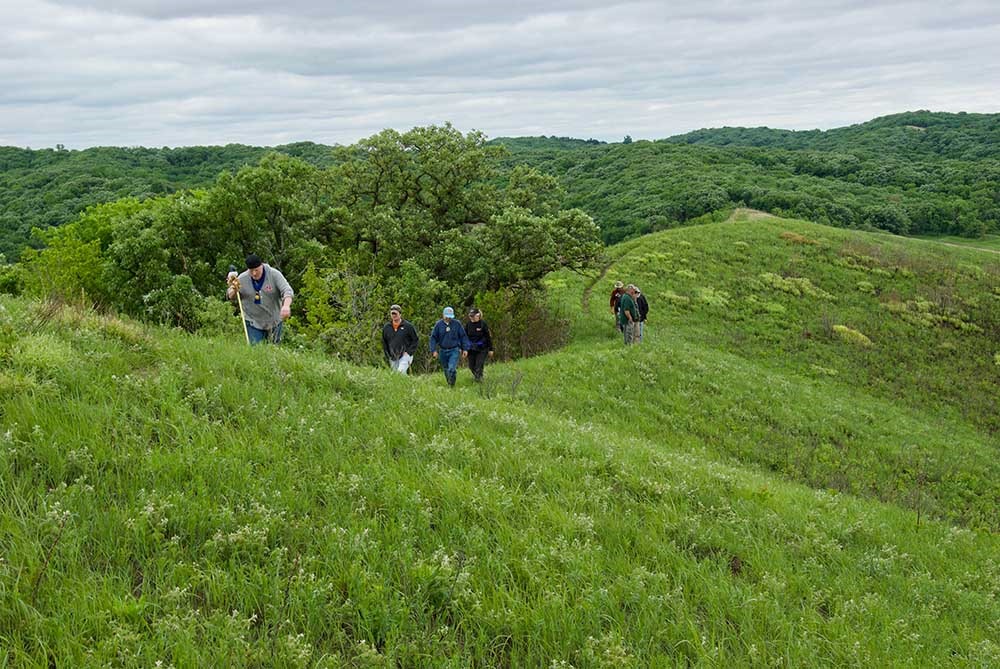 Outdoor enthusiasts looking for a truly Iowan backpacking experience should head west to Preparation Canyon State Park adjoining the Loess Hills State Forest. With five miles of well-kept, moderately strenuous trails, 10 backpacking campsites and no roads running through its interior, Preparation Canyon is truly one of Iowa's wildest places to explore.

Located off the Loess Hills National Scenic Byway near Pisgah, this 344-acre park was once a gathering site for Morman settlers in the 1850's. Today, the lightly visited park features wide open views of the surrounding windblown knolls known collectively as the Loess Hills.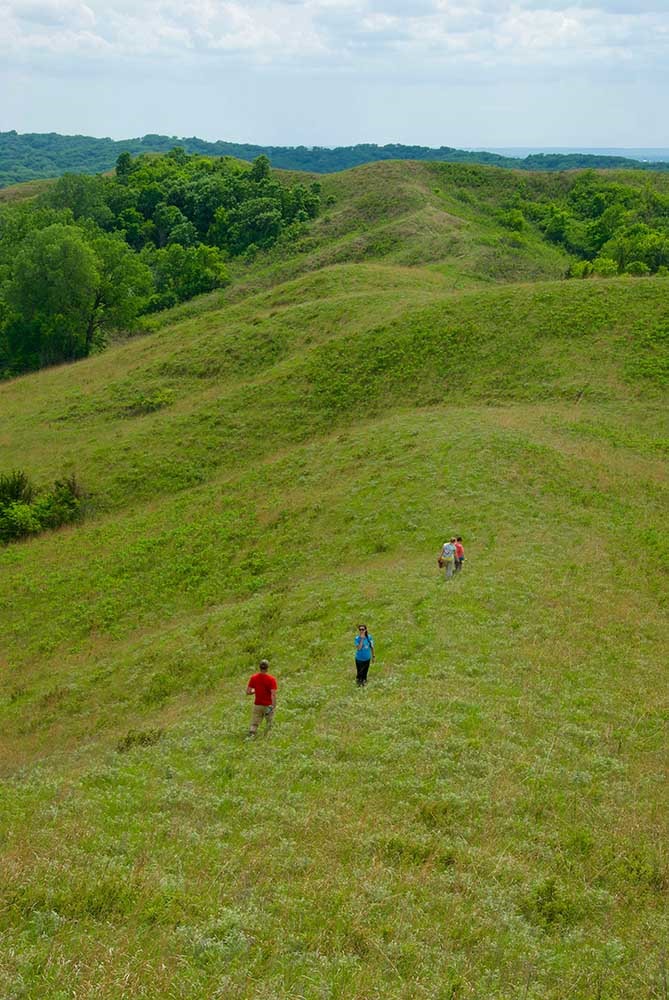 Rising over 200 feet above the Missouri River floodplain and measuring 15 miles wide by 220 miles long, the Loess Hills are a globally significant landform. Hiking along these hills allows visitors to reconnect to the tallgrass prairie ecosystem that once covered nearly 85% of the state before European settlement. ln May through September, backpackers can walk among expansive fields of prairie strewn with beautiful splashes of gold and purple wildflowers such as hoary puccoon, compassplant, coneflowers and blazing stars.

To register for a backpacking trip at Preparation Canyon, stop by the east parking area off of Peach Avenue. From the east trailhead, hikers can reach eight different primitive campsites within an hour's hike. Visitors looking for a more strenuous expedition can journey through the heart of the park to reach two primitive campsites on the west side. No matter where you choose to adventure in the Loess Hills, remember spring and summer days can heat up quickly, so hit the trail early and bring plenty of water and sunscreen.

For more information on backpacking sites found in lowa's state forests, or to download trail brochures, visit Iowadnr.gov. A phone call to the local state forester can also provide visitors with current trail conditions.

Staying at one of Iowa's backpacking campsites is a rewarding way to experience the natural beauty of Iowa. The chance to camp in these unique, quiet spaces may not be for everyone, but the memories made will leave one thinking, who knew traveling Iowa on foot could be so beautiful?
Backpacking Essentials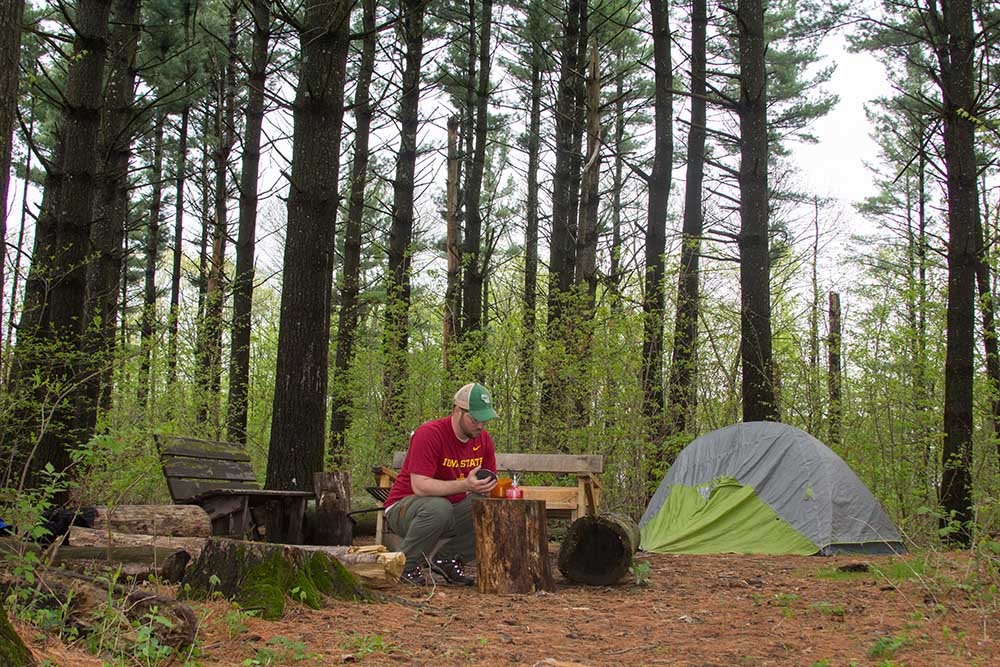 Dress for the weather, don't forget to pack rain gear!
Stay on the trail.
Pack plenty of water.
Remember insect repellant and sunscreen.
Bring a map.
Pack matches or lighter in a waterproof container.
First Aid kit.
Wear blaze orange if hiking during hunting season.
Don't forget the camera.
"Take only photographs and leave only footprints."
Brian Gibbs is a freelance writer and photographer with an insatiable appetite for wanderlust. His work has been featured in the Iowa Outdoors Magazine, Wapsipinicon Almanac and Big River Magazine. He can be reached at briangibbs2671@gmail.com.