Home to more than 150 county and state lakes, countless interior rivers and streams and, of course, the mighty Mississippi and Missouri Rivers that bookend the state, Iowa is a haven for anglers of all kinds.
Trout Fishing in Iowa's Driftless Area
The glaciers that defined much of Iowa's landscape mostly avoided the state's northeast corner, preserving deep bluffs and meandering rivers and streams that flow among them. A popular spot for fly fishing, this area also delights travelers along its scenic byways.
Located in far northeast Iowa, quiet, meandering streams make the area around tiny Dorchester a trout fishing hot spot. Cold-water streams like Waterloo Creek, which skirts Dorchester, provide the perfect breeding and migration grounds for rainbow, brown and brook trout.

Lodging in Dorchester incudes Joe's Campground, a commercial facility that offers cabins and 15 full hookups. Restrooms and showers are also available. Upper Iowa Resort & Rental provides two cabins – one primitive and one modern – that each accommodate up to six people.
In southwest Iowa, near the community of Creston, anglers prefer Green Valley Lake for the large variety of fish that inhabit it and because access to the water is easy. With four boat ramps, handicap-accessible piers and shoreline access, anyone with a pole and a fishing license can reel in largemouth bass, channel catfish, black bullhead, black crappie, walleye and more.
Eight and a half miles of paved bike trail connect McKinley Park in Creston to the campground at Green Valley State Park. If you're looking for more of a challenge, try the park's multi-purpose grass trails that will test your hiking and mountain biking skills.
Grab a waterfront camping spot at Green Valley Campground where most of the 100 campsites are pet-friendly. Three rustic pine log cabins each have electricity, a covered porch and basic furnishings. Cabin and campground users share shower and toilet facilities.
Shelters and picnic areas are available at the park, or travel the short distance to Creston and enjoy A & G Pizza and Steakhouse that is known for its homemade (but never frozen) pizza doughs and sauces. Try the crowd-pleasing Sicilian pizza topped with pepperoni, olives, mushrooms, peppers and feta cheese.
More Fishing Destinations & Events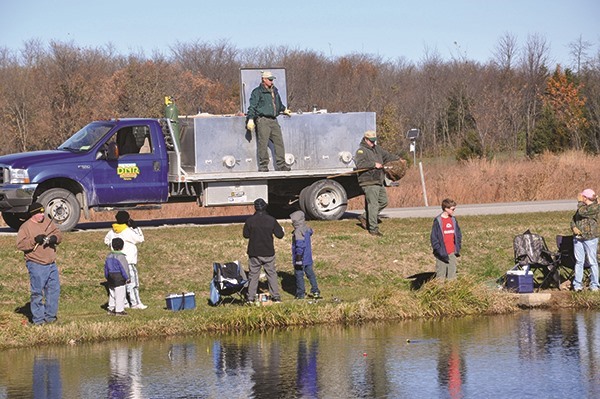 The Iowa Department of Natural Resources manages eight fish hatcheries, the literal starting point for the more than 130 million fish that are stocked annually into Iowa waters. Fish raised and stocked from hatcheries include trout, channel catfish, hybrid stryped bass, muskellunge, northern pike, saugeye, walleye and more. Hatcheries are located in Elkader, Decorah, Muscatine, Guttenberg, Manchester, Mount Ayr, Moravia and Spirit Lake.
Urban Trout Stocking and Family Fishing Events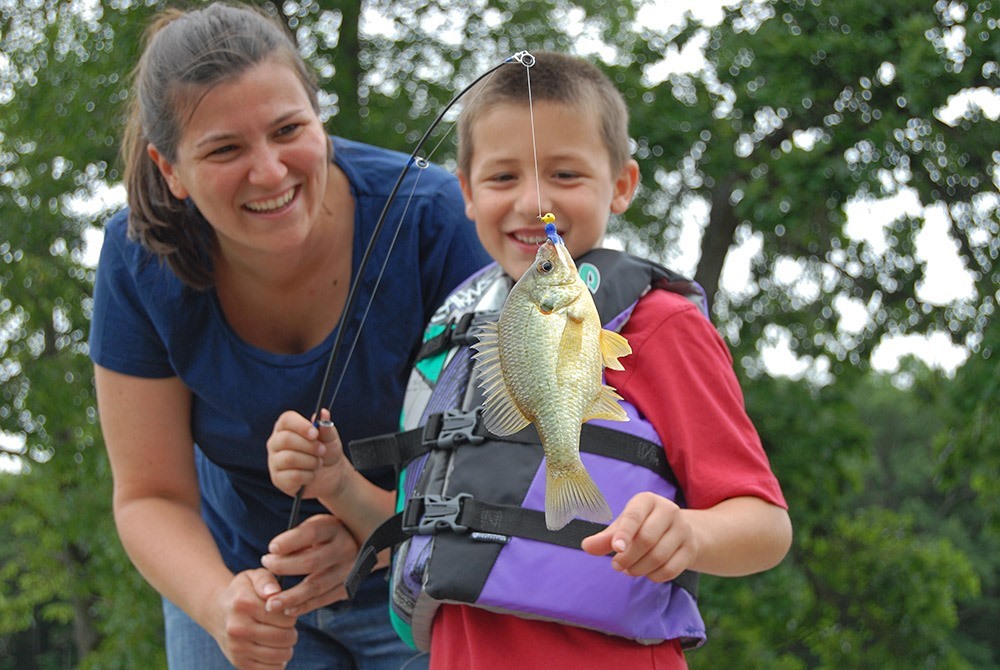 Cool weather trout stocking takes place around the state – usually in the spring – and offers easy access to trout fishing in areas too warm to support the species in the summer. These events are an especially great chance for kids to catch their first fish and take place state-wide.



Youth Fishing Derbies, Clinics & Tournaments
Opportunities for junior anglers abound in Iowa. Many of the events teach kids about fish species, offer fishing tips and equipment care. Residents and nonresidents younger than 16 can fish without a license but may need to purchase a trout fee. The Iowa Department of Natural Resources offers Free Fishing Days annually on the first Friday through Sunday in June. On these days, fishing licenses are not required for Iowa residents, but all fishing regulations are enforced.