From primitive hike-in campsites to modern feels-like-home cabins, an overnight in Iowa's outdoors can suit the interests of any traveler. Below, check out three camping locations and things to do near your campsite.
1. Charles City Whitewater at Riverfront Park

In 2011, a dangerous low-head dam removed from the Cedar River made way for Iowa's first whitewater course. Kayak, tube or stand-up paddle board on the three-quarter-mile-long course. Riverfront Park offers three unique features for all skill levels: Dam Drop, Doc Drop and Exit Exam. Several local outfitters rent supplies to travelers.
2. Charley Western Trail

Hike, bike or cross-country ski along the scenic 5.2-mile Charley Western Trail that runs through Charles City and along the Cedar River. The path passes an old railroad bridge, public art sculptures and several colorful flower gardens.
1. Lake Icaria Recreation Area

Choose from two different campgrounds: Timber Ridge Campground, nestled under the shade of oak and elm trees, or Lakeview Campground, uniquely located on Lake Icaria's peninsula. The campgrounds offer full-service sites with electric hook-ups, waterfront cabins and tent sites. The county park's trail system takes campers through timber, beside ponds, to the beach and to a dam located on the park's south side.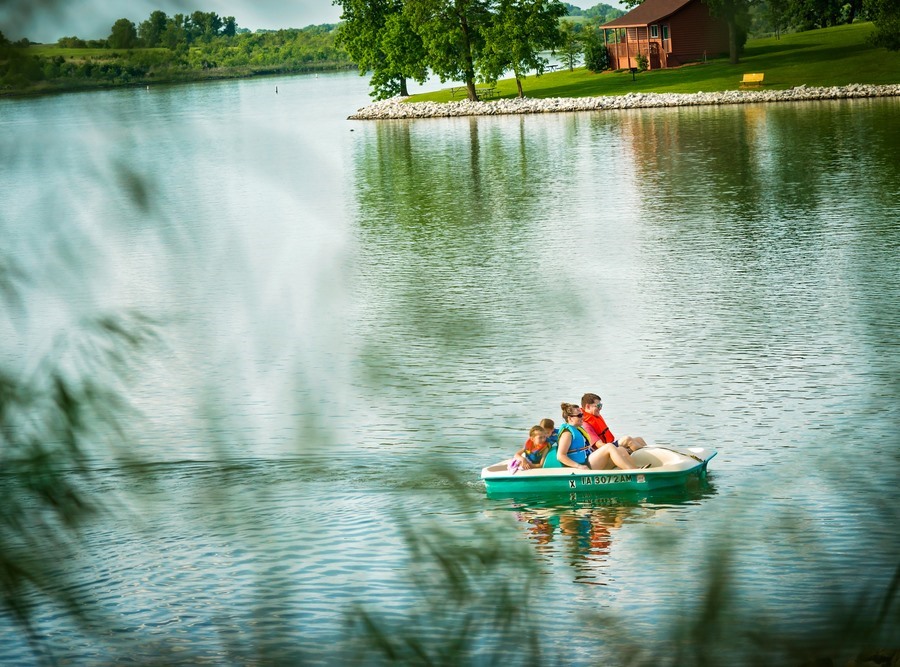 2. America's French Icarian Village

Established in 1852, the French Icarian Village was one of the largest Utopian societies in the United States. Although the community disbanded long ago, the 34-acre site is still home to a pioneer cemetery and restored communal dining hall and one-room schoolhouse. Volunteers are currently working to re-create the village's community gardens and replicas of the original log cabins.
3. Adams County Speedway

Originally a horse racing track in the 1800s, the Adams County Speedway is now one of the most widely known dirt racetracks in the Midwest. The speedway holds an event nearly every summer weekend.
1. Backbone State Park

Iowa's oldest state park boasts two distinct campgrounds with 125 total campsites. South Lake Campground has electric or non-electric sites and shower buildings. Six Pine Campground has only non-electric tent sites and is ideal for more rustic adventurers. Campers can enjoy views of the lake and nearby rock formations.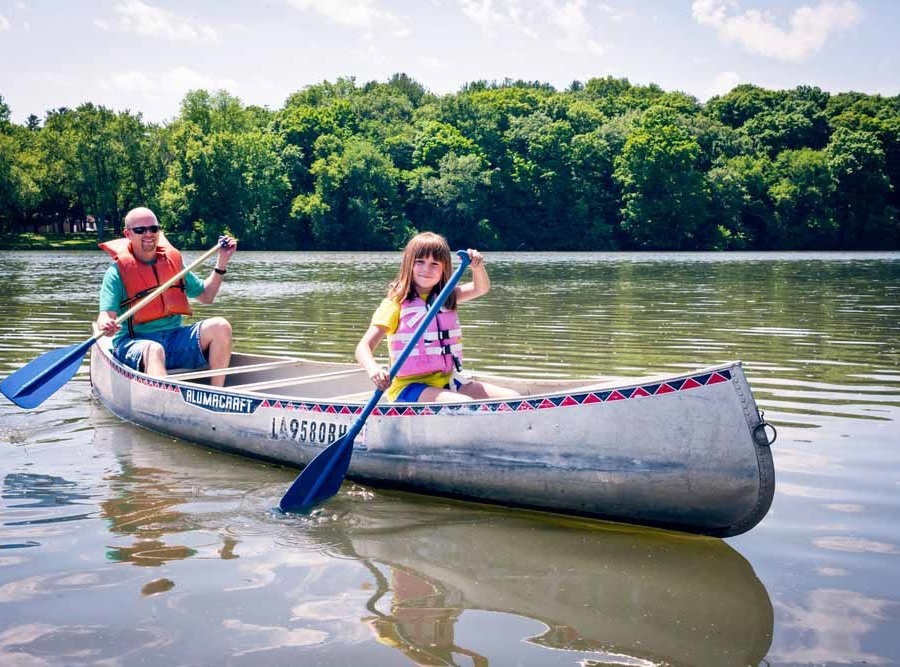 2. Rock Climbing

Climbers and rappelers can put their skills to the test on rugged limestone escarpments. Backbone State Park is one of the few state parks that offers rock climbing. The Drive In Wall, easily accessible from the main road, stands approximately 70-feet-tall and includes sections for several different skill levels. Climbers and rappelers must register at the park office.
3. Hiking

Backbone State Park gets its name from the Devil's Backbone, a narrow bedrock ridge that is the highest point in northeast Iowa. Two miles of moderate to intense hiking takes visitors from a dirt path to the rocky stairway known as "the spine." At the top, hikers relish views of the ambling Maquoketa River and dense forests of cedar trees.
4. Trout Fishing

Backbone State Park and northeast Iowa are home to some of the state's best trout fishing. The Driftless Area, a unique and scenic landscape marked by deep bluffs and meandering rivers and streams, offers the perfect habitat for trout. Bass, carp and small panfish also are abundant.