By Jody Halsted
Iowa is filled with fun camping opportunities. Lakeside RVing, luxury cabins, and plenty of tent camping sites can be found in state and county parks. But when you're ready to try something 'out of the ordinary' you need to look to Iowa's privately-owned campgrounds. From one-of-a-kind accommodations to amazing locations, these campsites offer something you won't find anywhere else!
Williamsburg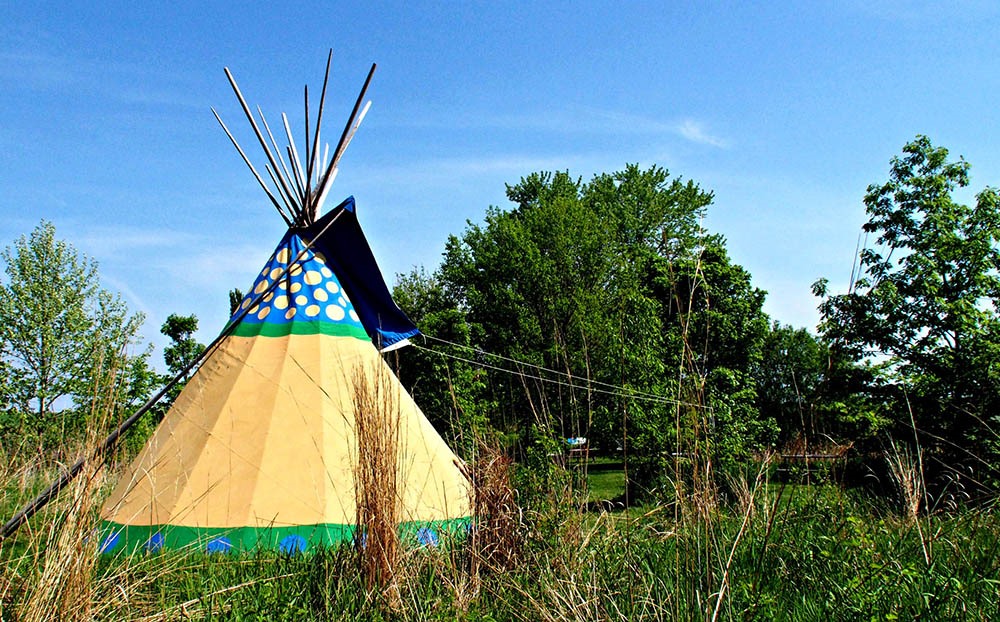 At this private tipi camping site, you and your group are the only guests. Originally created as a personal campsite for her family, naturalist Maria Koschmeder launched Walking Stick Adventures to share her love of camping and the outdoors.

The large canvas tipi will comfortably accommodate six adults or 10 children, and additional tents can be pitched as necessary. Campers need only bring sleeping bags and food, Maria supplies everything else - from cookware and plates to chairs and a grill. A charming outhouse and shower are only steps away. Aside from enjoying the peacefulness of this Iowa farm, guests can kayak, canoe or fish at the pond. Pets are welcome.
Scranton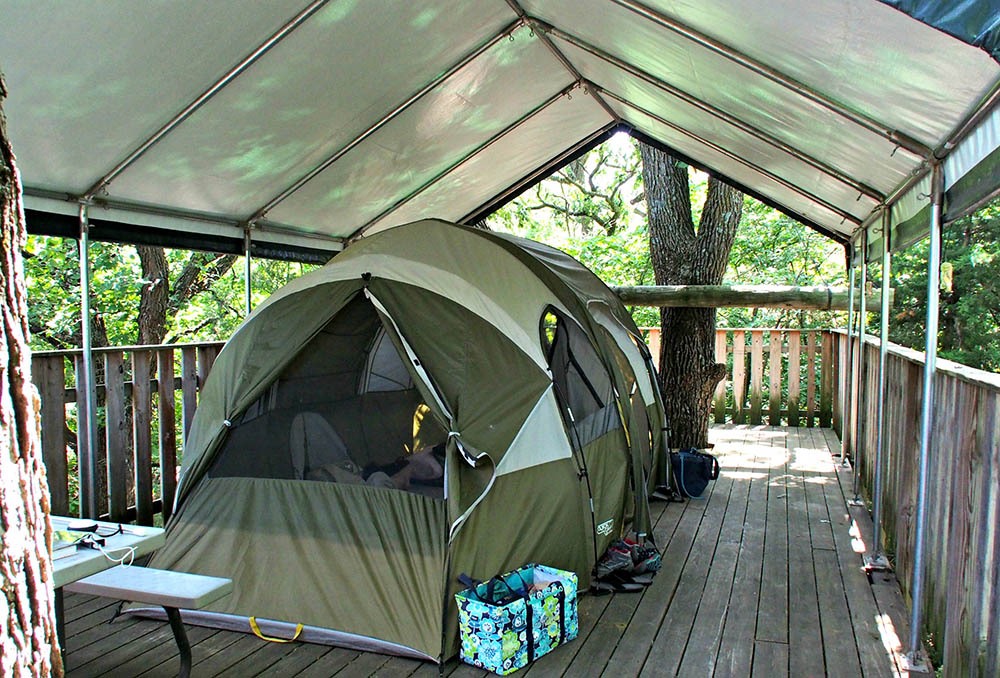 After building a treehouse outside their vineyard event space, owners John and Nancy were asked if they would let people spend the night in it. That simple question inspired the 42 x 16-foot platform set among the trees on their family farm.

While the ADA-accessible site is zero entry, it sits 23 feet above the dry creek bed below. This treehouse camping experience includes a roomy eight-person tent, picnic tables, porta-potty, non-potable water, firepit, and plenty of wood. The camping space is extensive, and you are welcome to pitch additional tents. Guests may also fish and kayak in the farm's pond.
Earlham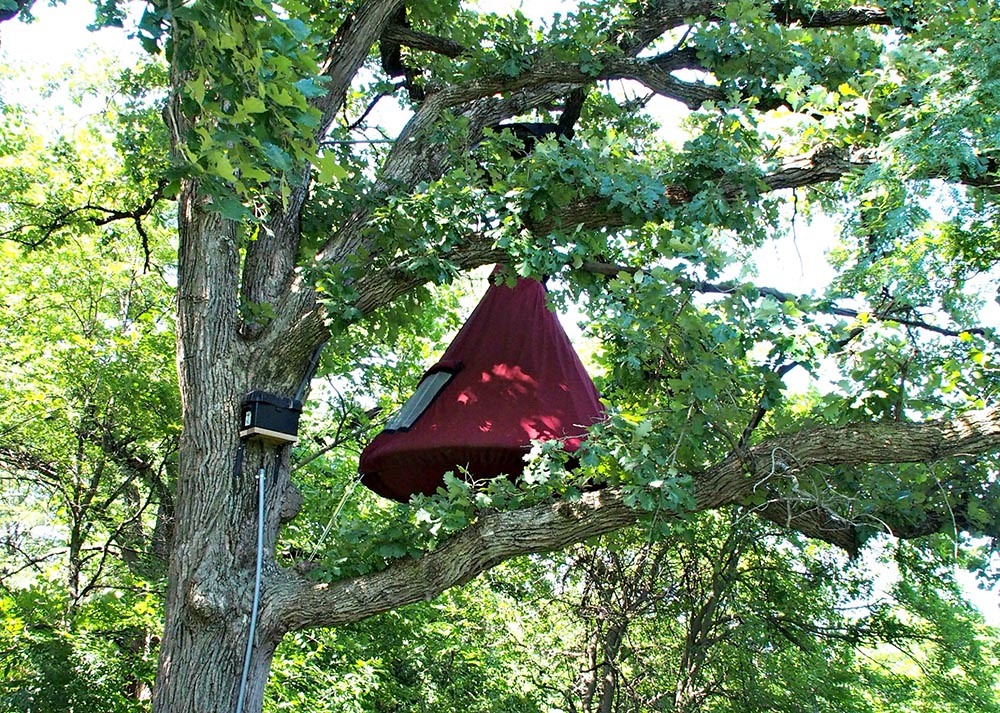 Exiting Interstate 80 west of Des Moines, you'll weave your way down a few gravel roads to find this campground. Originally purchased as hunting land, Dave Roberts soon followed his dream of opening a campground with his wife Brenda.

Nestled in this peaceful river valley you'll find Iowa's first ascending tree tent! The Floating Bed not only hangs from the tree - it rises as much as 15 feet! The super-king memory foam mattress enhances the feeling of floating on a cloud. Your campsite includes a fire pit, potable water, shower/bathhouse, and a pool. The Floating Bed will sleep four, but if you are bringing older kids consider also booking the Stingray suspended tent and let them have their own adventure.
McGregor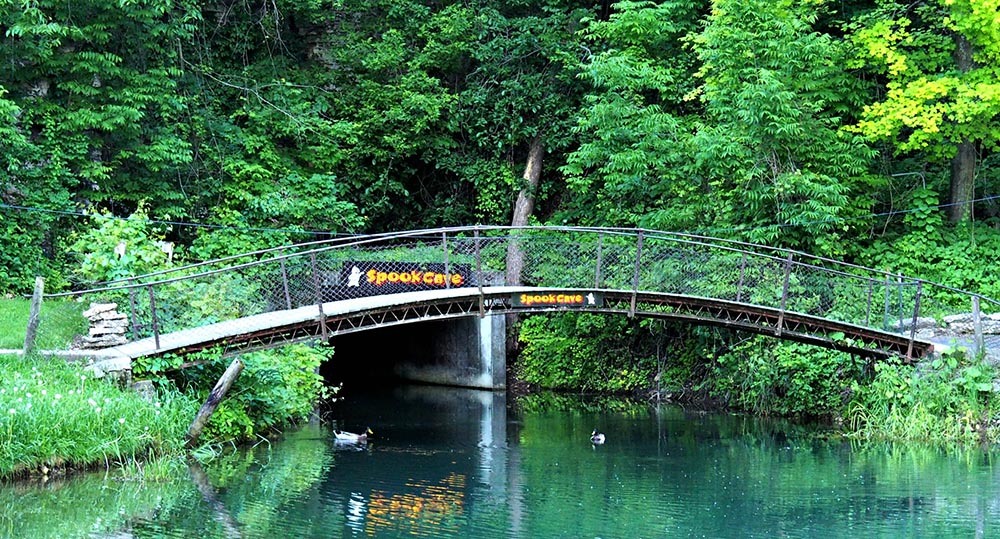 You'll find every type of camping at the Spook Cave Campground. RV and tent sites are clean and spacious, and the camping cabins are available in multiple sizes and amenities.

But the big draw here is the cave tour. Before being discovered by Gerald Mielke in 1953 this natural cavern emitted strange noises which echoed through the valley of Bloody Run Creek. Explorations revealed stalactites and other interesting cave formations. A lock and dam on site flood the cave for boat tours from May through October.

A small lake for fishing, swimming, kayaking, and stand up paddle boarding is also on site. Nearby adventures can be found at Pikes Peak State Park and Effigy Mounds National Monument.
Eldora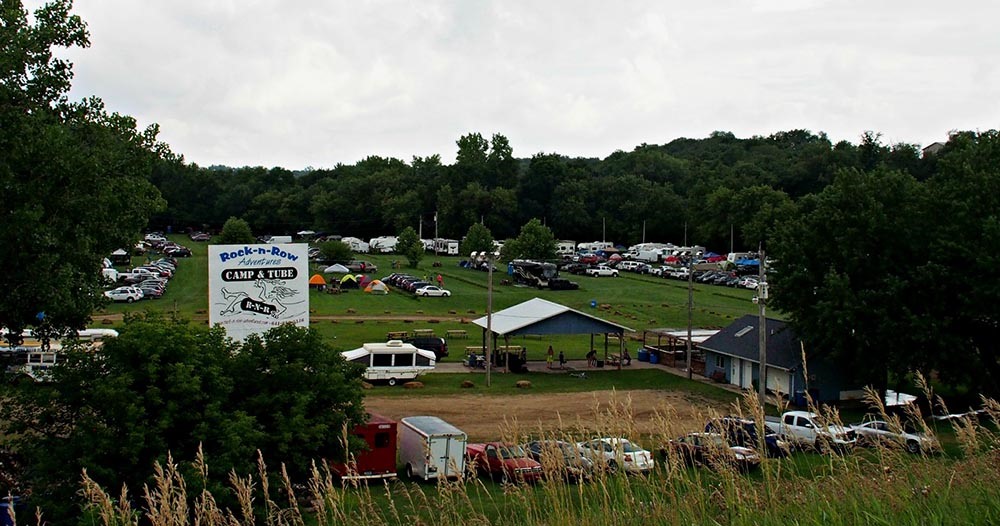 Tracy Morlan grew up tubing the Iowa River. He always thought it would be fun to help other people enjoy his summer pastime. With the threat of a job transfer looming, his wife Sandra took his dream, created a business plan, and presented it to the bank.

That was 24 years ago and since that time Rock-n-Row Adventures has expanded from a river tubing business to include a campground. The expansive grounds along the Iowa River have 24 electric sites and plenty of places to pitch a tent.

River tubing services include tube rental (with cooler tube and trash barrel), shuttle to a drop-off point, and assistance as you exit the river at the campground.

If you're planning to tube and camp with children, choose Sunday through Thursday when the campground is quiet. Friday and Saturday are usually busy with adult groups that come to enjoy the river during the day and live music on Saturday night.
Coon Rapids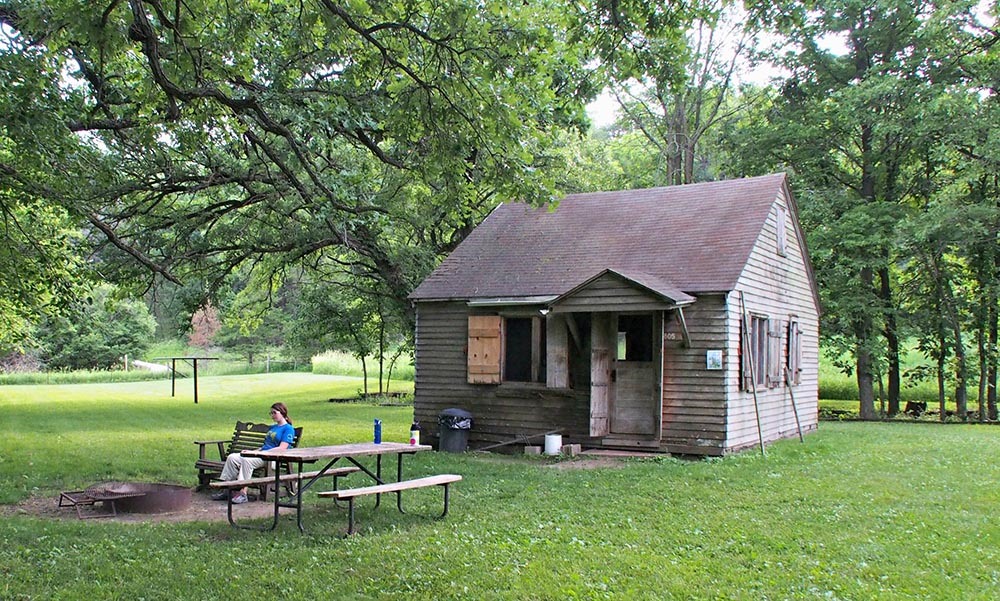 How do you like to experience nature? No matter your answer you're likely to find your adventure at Whiterock Conservancy. This 5,500-acre land trust offers everything from hiking and mountain biking to canoeing and stargazing.

You'll also find plenty of camping and accommodation options, but for a truly unique stay choose the 805 River Cabin. This rustic accommodation takes you back to a time when water came from the river, lights out meant the sun had set, and your toilet was an outhouse. Even arriving at the cabin is an adventure - it's a one-mile hike or bike along a riverside path. It's recommended that you pack light, but if you have more than you can carry a Gator is available for rent.
West Bend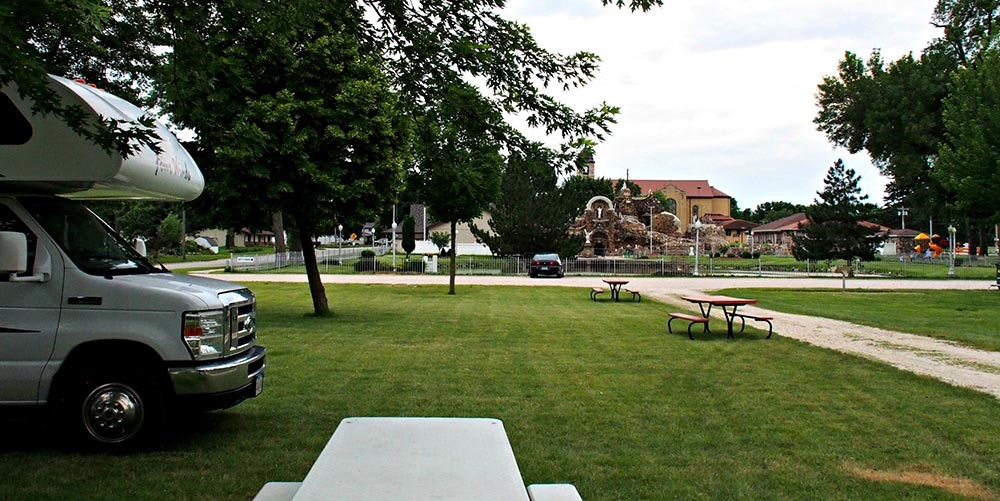 The largest man-made grotto in the world is found in the tiny town of West Bend. While northwest Iowa seems an unlikely place to find what has been called the "Eighth Wonder of the World," once you are on-site, this peaceful town seems the perfect location.

Conceived by Father Paul Dobberstein and constructed of rocks, precious stones, and minerals from around the world inlaid in cement, the Shrine of the Grotto of the Redemption covers a full city block. Though known as a single grotto, the structure is actually nine separate grottos, each depicting a scene from the life of Jesus Christ.

Camping at the Grotto of the Redemption is first come, first serve. The two grassy campgrounds have a total of 53 RV sites (electricity only), 20 tent sites, a water filling site, and dump station. Restrooms, shower house, and a playground are also available in the campground.
Cantril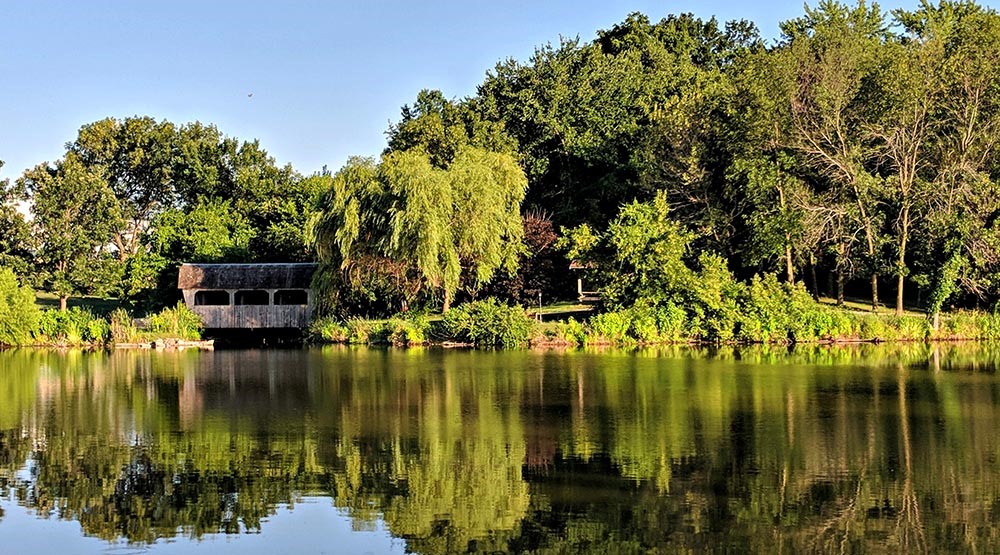 If you are planning to camp at Waubonsie Trail Park there is no need to pack food - just plan your menu and do your shopping in Cantril! The Dutchman's Store stretches the length of this small town's city block. Filled with anything and everything you could ever consider needing - from fabrics to shoes and fresh vegetables to vintage candy - this Mennonite-run Old Time General Store draws shoppers from three states, and tourists from across the world.

The campground at Waubonsie Trail Park offers RV sites with electric and water hook up, as well as two cabins. The rustic cabin, a single room cabin with two futon beds, electricity, and air conditioning, is comfortable for a family of four, while the modern ADA cabin has a bedroom, living area, bathroom, and kitchen. Trails from the campground lead through the charming parklands dotted with covered bridges built by past woodworking classes from the local high school.

Which of these unique camping adventures in Iowa do you plan to experience?

Jody Halsted is an award-winning freelance writer and publisher of Camping Tips for Everyone, where the only wrong way to camp is to not camp at all!