The Loess Hills: Iowa's Famous Geological Gem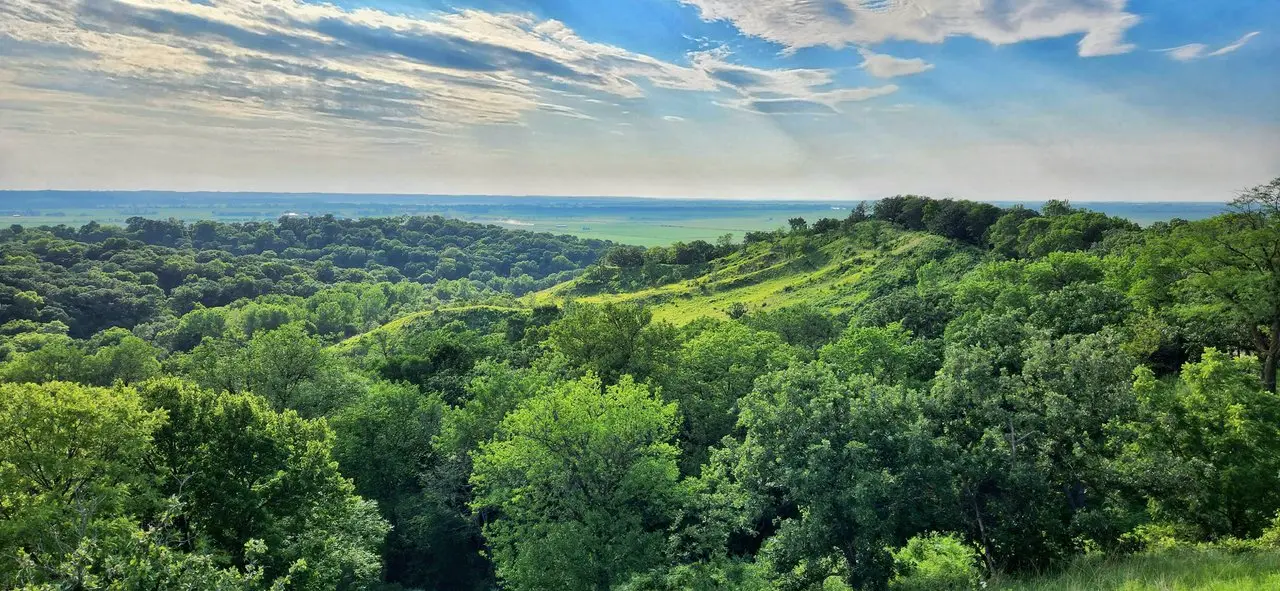 What are the Loess Hills?
Though the Loess Hills are one of Iowa's most famous landscapes, many natives and visitors alike are unaware of what makes this area so special. In fact, this is one of the only places in the world with such deep deposits of loess soil, a silt-like sediment formed by the accumulation of wind-blown dust. The only place with deeper and more expansive deposits is China's Loess Plateau. Along with its unique compilation, the region also includes some of the largest public conservation and recreation areas in the state, preserving an important ecosystem of plant and animal species that can't thrive anywhere else. Finally, the Loess Hills are home to some of the longest and most rugged trails in the Midwest, along with views that maintain the legacy of the land.
One Woman's Journey Through the Hills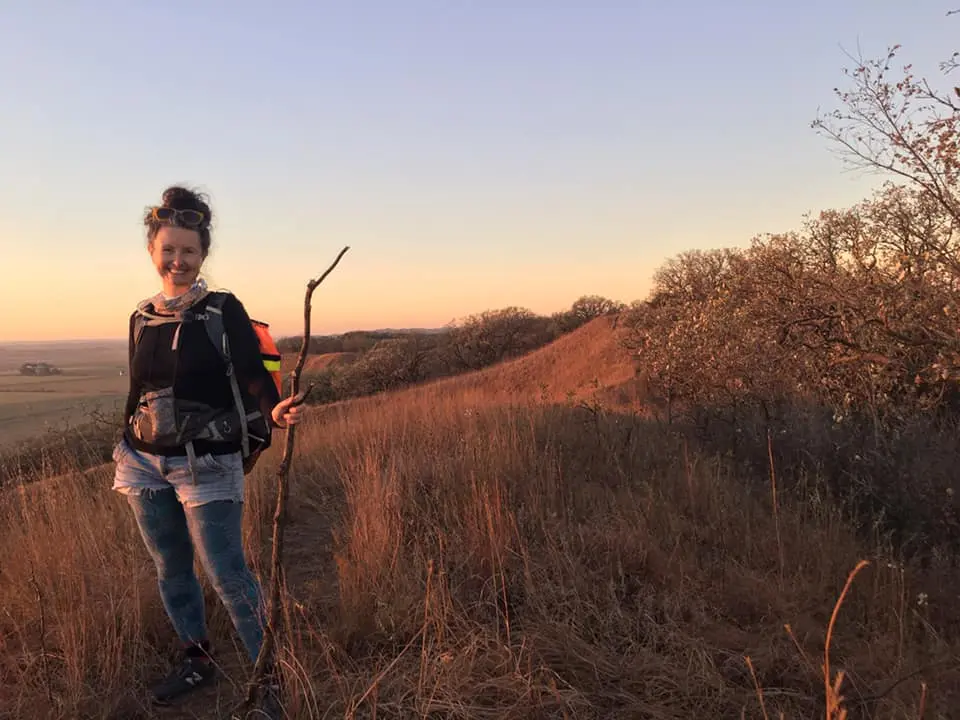 Though the Loess Hills do have some longer isolated hiking trails, there has been talk of creating a continuous route that spans their entire length, from Plymouth County all the way down to the Missouri border. So, local hiker and nature enthusiast Kelly Madigan set out to try it herself. It was something she'd been thinking about doing for nearly 20 years as she explored the area and learned more about the Loess Hills. Then, when COVID-19 hit, she figured it was time to bring her plans to life.
"I wanted to understand the landscape that I was connected to and understand things at a human pace. I had driven I-29 and taken some of the scenic byway routes, but still didn't really understand the landform until I walked it," Madigan said.



Walking the Hills
In the fall of 2020, she set off on her adventure. After initially planning her route along with scouting on the spot, she walked about 270 miles through stretches of public conservation and recreation areas, as well as along gravel, dirt and paved roads in between. Family and friends helped along the way, bringing her food and supplies. Every day looked different – sometimes she'd camp on the trail; sometimes she'd have loved ones shuttle her to and from routes; sometimes she'd even have friends and family join her as she continued walking south.
Kelly quickly coined the term LoHi Trail to describe the path, combining the name of the hills with its elevation changes and steep slopes. As the hills, their scenery and small towns continued to amaze her, she created a Facebook page to document her journey, starting it by saying, "Many have dreamed of a continuous walking trail through the Iowa Loess Hills. I'm trying to move that forward by walking it."
Before she knew it, hundreds of people were following the page, providing ideas for navigation or areas of interest, and asking questions about her route as they brainstormed their own undertaking.
Six weeks later, Kelly finally reached the Missouri border. While her journey could have ended there, it was only the beginning.
"I've always been drawn to wilderness and how it corresponds to the wildness in us," Kelly said. "When I discovered the Loess Hills and all these pockets of remote valleys and ridges where you can be away from big cities, it spoke to me like it does to a lot of people."


As her Facebook group's following continued to grow, Kelly realized there were more people like her who wanted to connect with Iowa's natural beauty in the most intimate way – on foot. She partnered with Golden Hills RC&D, and together they arranged a summer hiking event in June 2021 called the LoHi Trek. They soon learned there was ample demand for the four-day, 40-mile hike of the Loess Hills – the 30 registration slots were quickly filled while additional names were placed on a waiting list. Hikers were responsible for bringing their own camping gear but, thanks to a shuttle system, they didn't have to carry it, and food was provided.
The next spring, they held another LoHi Trek where they camped at Little Sioux Scout Ranch and had shuttle drivers take them out for a hike back. They completed 25 miles in three days. A hike in the fall of 2022 also utilized a shuttle out and hike back system, this time with camping at Kelly's home.

A Learning Experience
Throughout these guided hikes, Kelly also invited local experts to incorporate educational presentations about conservation efforts, the landscape's importance, protecting its wildlife and prairie. The most recent hike even included a visit to a local sheep farm called Tuuli Farm, where they learned about the sheep's rotational grazing process and its benefit for the livestock and conservation efforts.
As the LoHi Trek continues to evolve and more people are introduced to Iowa's Loess Hills, interest continues to grow inside and outside Iowa's borders. For the 2022 hikes, people came from 53 zip codes and 10 states, including New York, California, Texas and Colorado.
Today, there are endless ways to experience the Loess Hills by car, foot or bike, inviting nature enthusiasts, outdoor recreation junkies and sightseers alike to appreciate Iowa's natural landscape.
Experience the Loess Hills: Events & Guided Hikes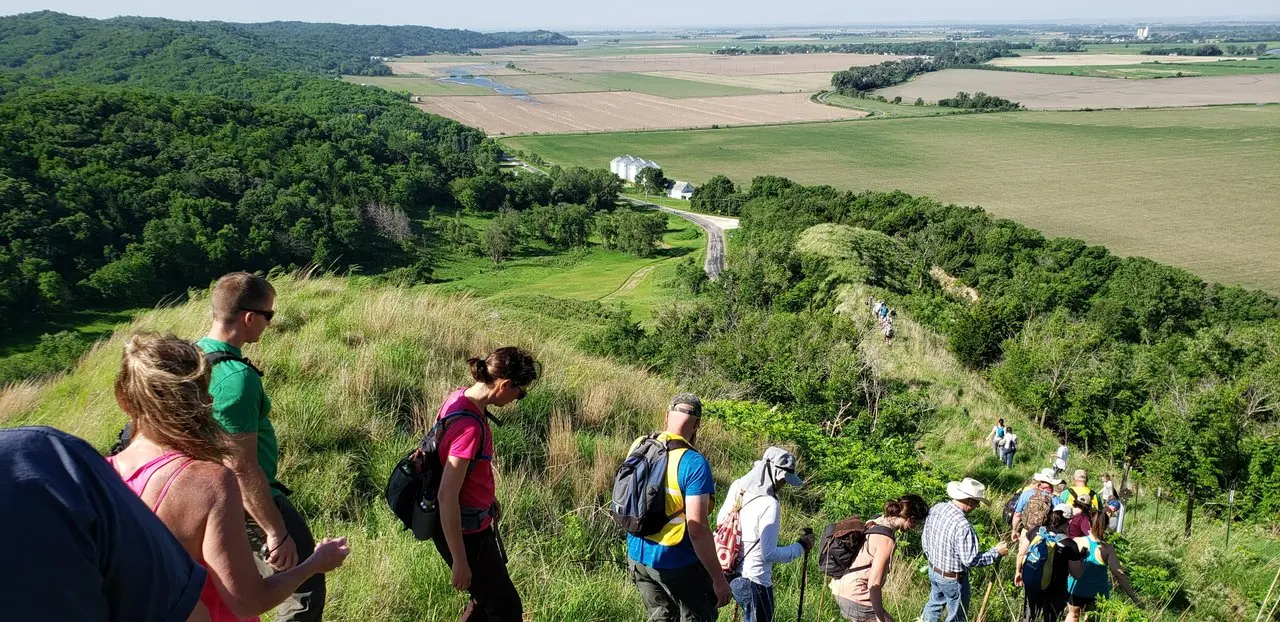 Join Kelly Madigan and Golden Hills RC&D over Memorial Day weekend for the third annual LoHi Trek. This hiking event will explore wild areas in Plymouth and Woodbury Counties, including portions of Broken Kettle Grassland, Five Ridge Prairie State Preserve, Heendah Hills State Preserve, Stone State Park and more. Each day's hike will average six to 10 miles, with options for shortening the distance each day. Participants are responsible for bringing their own tent and sleeping gear but will not need to carry them as the hike returns to the campsite every evening. Meals, water stations, charging stations, morning coffee, camaraderie, support and educational components are all included.

GRASS (Great Race Against Shrubs and Shade)
Held the morning before the Loess Hills Prairie Seminar, this volunteer-dependent event welcomes people of all ages to help local organizations cut and clear invasive brush to help the hillside prairies thrive. Volunteers are encouraged to bring loppers, work/leather gloves, sturdy boots or shoes, safety glasses, a water bottle and sunscreen.

Save the date for this annual educational event, featuring the 2023 theme of "Head for the Hills." Held June 2-4, join conservationists, nature enthusiasts and curious explorers as they hike and camp in the heart of the Loess Hills and enjoy presentations on everything from local history and archaeological discoveries to plant identification and wildlife explanations. Primitive and car camping are available, though there are no electrical hookups or running water. A solar-powered phone charging station and food are provided. Come for a day with the family or camp to enjoy the full experience.
Public Hiking Trails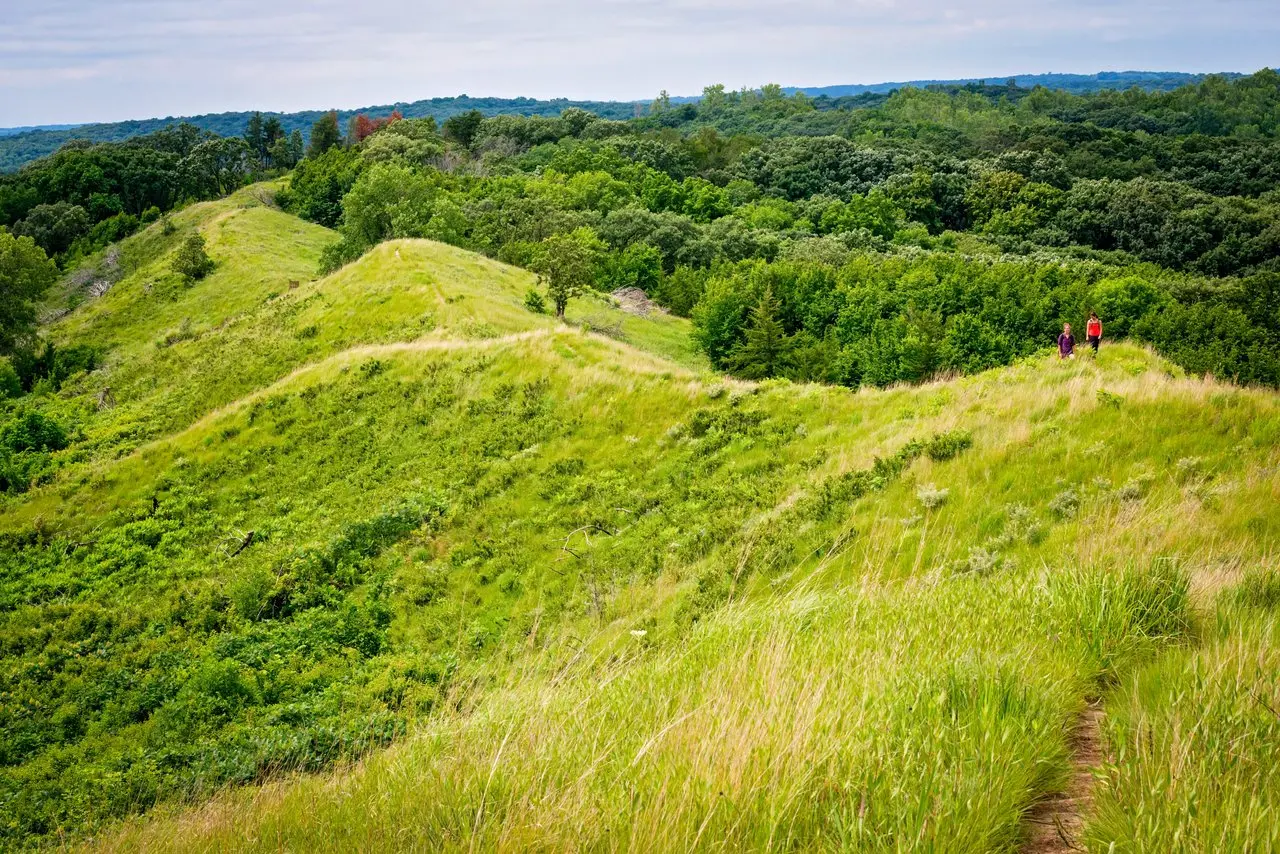 Use the map to discover trails through the Loess Hills as well as primitive camping areas. One of the most popular routes in this system is Brent's Trail, a 13-mile stretch of dirt trail featuring unique topography. It's deemed one of the most challenging and scenic backpacking trails in the Midwest.
Driving & Biking Trails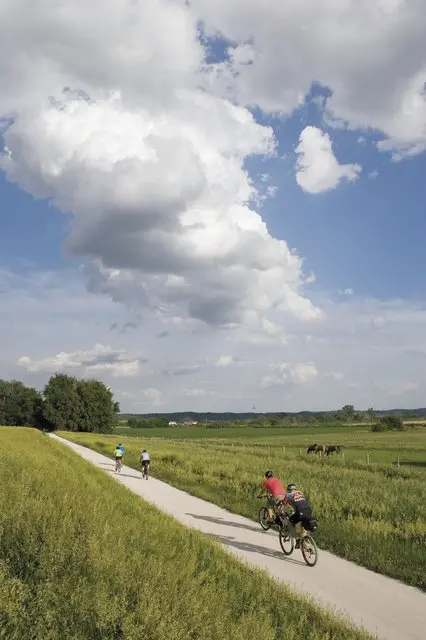 With 220 miles for the main route and 185 extra miles of excursion loops, this scenic byway provides one of the easiest ways to enjoy Iowa's Loess Hills. The route passes through dozens of charming small towns and past even more unique Iowa attractions.

Spanning 60+ miles and crossing over 70 bridges, this scenic trail is relatively flat, making it a relaxing way to experience the Loess Hills. The trail runs from Council Bluffs to Blanchard, featuring various trailheads in between.
Scenic Overlooks & Points of Interest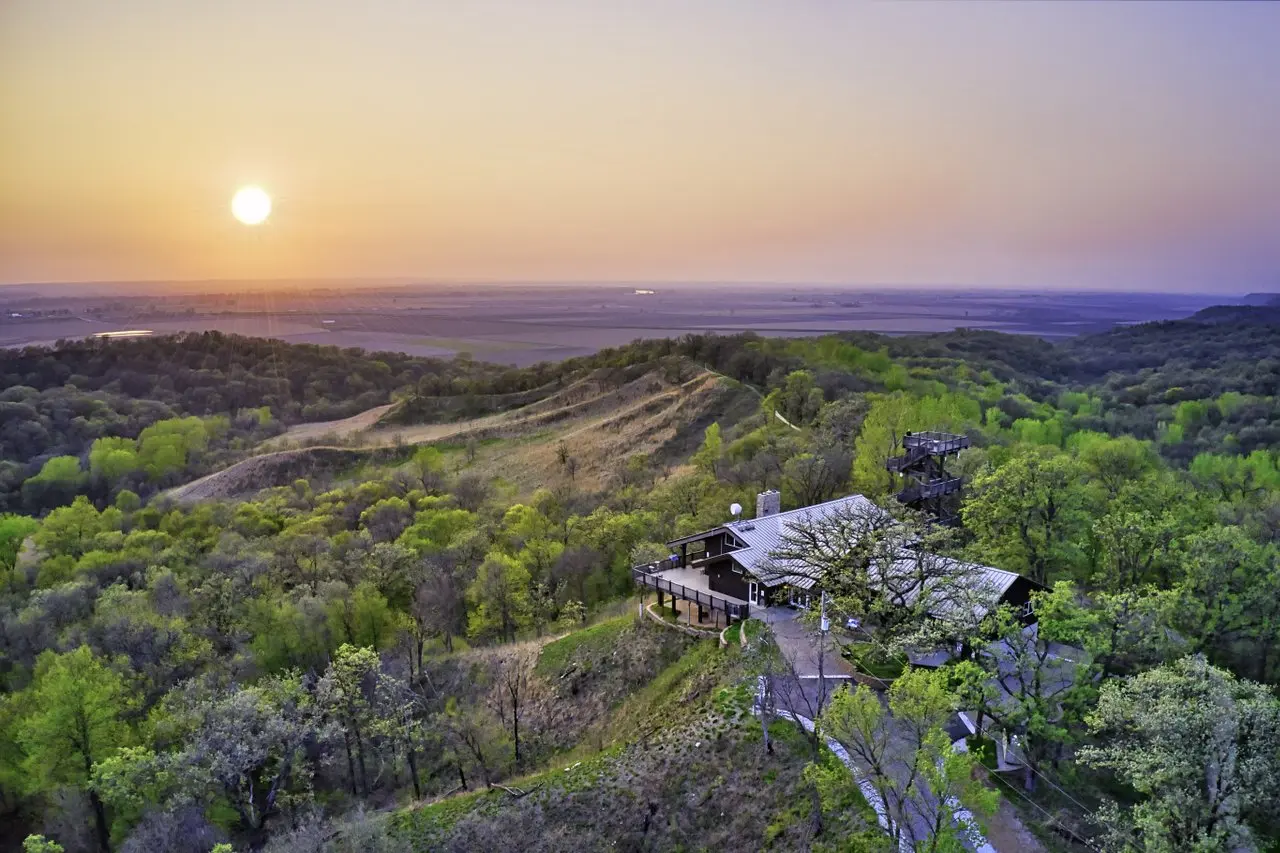 Climb to the top of the observation tower for a bird's eye view of the breath-taking scenery or hike their nature trails to experience the views on foot. Then, head inside to enjoy a series of interpretive displays, exhibits and programs.

Another spot for fantastic views, the park also features rustic camping cabins, hiking and multi-use trails.

With several scenic overlooks, Sioux City's portion of the Loess Hills proves just as stunning. Visitors can also relax with a picnic at one of the shelters, explore the Dorothy Pecaut Nature Center and book a stay at one of the three camping cabins.

Along with great views of the hills, Southwood's overlook features a selfie stand to create the perfect photo opp. The area also includes two stocked ponds, hiking and equestrian trails, picnic areas and a playground along with two one-bedroom cabins.

Experience a quiet and primitive spot among the rolling hills. This designated preserve features expansive views of the city along with picnic shelters and several nature trails.

This spot honors the famous expedition and its meeting with the Otoe and Missouri Indians. The overlook features an expansive westward view and includes restrooms and a picnic area.

Located right off Highway 34, this 39-acre park includes an accessible scenic overlook, hardwood forest and a 10-acre fishing lake. Drive through the park and discover a series of interpretive panels, restored prairies, flowerbeds and various hiking trails.

Offering a sweeping reminder of nature's beauty, this preserve features some of the best views of the Loess Hills. A herd of bison roam the grounds to complete the views. Though there are no hiking trails, visitors are allowed to wander the grounds, or check their calendar for upcoming events.
Loess Hills Lodging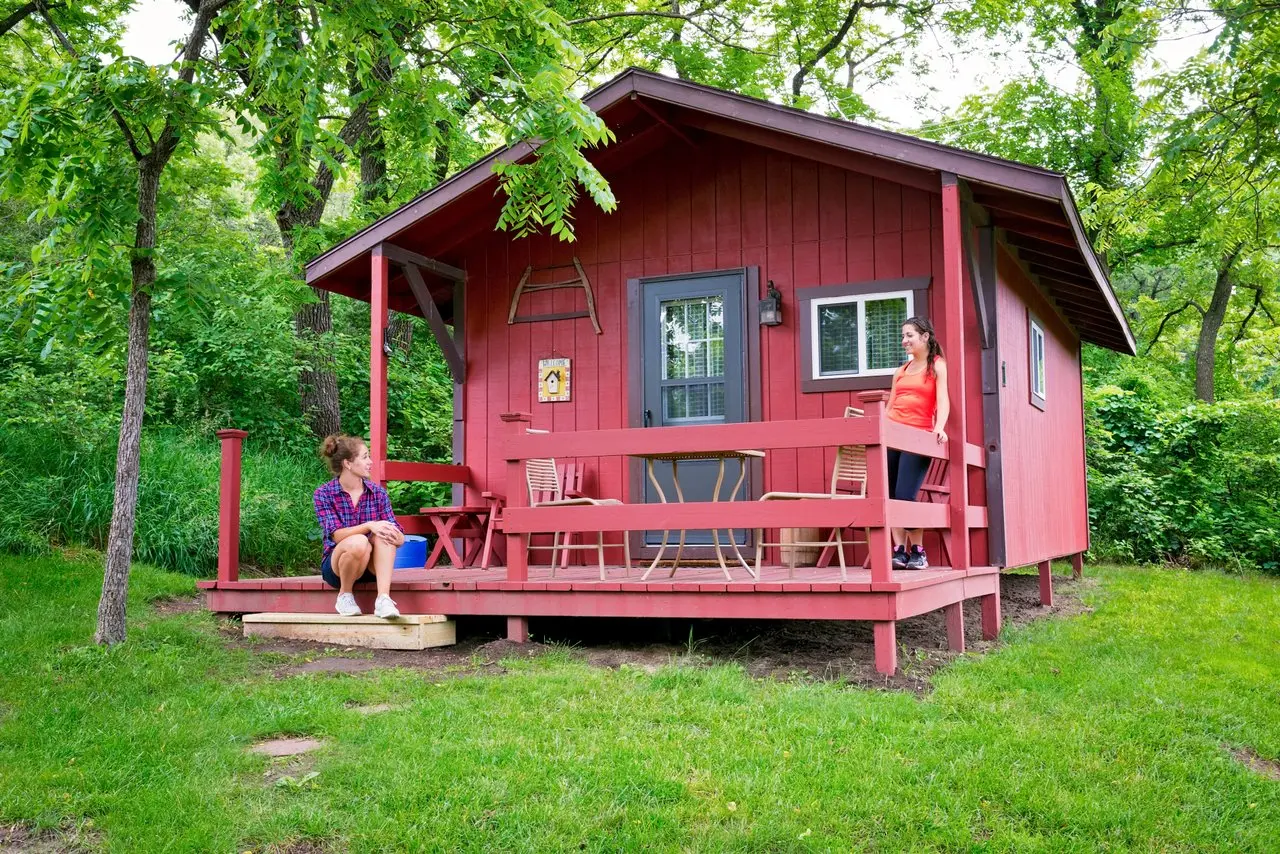 Nestled at the foot of the hills, this repurposed grain bin can sleep up to six guests and features a large bathroom, full kitchen, laundry and Wi-Fi along with a cozy outdoor space.

These comfortable cabins are located just minutes away from Preparation Canyon State Park and public access to nearly 12,000 acres of hiking and hunting. Each cabin features a modern interior with a full kitchen, private bathroom, TV and heat/AC.

This 83-acre park offers two cabins that can sleep up to 10 people each. Each one is equipped with a kitchen and bathrooms, offering the perfect getaway for families.

These rustic cabins offer a fine balance between primitive camping and glamping. Each cabin can sleep up to six people and features heat/AC, a refrigerator and microwave. Just steps out the front door, guests have access to a hydrant, picnic table, fire ring and grill. Modern restrooms and showers are located in the adjoining campground.

A home away from home for visitors to the Loess Hills, choose from six cabins to experience it all in comfort. All cabins are handicap accessible and include a kitchen and bathrooms.