Whether you're looking for a good 'ol fashioned wooden roller coaster or a more modern ride filled with sharp turns, twists and flips, Iowa's theme parks have it all. Add these spots to your road trip for an unforgettable adventure.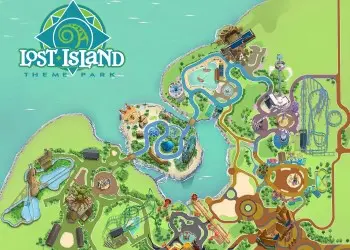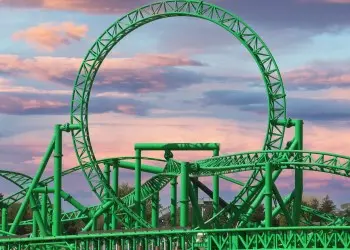 Iowa's newest theme park is located across the street from its sister attraction, Lost Island Waterpark. Maintaining the tropical oasis feel, the Lost Island Theme Park offers an exciting island adventure throughout its five realms: Tamariki (spirit), Udara (air), Awa (water), Yuta (earth) and Mura (fire). Experience each world through its thrilling rides and inventive storytelling.
Tamariki is a colorful, enchanted realm for younger guests and those who are young at heart to explore. This world features kid-friendly rides such as pint-sized roller coasters, gentle spinners and gliders and a play area.
For sky-high adventures, Udara offers a quirky array of spinning, flipping, swinging and drop rides alongside the Nopko Air Coaster, which takes riders through five inversions and incredible G-force while their feet dangle below them.
To cool off on a warm summer day, head to Awa for a coastal adventure. Challenge your friends to an Awaati Battle, an interactive water cannon ride, navigate the water maze and ride aboard magical fish. This world also includes classic rides like a Ferris wheel and tropical carousel.
Immerse yourself in the lush jungle in Yuta, home of the Matugani Launch Coaster, nicknamed for the evil snake found in the earth realm. Un-earth ancient Yutan treasures at the Pengali Ruins, test your driving skills on the bumper cars and experience an island twist on the traditional log ride.
Finally, test your bravery on the heart-stopping rides of the Mura realm. The Mura Fury coaster swings riders 360 degrees in the air, while Rokava throws you into twists, turns and upside-down directions to avoid the grasp of the lava monster. The rest of the rides are just as terrifying with their high velocity spins and 4D interactive adventures.


Since opening in 1974, Adventureland Park has provided the first roller coaster ride for many young Iowans throughout the years. After being owned by a local family, the park has since switched ownership and is now part of the Palace Entertainment collection, the country's largest operator of some of the top theme parks (Kennywood, Noah's Ark). Today, this Iowa staple ensures a balance of change and tradition while maintaining its reputation as one of the Midwest's best-known theme parks.
In opening for its 2022 season, Adventureland is introducing nine new rides that appeal to a younger audience:
The Lighthouse – mini drop tower
The Clipper – miniature swinging Ship
The Revolution – swinging and 360-revolving ship
Leap Frogs – bouncing, frog-shaped cars
Warhawks – tilting and spinning war planes
Bernie's Swing – rocks riders to and fro
Circus Balloons – lifts and spins riders
Rockin' Rainbow – giant swings that spin
Speedway Racers – takes riders around a small racetrack
Don't worry, thrilling rides for the older crowd can still be found with the Outlaw and Tornado wood coasters, the stomach-dropping Space Shot and the breath-taking views on the Storm Chaser. Adventureland also features new modern coasters: the park's first ever infinity coaster the Monster, and the three-layered, 4D free spin coaster the Dragon Slayer.


Home to over 30 rides and attractions, Arnolds Park Amusement Park offers a classic theme park experience full of tributes to Americana nostalgia.
The Legend Roller Coaster was built in 1930, making it the 13th oldest wooden coaster in the world. Its renovated track provides a smoother and faster ride with all the same exciting turns and drops. Another classic thrill can be enjoyed on the Boji Falls Log Ride, where you'll be soaked no matter where you sit. For a rock'n good time, hop aboard the Rock-O-Plane and create your own ride with the ability to spin your car or hang upside down. For a similar sensation, take flight on the Roll-O-Plane to experience the feeling of barrel rolls and dives. Finally, be sure to check out another Arnolds Park legacy ride, the Wild Mouse. This spectacular roller coaster takes a single rider on hairpin turns, bunny hops and through negative vertical G forces.
One of the park's best hidden gems can be found inside the Arnolds Park Funhouse Museum. A step through the doors takes visitors back to the days of wooden rides and old arcade games. Grab a sack and slide down the 92-year-old wooden slide for a truly unique historical experience.