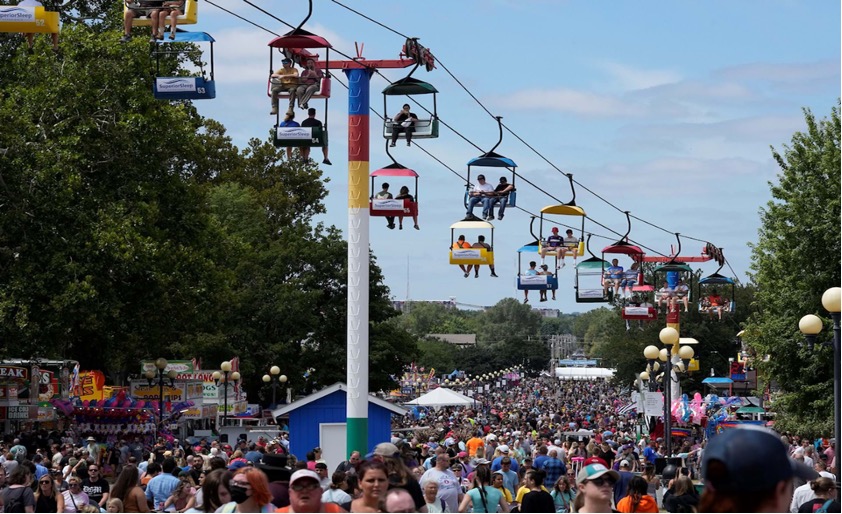 Step right up, ladies and gentlemen, and prepare to be amazed by a spectacle like no other! Recently featured in Midwest Living magazine, the
Iowa State Fair
has earned its place among the "
Top 30 Things Every Midwesterner Should Experience
." As the largest state fair in the country, this cherished tradition has been drawing millions of visitors from all corners of the U.S. since 1854.
Running for 11 consecutive days every August, the Iowa State Fair is a true celebration of everything that makes our state special. For those visiting, this iconic event promises a captivating blend of agricultural splendor, lively entertainment, mouthwatering delicacies, and, of course, warm midwestern hospitality.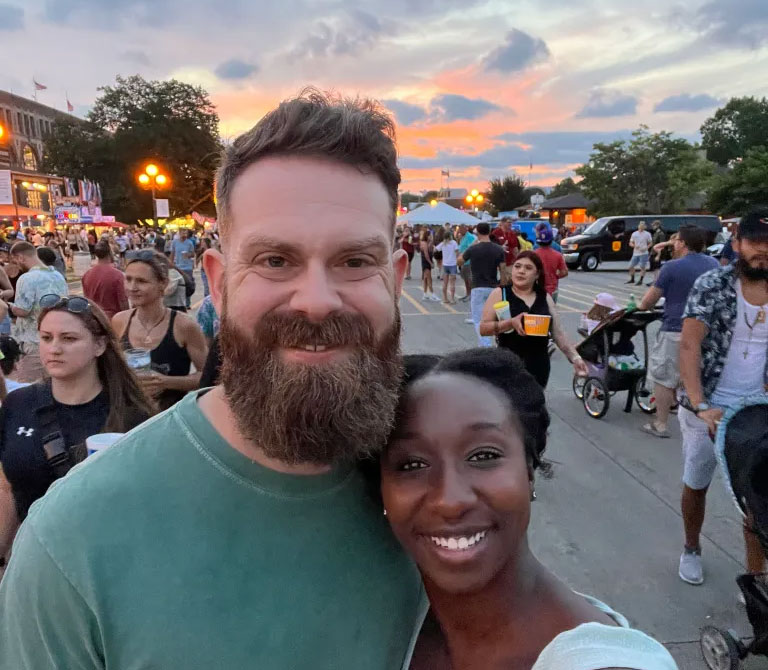 Jacquie and Ryan, known as the Chicago Couple, had their first taste of the fair last year and described it as "classic Americana fun." Meanwhile, travel blogger Andrea Larson, whose parents have been attending for years, is excited to carry on the tradition with her own family, saying, "We loved it and can't wait to go back!"
One aspect of the fair that Iowa is best known for is its agricultural exhibits. For over a century, the Iowa State Fair has been a space where farmers showca se the best of their harvest and livestock through hands-on and interactive displays.

Jacquie and Ryan's first stop was the Paul R. Knapp Animal Learning Center, where they watched chicks hatch, fed baby goats, and even got to pet piglets. "The exhibit is all about educating visitors on the animal birth process, different stages of development in various species, and general care for Iowa's livestock," Jacquie said.
The Larson crew were equally impressed. "I can't believe we got to cuddle baby animals," she said.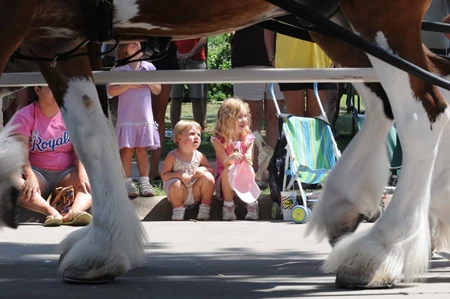 ROLLER COASTERS, ENTERTAINMENT, AND A BUTTER COW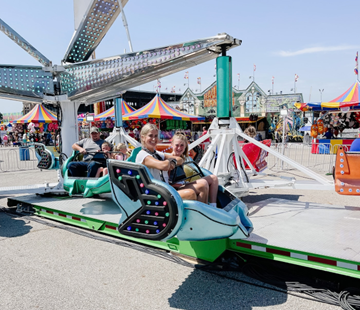 The agricultural exhibits are just the beginning. Prepare to be dazzled by exhilarating entertainment, from thrilling roller coaster rides to concerts that'll have you dancing the night away.

Andrea enjoyed the carnival experience with her two teenagers, hopping on various rides and even sliding down the monstrous 50ft tall mega slide. "Everyone who came down had a huge smile on their face," she said.
Jacquie and Ryan, on the other hand, opted for the Sky Glider saying, "It provided some great views and nice breeze.

Beyond the vibrant outdoor experience, the Iowa State Fair also provides respite from the summer heat with its numerous indoor attractions. Jacquie was surprised by the number of air-conditioned exhibits saying that, "We were able to cool off by visiting some of the must-see indoor attractions like the iconic butter cow, fine arts exhibits, and best tasting tomato contest!"

LEMONADE, FUNNEL CAKED, AND CORN DOGS, OH MY!
And, of course, you can't forget about the food! The Iowa State Fair is a food-lover's dreamland, boasting an assortment of classic fair favorites like corn dogs and funnel cakes, to Iowa favorites like local craft beer and deep-fried Oreos.

This year, the State Fair is hosting a farm to fork brunch highlighting seasonal and local ingredients sourced from Iowa farmers and prepared by the state's top chefs, called the Choose Iowa Brunch. The brunch will give guests a chance to experience and learn about all things local – from meeting the farmers and enjoying the chef-crafted cuisine to listening to live music and hearing from experts about Iowa agriculture and the future of farming.

Not only is the State Fair an ideal spot for food, but for beer as well. A self-proclaimed craft beer lover, Andrea said "We had to make a stop at the Iowa Craft Beer Tent. Here you can find a variety of beers from the great state of Iowa on tap. They offer regular pours or tasters. There is music and picnic tables, and the atmosphere is so festive."

"It feels like we mostly ate and drank our way through it all, just the way we like it," Andrea said.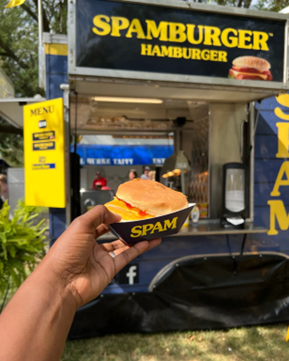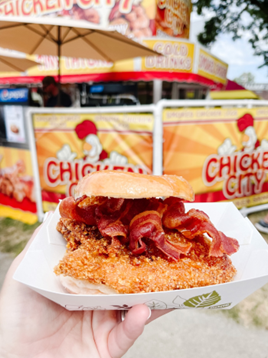 For Jacquie and Ryan, there was a tie for favorite food between the delicious apple bacon waffles from Applishus or the Spamburger Hamburger. "That Spam burger was a pure trip of nostalgia for me," Jacquie said.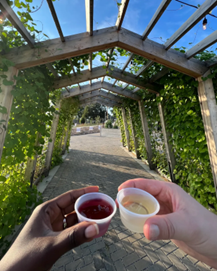 Another fantastic outdoor feature of the Iowa State Fair is the Wine Down in the Garden event, which thrilled Jacquie and Ryan. "Complimentary wine samples in a pretty garden with live music? Sign me up," Jacquie said.
At the end of their trip, Jacquie and Ryan mentioned how helpful downloading the Iowa State Fair app was, saying they relied on it to plan their day efficiently, ensuring they didn't miss any of the must-try foods or activities on their wish lists.
The Larson's left happy and tired. "We rode rides and played games, watched a sheep shearing contest and saw all the animals," Andrea said.

Come experience the Iowa State Fair and discover why it's more than just your typical event – it's a heartfelt salute to the backbone of Iowa and the hardworking individuals who make this state and the Midwest flourish. Come one, come all and immerse yourself in the magic that awaits!