Two September hunting seasons – dove and teal – offer hunters of all ages and skill levels an early start to their favorite outdoor pursuit.
Dove Season Begins September 1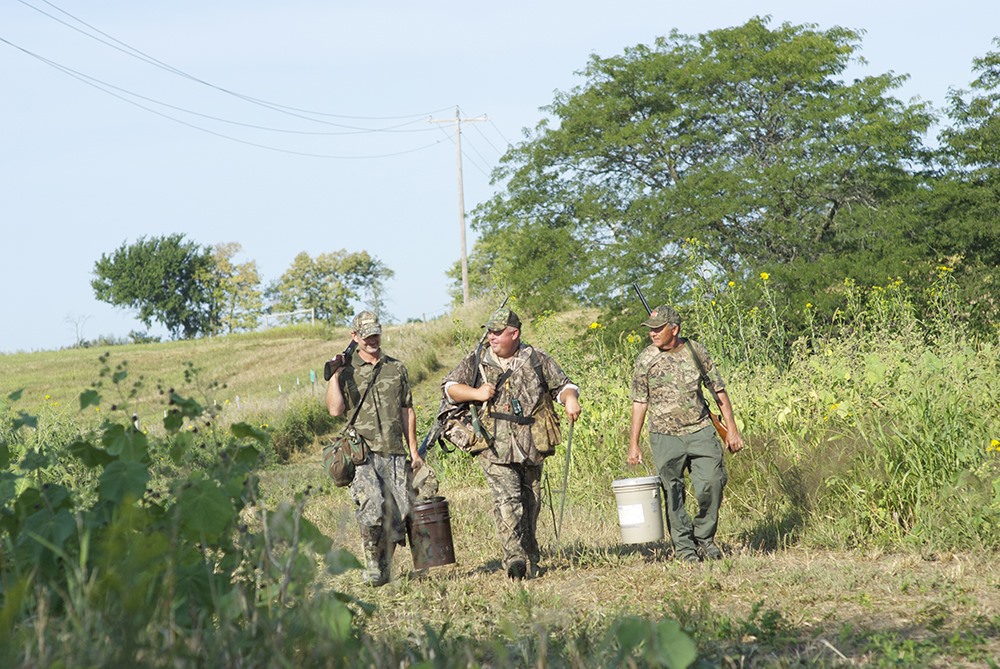 The secret to being a successful dove hunter is not really a secret at all: bring plenty of shells, a group of friends and hunt the fields where doves are.

"Scouting is the key," said Todd Bogenschutz, upland wildlife biologist with the Iowa Department of Natural Resources. "Walk the prospective areas in the morning and at night; make mental notes about how the doves are coming into the field and leaving the field. Keep in mind where the sun will be at the time of day you will be hunting to identify the best location to set up."

Doves are a migratory game bird and most of the migration takes place during the first few weeks of the season. This year, the season opener – September 1, 2021 – falls on a Wednesday.

The dove season coincides with summer-like weather which is one selling point for those new to hunting. "Dove hunting would be great for novice hunters because the weather is nice, there's a lot of shooting and you don't need a lot of equipment – a bucket and a lot of shells," he said.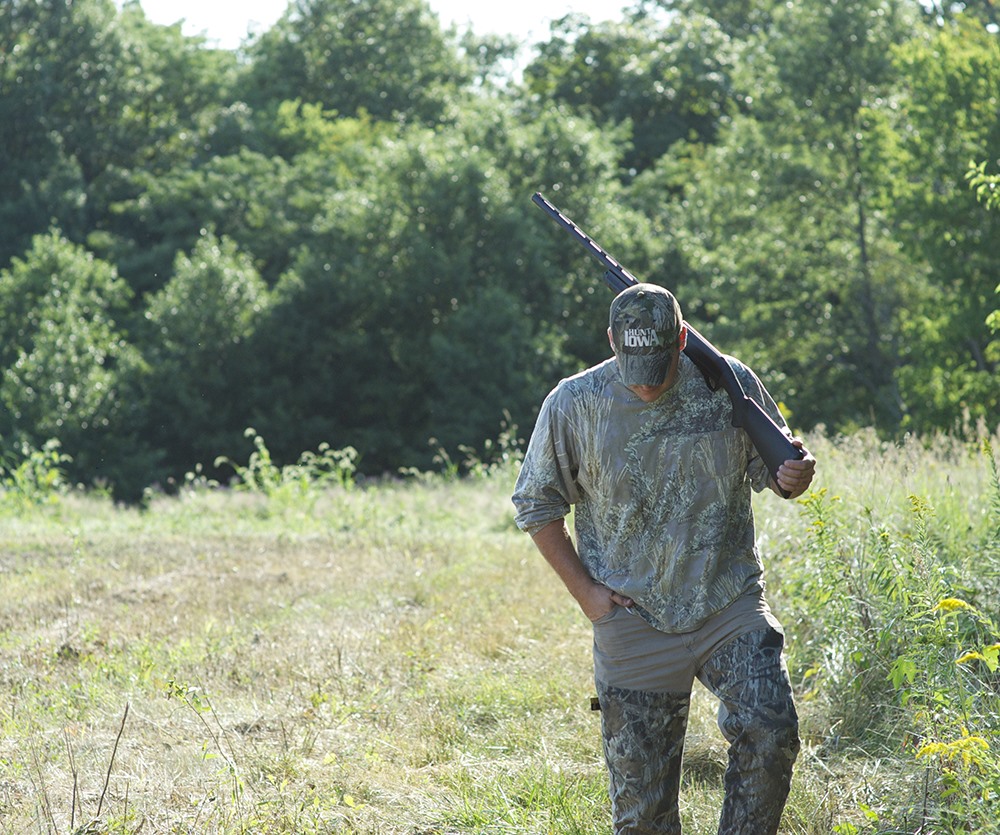 Doves like bare ground and prefer open landscapes and larger food plots. If a sunflower plot is not available, try a weed patch or harvested grain field. The Iowa DNR has a list of public wildlife areas and private land enrolled in Iowa Habitat Access Program (IHAP) where dove plots – primarily sunflowers – have been added.

Hunters are reminded that although they do not need to pay the state or federal migratory bird fee, they are required to register with HIP and to have the plug in their gun to be legal. They must also use nontoxic shot on public areas where it is required for all hunting except for deer and wild turkey. The areas are listed on p. 17 of the Iowa hunting regulations. Legal shooting hours for mourning doves is one-half hour before sunrise to sunset. There is a daily bag limit of 15 doves with a possession limit of 45. The season is September 1- November 29, 2021.

Special September Teal Season
September 1-16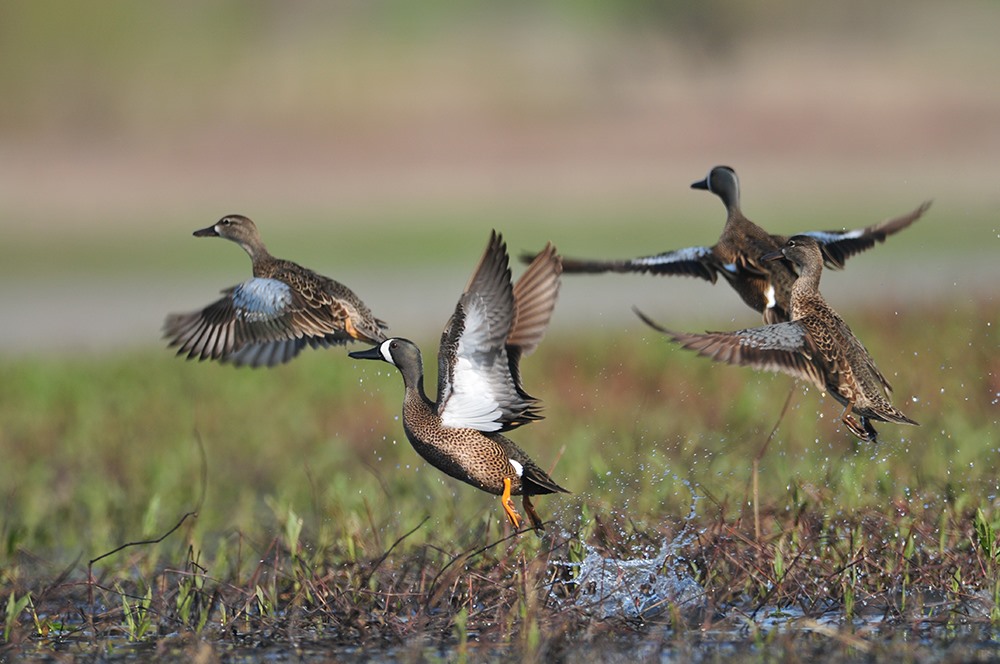 Heading into the special September teal season, hunters can expect to find most wetlands in good condition and near-record levels of these small, fast-flying ducks. "The teal are there, most of our wetlands are holding water, now we hope that the migration happens during the season and the ducks stop over here," said Orrin Jones, waterfowl biologist for the Iowa Department of Natural Resources.

"Teal prefer larger shallow-water marshes with healthy vegetation that supply a steady diet of bugs and seeds to dine on, and cover in which to hide," said Jones. "Hunters can improve their chances for success if they set up with the sun at their back or side, helping with duck identification and provide hunter cover."

Jones advised hunters to be patient. He said the highest activity period for waterfowl is the half hour before sunrise, but shooting hours for the special September teal season begin at sunrise.

"Bluewing teal will fly around during the morning hours," he said. "They are fast-flying ducks that fly low over the marsh so you won't need to take long shots. It's a species and season that is friendly to novice hunters."

The special September teal season is open only for taking teal. In Iowa, that means primarily bluewing teal with some greenwing teal mixed in. Teal are small ducks; bluewings have a blue patch on their shoulder that is slightly larger and brighter on the males; greenwings are smaller than bluewings and have a green speculum on the wing.

"It's a very sporting bird proving lots of action and at the end of the day you get to enjoy a delicious meal," Jones said.

Hunters may harvest up to six teal per day with a total possession limit of 18 teal. Shooting hours for the special September teal season differ from the regular duck seasons – shooting hours are sunrise to sunset. The season is September 1-16, 2021 in all three duck zones.

Visit the DNR teal hunting page for complete season and regulation details.