With 2022 marking the Des Moines Metro Opera's 50th anniversary year, the opera powerhouse, which is one of the oldest and most renowned opera fests in the country, is looking forward to a summer season that's equally exciting. Infamously known for its uniquely intimate venue, where viewers sit within five-10 feet of the performance, and exclusive stage configurations, the opera is providing up-close experiences of the world premiere of A Thousand Acres and the Iowa premiere of Porgy and Bess.
Introducing an Iowa Story to American Opera

In preparing for this monumental year, the Des Moines Metro Opera decided there was no better way to mark the occasion than contributing a new body of work to the industry. After a long vetting process, the organization carefully selected A Thousand Acres and earned the rights to commission it as an opera, something the organization has done only one other time in 1986.
Based on the Pulitzer-winning 1991 novel by Jane Smiley, a former Iowa State University English professor, A Thousand Acres tells the story of an Iowa farmer incorporating joint ownership of his land with his three daughters in the 1970s and is a modern retelling of Shakespeares' King Lear.
"It really felt like it was our story to tell as an Iowa opera company," Michael Egel, the general and artistic director, said. "There's been a lot of energy in the field about contributing American stories to the body of work in the world, and doing that allows an organization to move from witnessing the future of the art form to actively creating it. This story was sort of calling out to be set to music."
The story met all the criteria, including already being a nationally recognized story that Iowans and visitors alike could appreciate. Producing it as an opera also adds a narrative centered around women's voices to the industry's canon. Therefore, the Des Moines Metro Opera utilized a female creative team to compose the music and design the production.
This team crafted a truly astounding production that features incredible visuals of Iowa landscapes through technology that will be projected onto the walls and the Pote Theatre's unusually shaped floor.
"It's going to be a once in a lifetime opportunity to be part of something pretty spectacular, and we hope that people will come down and give it a chance and be here as we make history with a new piece," Michael said.
More Celebratory Works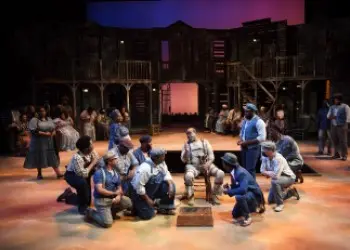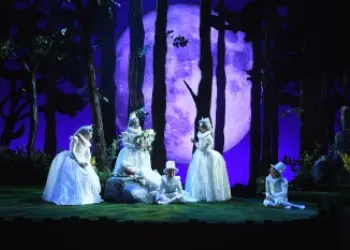 The accompanying operas, Porgy and Bess and Shakespeares' A Midsummer Night's Dream were selected to offer equally exciting productions for this significant season.
Known as one of the greatest American operas to ever have been written, Porgy and Bess is offered in collaboration with, and stars, Centerville native Simon Estes, whose opera career has spanned most of the world's major opera houses and performances in front of presidents, popes and other notable figures and celebrities. The Des Moines Metro Opera's production marks Simon's Iowa opera debut as well as his last stage performance, welcoming him home as he takes a final bow. The story features an all-Black cast of over 60 members and focuses on the poverty-stricken residents of Charleston's tenement of Catfish Row.
Meanwhile, A Midsummer Night's Dream acts as the magical jewel in the center of the season, engaging audiences in its beautifully crafted story and magnificent stage configurations.
These three operas are produced once every weekend in July, a production format known as a repertory festival season, which appeals to local ticket buyers and visitors trying to catch more than one performance. Last year, the Des Moines Metro Opera welcomed audience members from 42 other states, which is one of the highest out-of-state visitation numbers in the US, and four different countries.
"It's remarkable because these are folks who are obviously inclined to travel for the arts and they choose to come to Iowa to see opera when they could go anywhere in the world, and that's a great thing for us," Michael said. "There are more people than maybe there ever was who have been wanting to experience and express themselves in the giant, grand canvas that opera is."