Manning
From the cultivated rows of local agriculture to our brick-lined Main Street, Manning, Iowa has a deep-rooted history of thinking ahead, stepping up to the plate and getting things done. We invite you to be our guest!

For most, Manning is a hidden bargain that hasn't yet been discovered. If you're visiting from out-of-town, stroll down our historic Main Street or check out the Hausbarn Heritage Park, featuring the Hausbarn - a German heritage treasure built in the 1600s and brought over from Germany brick by brick in 1996. Enjoy the outdoors at our beautiful city and county parks, or even just a round at the Manning-Manilla golf course. Treat yourself to all of Manning's arts and antiquities and shopping to find that perfect gift. When you're hungry, grab a bite to eat with friends at restaurants located along our historic Main Street.

If you're not from around Manning, join in on a basketball or volleyball game at the Rec Center, pick up some fresh produce at the Farmers Market, catch a Wolves sporting event or grab some friends and tune into live music at one of the local bars, knowing that at the end of the day after seeing all that Manning has to offer you will feel refreshed.

In addition to all of the attractions in Manning, the city also sponsors many of the events throughout town. The annual events page is always updated, and a short-term events calendar can be easily found on Manning's website.

For more information, please contact the Manning Chamber of Commerce at chamber@mmctsu.com or call 712.655.3541.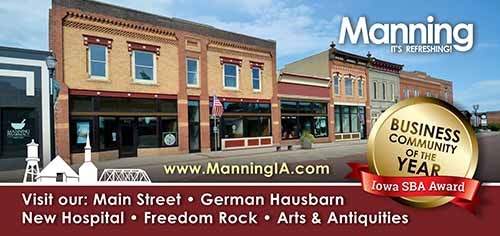 Located in
Loess Hills & Beyond