No one can relive his or her childhood but I don't mind trying.
When near the very southwestern tip of the state, I start to think if there's any way I can route my trip to pass through certain towns because each has something I love -- a soda fountain. Not some modern re-creation, mind you. Uh-uh. Those won't do. I like the original ones established more than half a century ago in pharmacies in just about any town. Now, only a few of those places serving green-colored lime phosphates, root beer floats, cherry sundaes and other frosty sensations can be found. But when you find them, you remember where they are. They're gold.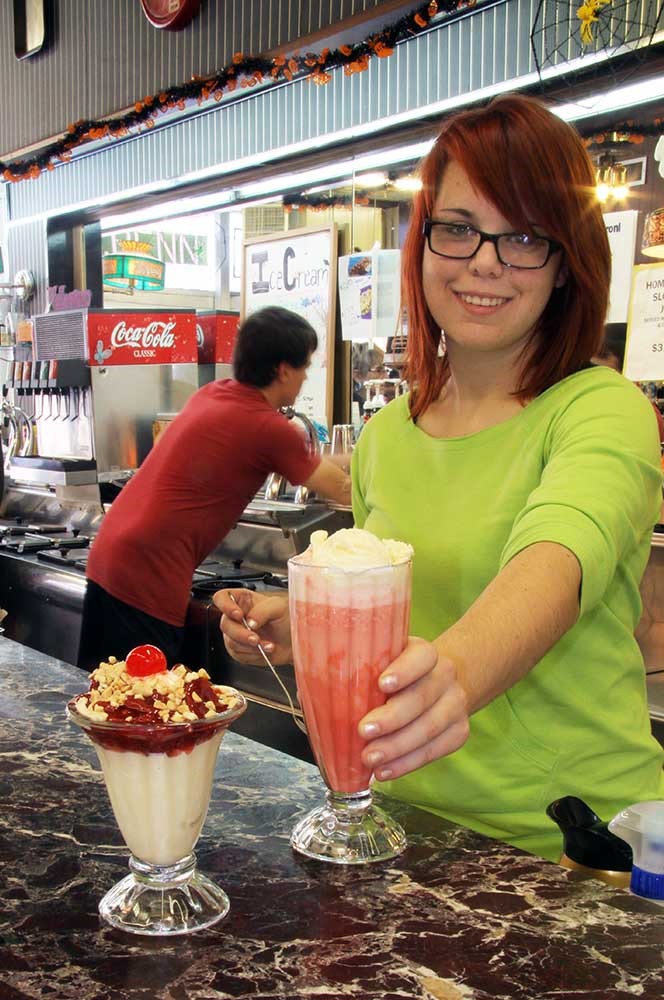 If I had to arrange a tour of soda fountains in southwest Iowa, I'd lead with Stoner Drug. Opened in 1896, it's in downtown Hamburg, just off I-29 at Exit 1, just north of Iowa's southern border. Stoner's signature treat is the Fried Egg Sundae. Before you sneer at that, you need to know it's a wonderful concoction that's really two dips of vanilla ice cream covered by marshmallow sauce surrounded by drizzles of chocolate sauce. Okay, maybe it should be called a burned egg sundae but it's still a tasty ice cream-marshmallow-chocolate sauce sundae.
The next stop is just 11 miles away where Penn Drug sits on the Sidney town square, facing the Fremont County Courthouse which was built in 1889. Dr. John Newton Penn bought the business during the Civil War, making it the oldest pharmacy west of the Mississippi. If you don't see something you like, I bet someone can dip into one or more of the chilled containers of hard ice cream and combine that with carbonated drinks from the tall silvery spigots to make something you'll like. Bill Penn, father of the current owner, Jeff Penn, told me why soda fountains use tiny spoons: "If you get a big hunk of ice cream in your mouth, you get a headache."
Now go east 15 miles to Shenandoah and on the main downtown drag called West Sheridan Avenue you'll find George Jay Drug. When you enter, there's no question about where to go -- to the long counter with several stools in front of it and a big antique brass cash register anchoring a corner of it. I love the cherry Cokes here -- they're mixed by hand, not poured from a can.
Finally, head up to U.S. 34 and then east to Corning, about 48 miles away to reach the last soda fountain in this part of Iowa -- McMahon Pharmacy on Davis Avenue. Not long ago there was competition here. Getter Pharmacy served Pepsi; McMahon served Coke. Getter is gone now, leaving Corning a one-cola town. Still, belly up to the counter and order what you want. It's going to be good -- and cold.
- Mike Whye, Photographer and Iowa Soda Fountain Expert