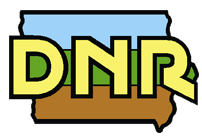 This is Iowa's weekly fall color report from the Iowa Department of Natural Resources, taken on Monday, October 3, 2022. Come back to this page for details throughout the fall on where to see the best fall color in Iowa. For more information,
contact the Iowa DNR.
Northeast
The Fall color season is progressing nicely. Cottonwood, hackberry, elm, basswood and walnut are turning yellow. Virginia creeper and sumac are turning red and orange. The hillsides have splashes of color mostly from sugar maples. Fall colors appear more vibrant this year possibly due to the recent crisp, fall-like weather.

Estimated Peak Viewing: October 8-15

North Central and Northwest
Yellows and oranges mixed with green dot the landscape. Ash, cottonwood, walnut, and honey locust are showing more yellows. Cottonwoods are vibrant. Silver maples are just starting to lighten in color. Amur maples, sumac and virginia creeper vines are fully red. Dogwoods are showing some purple or red.

Estimated Peak Viewing: October 8-15

Central
Ash, walnut, cottonwood and bur oaks are all yellow. Roadside sumac are bright red along with virginia creeper vines. More maples are turning red and yellow now. Poison ivy has turned all shades of yellow, orange and red. Major river valleys like the Des Moines, Boone and Iowa rivers are at 20-25% color change. The weather this past 10 days has been excellent for promoting good colors.

Estimated Peak Viewing: October 15-23

Southeast
Most of the landscape is still green. Elm, walnut, ash and cottonwood are starting to show a tinge of yellow. White ash and dogwood are showing a little bit of purple. Some urban maples are just starting to show a little red and orange.
Estimated Peak Viewing: October 20

South Central
No report


West Central and Southwest
Expect to see some yellow and some reds this week. Most shrubs will be at peak color, which provide most of our reds. Ash, cottonwood and walnuts are changing or will change very soon with lots of yellow. Fall prairie flowers are still showy this week to bring vivid colors to your prairie hikes.

Estimated Peak Viewing: 3rd week of October

Plan Your Fall Color Trip
Weather throughout the fall season has much to do with the development of fall color in trees. Cool night temperatures destroy chlorophyll quickly, but below freezing temperatures inhibit production of red pigments. The brightest displays of color occur with an early fall of bright sunny days and cool nights, which result in excellent conditions for development of red pigments.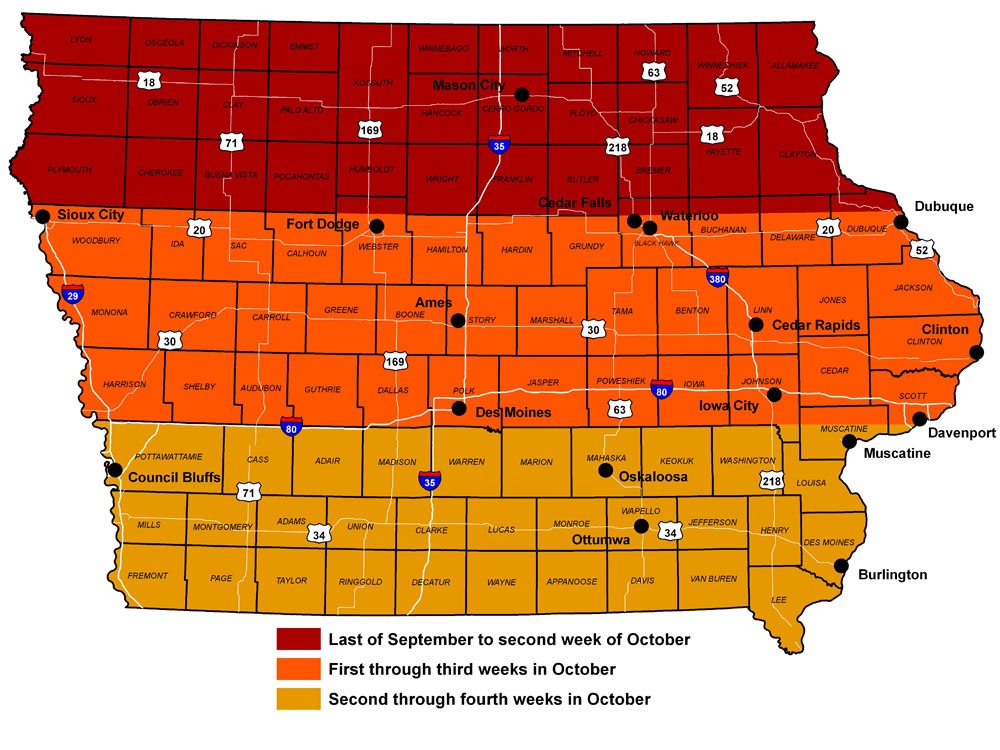 When do the colors peak? On the average, peak fall color occurs in Northeast Iowa on the weekend closest to October 10. Peak fall color occurs later in the more southern parts of Iowa; however, it all depends on variable conditions. Perhaps the most important thing about fall color is taking the time to enjoy it.